Purnendu Maji and Srinivas Bhogle list IPL 2021's 50 Most Valuable Players.
Not surprisingly, at the end of the IPL 2021 league phase, the top two places were held by Harshal Patel, the bowler with the Purple Cup, and K L Rahul, the batter with the Orange Cap.
The table below lists players with the highest Most Valuable Player Index (MVPI).
MVPI collapses a player's batting, bowling and fielding performance into a single 'run equivalent'.
The last column also lists the best (lowest) Paisa Vasool Index (PVI), which is obtained by dividing the player's auction price in US$ by the 'runs equivalent' that he has contributed.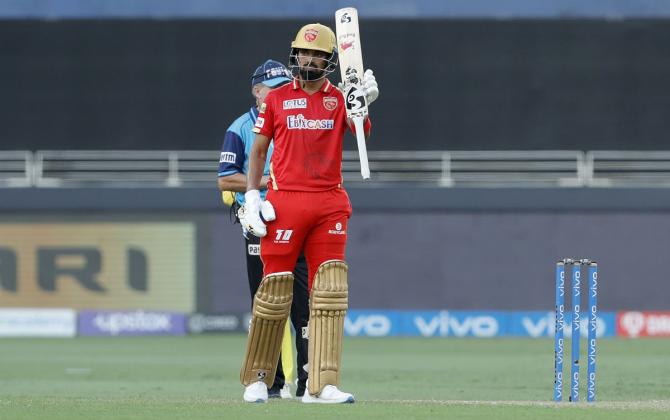 Best Performing Players after League Phase, Match 56
| Rank | Player | Team | From | Runs | Top Score | 4s | 6s | Strike Rate | Wickets | Economy Rate | Games | MVPI | PVI(US$) |
| --- | --- | --- | --- | --- | --- | --- | --- | --- | --- | --- | --- | --- | --- |
| 1 | Harshal Patel | RCB | IND | 51 | 31 | 5 | 2 | 128 | 30 | 8.4 | 14 | 643 | 43 |
| 2 | K L Rahul | KXI | IND | 626 | 98 | 48 | 30 | 139 | 0 | | 13 | 629 | 2429 |
| 3 | Ravindra Jadeja | CSK | IND | 227 | 62 | 19 | 9 | 146 | 10 | 6.8 | 14 | 568 | 1712 |
| 4 | Glenn Maxwell | RCB | AUS | 498 | 78 | 47 | 21 | 147 | 3 | 8.5 | 14 | 566 | 2638 |
| 5 | Faf du Plessis | CSK | SA | 546 | 95 | 53 | 20 | 138 | 0 | | 14 | 537 | 414 |
| 6 | Rashid Khan | SRH | AFG | 83 | 22 | 9 | 2 | 120 | 18 | 6.7 | 14 | 524 | 2385 |
| 7 | Sanju Samson | RR | IND | 484 | 119 | 45 | 17 | 137 | 0 | | 14 | 508 | 2187 |
| 8 | Avesh Khan | DC | IND | 5 | 5 | 1 | 0 | 167 | 22 | 7.2 | 14 | 506 | 192 |
| 9 | Jasprit Bumrah | MI | IND | 16 | 5 | 1 | 0 | 94.1 | 21 | 7.5 | 14 | 504 | 1929 |
| 10 | Ruturaj Gaikwad | CSK | IND | 533 | 101 | 56 | 20 | 137 | 0 | | 14 | 503 | 110 |
| 11 | Shikhar Dhawan | DC | IND | 544 | 92 | 61 | 14 | 128 | 0 | | 14 | 487 | 1483 |
| 12 | VarunChakravarthy | KKR | IND | 2 | 2 | 0 | 0 | 50 | 16 | 6.5 | 14 | 475 | 1170 |
| 13 | Mohammed Shami | KXI | IND | 13 | 9 | 0 | 0 | 76.5 | 19 | 7.5 | 14 | 444 | 1502 |
| 14 | Moeen Ali | CSK | ENG | 304 | 58 | 27 | 16 | 133 | 5 | 6.3 | 13 | 438 | 2220 |
| 15 | Mayank Agarwal | KXI | IND | 441 | 99 | 42 | 18 | 140 | 0 | | 12 | 431 | 322 |
| 16 | Prithvi Shaw | DC | IND | 401 | 82 | 47 | 14 | 157 | 0 | | 13 | 424 | 393 |
| 17 | Jason Holder | SRH | WI | 85 | 47 | 2 | 6 | 118 | 16 | 7.8 | 8 | 398 | 262 |
| 18 | Kieron Pollard | MI | WI | 245 | 87 | 16 | 16 | 149 | 5 | 7.2 | 14 | 398 | 1884 |
| 19 | Rahul Tripathi | KKR | IND | 377 | 74 | 39 | 10 | 143 | 0 | | 14 | 395 | 211 |
| 20 | Axar Patel | DC | IND | 26 | 12 | 1 | 1 | 83.9 | 15 | 6.4 | 10 | 393 | 1767 |
| 21 | Rishabh Pant | DC | IND | 362 | 58 | 38 | 8 | 127 | 0 | | 14 | 390 | 5342 |
| 22 | Arshdeep Singh | KXI | IND | 2 | 1 | 0 | 0 | 66.7 | 18 | 8.3 | 12 | 388 | 72 |
| 23 | Yuzvendra Chahal | RCB | IND | 10 | 8 | 0 | 0 | 37 | 16 | 7.3 | 14 | 380 | 2193 |
| 24 | Andre Russell | KKR | WI | 183 | 54 | 14 | 14 | 153 | 11 | 9.9 | 10 | 375 | 3148 |
| 25 | A B de Villiers | RCB | IND | 302 | 76 | 22 | 16 | 150 | 0 | | 14 | 371 | 4118 |
| 26 | Shardul Thakur | CSK | IND | 5 | 3 | 0 | 0 | 125 | 18 | 8.6 | 14 | 368 | 981 |
| 27 | Chris Morris | RR | SA | 67 | 36 | 2 | 5 | 137 | 15 | 9.2 | 11 | 358 | 6304 |
| 28 | Devdutt Padikkal | RCB | IND | 390 | 101 | 42 | 14 | 126 | 0 | | 13 | 343 | 81 |
| 29 | Dwayne Bravo | CSK | WI | 47 | 23 | 3 | 4 | 261 | 12 | 7.6 | 9 | 337 | 2638 |
| 30 | Suryakumar Yadav | MI | IND | 317 | 82 | 40 | 10 | 143 | 0 | | 14 | 323 | 1376 |
| 31 | Ravi Bishnoi | KXI | IND | 1 | 1 | 0 | 0 | 25 | 12 | 6.4 | 9 | 323 | 860 |
| 32 | Virat Kohli | RCB | IND | 366 | 72 | 38 | 9 | 120 | 0 | | 14 | 323 | 7310 |
| 33 | Sunil Narine | KKR | WI | 34 | 21 | 3 | 2 | 117 | 10 | 6.5 | 11 | 322 | 5392 |
| 34 | Rahul Chahar | MI | IND | 14 | 8 | 1 | 0 | 93.3 | 13 | 7.4 | 11 | 321 | 822 |
| 35 | Kagiso Rabada | DC | IND | 13 | 9 | 2 | 0 | 217 | 13 | 8.4 | 13 | 319 | 1829 |
| 36 | Rohit Sharma | MI | IND | 381 | 63 | 33 | 14 | 127 | 0 | 11.1 | 13 | 315 | 6614 |
| 37 | Trent Boult | MI | NZ | 1 | 1 | 0 | 0 | 25 | 13 | 7.9 | 14 | 306 | 1452 |
| 38 | Nitish Rana | KKR | IND | 347 | 80 | 33 | 15 | 126 | 0 | 6 | 14 | 302 | 1564 |
| 39 | Deepak Chahar | CSK | IND | 1 | 1 | 0 | 0 | 100 | 13 | 8.4 | 13 | 295 | 377 |
| 40 | Jos Buttler | RR | ENG | 254 | 124 | 27 | 13 | 153 | 0 | | 7 | 289 | 2115 |
| 41 | Shubman Gill | KKR | IND | 352 | 57 | 39 | 11 | 119 | 0 | | 14 | 286 | 874 |
| 42 | Mohammed Siraj | RCB | IND | 20 | 12 | 1 | 1 | 76.9 | 9 | 7 | 14 | 286 | 1263 |
| 43 | Ambati Rayudu | CSK | IND | 256 | 72 | 16 | 17 | 153 | 0 | | 14 | 284 | 1076 |
| 44 | Pat Cummins | KKR | AUS | 93 | 66 | 5 | 8 | 166 | 9 | 8.8 | 7 | 277 | 7772 |
| 45 | Krunal Pandya | MI | IND | 143 | 39 | 10 | 6 | 116 | 5 | 8 | 13 | 258 | 4737 |
| 46 | Yashasvi Jaiswal | RR | IND | 249 | 50 | 32 | 10 | 148 | 0 | | 10 | 258 | 1292 |
| 47 | Jonny Bairstow | SRH | ENG | 248 | 63 | 20 | 15 | 142 | 0 | | 7 | 255 | 1198 |
| 48 | Dinesh Karthik | KKR | IND | 204 | 40 | 21 | 6 | 138 | 0 | | 14 | 250 | 4111 |
| 49 | Manish Pandey | SRH | IND | 292 | 69 | 21 | 10 | 124 | 0 | | 8 | 250 | 6111 |
| 50 | Lockie Ferguson | KKR | NZ | 0 | 0 | 0 | 0 | | 10 | 6.2 | 5 | 247 | 900 |
Feature Presentation: Rajesh Alva/Rediff.com