After Ambati Rayudu failed the Yo-Yo test, the selectors turned to Suresh Raina for the ODI series in England.
Chetan Narula discovers how Raina returned to international cricket after a year.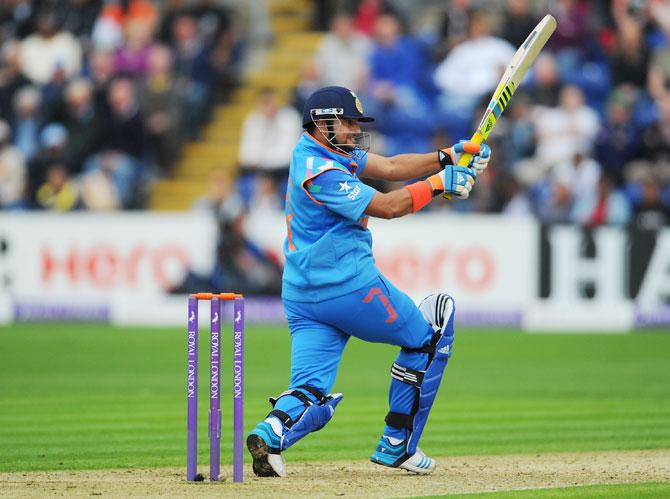 On February 18, at the Wanderers Stadium in Johannesburg, as India took on South Africa in the first of the three-match Twenty20 Internationals series, something unusual transpired.
As the attacking opening stand was broken, it wasn't the known form of Virat Kohli walking out to bat at No 3.
Much to the Bull Ring's disappointment, Suresh Raina took strike instead, marking his return to international cricket after a year.
Kohli's adventurism in chopping and changing team combinations as well as batting line-ups is now well documented.
Even so, there was a compelling argument against this move -- the star batsman averages a whopping 57.75 at No 3 in 42 T20Is.
How does one consider demoting himself even if he is the captain?
This particular ploy was ushered in keeping India's weakness in the shortest format in mind.
Often, the Men in Blue come unstuck in the first six (powerplay) overs, and then are left playing catch up for the remainder of the innings.
Onus then lies on Kohli to come up with a big knock, with the misfiring middle order not to be relied upon.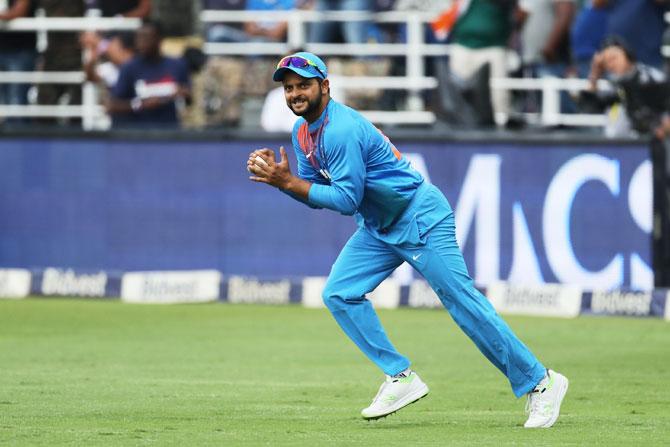 "In T20 cricket, the first six overs are very important and you have to attack the bowling. You have to take chances and when you decide to attack, then you have to play your shots," Raina said mid-way during that T20I series.
"Some time you get runs, at other times you don't. But this move gave us depth in middle order and I am happy that Virat showed faith in me."
Here, statistics jump in.
In South Africa, Raina scored 88 runs in three T20Is at average 29.33 and strike-rate 151.72.
The former figure argues against this change in plan -- Raina averages 33.90 at No 3 in 23 T20Is (strike-rate 139.60), an impressive and acceptable return for any side in the shortest format, yet dwarfed only by Kohli's genius.
It is the latter figure that highlights how this plan succeeded and helped India win the T20I series.
The Proteas couldn't comprehend the India top-order's sustained attack in the first six overs.
The series' finale in Cape Town, wherein Kohli didn't play because of a sore back, is a case in point.
Despite a slow start on the two-paced Newlands pitch, India managed to score 172/7 in 20 overs with Raina smacking 43 off 27 balls.
In the tri-series in Sri Lanka (also featuring Bangladesh), Raina came up with scores of 28 (27 balls) and 27 (15 balls) at No 4 and 47 (30 balls) at No 3 to help India progress to the final.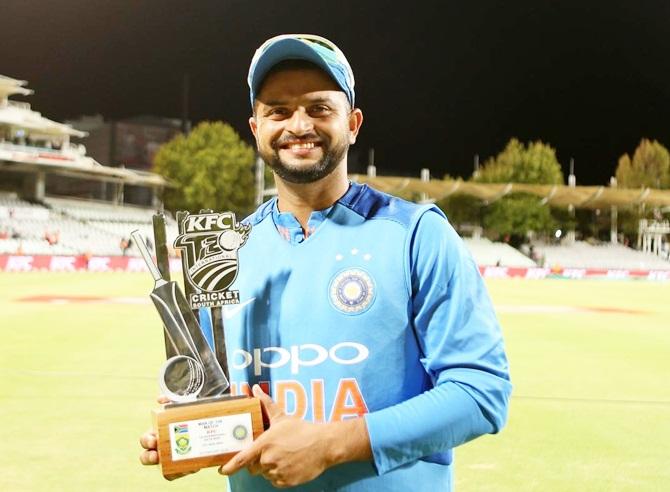 Clearly, this ploy to allow Raina freedom at his natural position in T20 cricket has worked wonders.
"I think it is not just about the promotion in batting order alone," says Sujith Somasundar, Uttar Pradesh coach, who took up charge for the limited-overs run of the 2017-2018 season. "Communication from the captain and coach has played a greater role in his success currently."
"It has provided him clarity of thought in what he needs to do on the field and what the team management expects of him," Somasundar says.
"When you are returning to the Indian team after such a long time, there are certain expectations of any player. He needs to be given an assured role in the scheme of things and key is that the Indian team management has given that clarity to Raina."
South Africa was the first outing in Indian colours for him since February 2017 when he had last played against England in the three-match T20I series. He last played Test and ODI cricket in 2015.
While doors to the longer format remain closed still, there is a definitive case for Raina's inclusion in India's ODI plans as the team management looks to build towards the 2019 World Cup.
For months now, Kohli and company (coach, selectors, team think tank et cetera) have been on an experimental route to find the perfect permutation as concerns the first-choice ODI eleven.
As witnessed during the 5-1 series win in South Africa, certain pieces of the jigsaw have started to fit in.
Bhuvneshwar Kumar and Jasprit Bumrah make the most lethal pace pairing in limited-overs cricket, while Hardik Pandya has solved the all-rounder problem, at least for the short term.
The wrist-spin twins -- Kuldeep Yadav and Yuzvendra Chahal -- have bamboozled every opposition they have played against, while the top-order (Kohli, Shikhar Dhawan and Rohit Sharma) is accumulating runs at an astonishing rate.
Two spots in the middle order remain up for grabs -- Nos 4 and 5.
While the team management is trialling pure batsmen (read Manish Pandey, Ajinkya Rahane, and so on) for that pivotal No 4 role, the other spot is likely to go to an all-rounder.
Or at least that is the plan, for Kohli -- like his predecessor, M S Dhoni -- likes to have six bowling options up his sleeve.
Since the 2017 Champions Trophy, Kedar Jadhav has been the prime contender herein, featuring against Sri Lanka (twice), Australia, New Zealand and South Africa.
Yet, his position is under considerable threat. While Jadhav's part-time pie-chucking spin bowling (10 wickets in 15 innings) allows him leeway in team selection, the runs simply aren't flowing.
Since June 2017, he has scored 330 runs in 16 innings at average 27.50. It simply isn't good enough, especially since he was also afforded the chance to come good at No 4.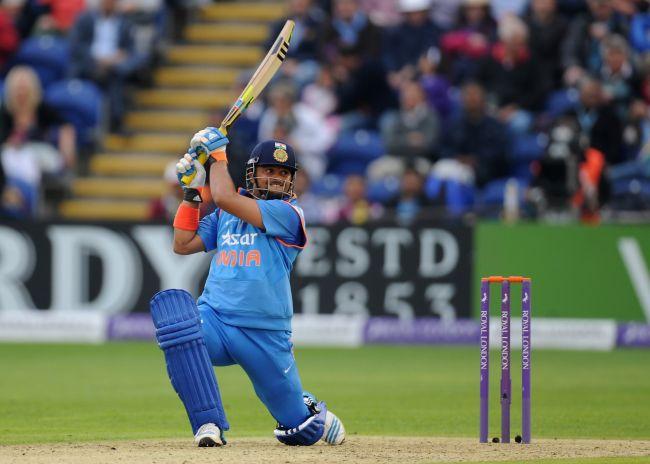 It is a possible future vacancy, particularly if an off-spin bowling all-rounder puts his hand up. Washington Sundar is a contender, but Raina is the obvious front-runner, especially since he cleared the Yo-Yo fitness test and was reconsidered for T20I team selection in January.
That had come on the back of some free scoring (314 runs in nine innings for UP) in the Syed Mushtaq Ali Trophy. But as Somasundar points out, it wasn't all about the runs.
"Being a domestic captain can be troublesome, especially if the team isn't doing well. The UP team was plagued with off-field problems when I took over, so my first move was to liberate the skipper from those troubles," he says.
"I told him that I would take care of off-field issues and he can concentrate on doing the on-field job."
"Then, there was the fitness issue (when charting a return to the Indian team). In my opinion, Raina was the fittest in the side whether concerning fielding or running between the wickets, even when compared to youngsters. This is an aspect he has worked hard on," the coach adds.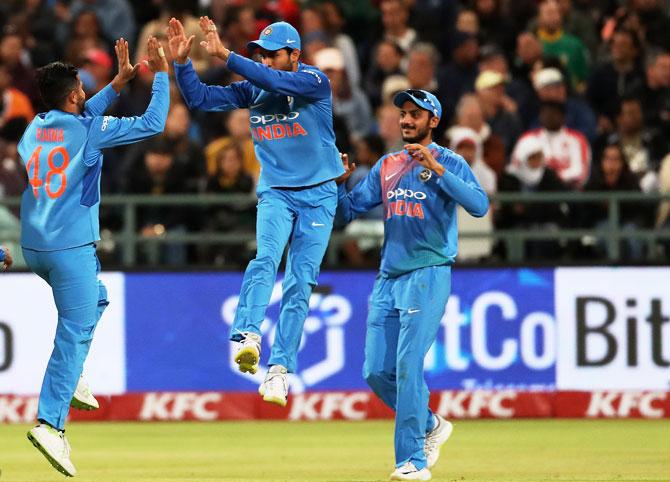 For Raina, the import of clearing this 'eligibility' test -- and indeed returning to the international fold -- isn't lost.
He isn't one to talk about individual performances, perhaps drilled in by the team ethos of his best mate, Dhoni.
Even so, after the T20I series in South Africa was won, thanks to his contributions with both bat and ball (1/27 in three overs as first-chance spinner) at Cape Town, Raina couldn't help but open up.
"Every time I stepped into the gym or onto the field (in the last year), I was just hoping to play for India again. I have made sacrifices (in my personal life) and when you do that, you get to enjoy your cricket," he said.
"This moment (man of the match at Newlands) is very important for me. I have been part of the World Cup before, and have won it (in 2011). I have done well at No 5 and in the games to come I can show that I can come back to the ODIs soon enough."