'Sunny Gavaskar is very mischievous, Harsha Bhogle is like a schoolboy,' sports broadcaster Alan Wilkins tells Rediff.com/Norma Godinho in an exclusive interview.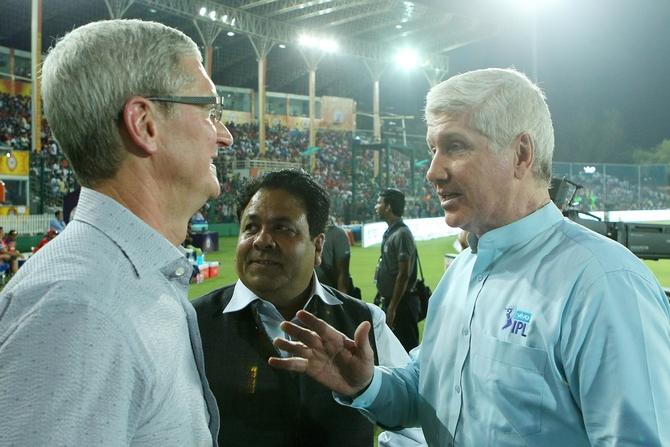 Growing up in India in the mid 1990s introduced us to satellite television and, with that, came the unfathomable joys of sports broadcasts from the world over.
Be it Channel 9 beaming a cricket contest from the MCG or ESPN-Star Sports telecasting a Wimbledon final, we were lapping it all up.
The face of sports broadcasts had changed big time and not only did we have the opportunity to watch live sporting action, but we were also fortunate to have top class commentary and match analysis that kept us clued in.
Of the many names who successfully made the transition from radio to television and is now a popular face and voice to Indian sports viewers is Alan Wilkins.
Sharing space in the studios with the likes of Sunil Gavaskar, Vijay Amritraj and Harsha Bhogle, all of whom he calls dear friends in his just released autobiography -- Easier Said Than Done: A Life in Sport, published by Roli Books -- the Welshman has been a familiar face on our television sets for nearly 20 years now.
Through our 50-minute conversation in Mumbai, the former first-class county cricketer comes across as a man grateful for the opportunities, a man self-assured from a young age, someone blessed with clarity of thought and a foresight to carve his own niche.
It is hardly surprising then that 35 years since he first stepped into the realm of sport broadcasting, the 64 year old has now chronicled his journey from cricketer and rugby player to broadcaster.
"I have always had it in my head that I wanted to write about my journey even though I never played cricket at the highest level or rugby at the highest level," says Wilkins.
"I felt I had to reflect, if only for my family as much as anyone else. But my journey took me to India and it started really in India and I felt that given the exposure of all the cricket that I've covered, I felt a book to encapsulate this career would be the thing to do. It's been in my head for many, many, years, but now it has come true," he explains.
Video: Rediff.com/Afsar Dayatar
'Wilko', as he is fondly called in the commentary box, is a man thorough in his job and disciplined in his approach. This comes down to his Welsh upbringing, and the role his parents played in first grooming him into a sportsman and subsequently in a well-rounded personality.
"I had a lovely childhood because I grew up in a lovely part of Cardiff (the capital of Wales), a place called Rhiwbina (pronounced Rubaina). I went to Whitchurch Grammar School (now the Whitchurch High School) of which Real Madrid striker Gareth Bale and British Lions Rugby captain Sam Wolverton are alumni."
"My dad -- bless him -- worked hard. He didn't have the opportunities I had, but my parents made sure that even if I didn't play the part, I looked the part. My mother made sure my flannels -- my cricket whites -- were washed and ironed. My dad took me to matches. It was a wonderful upbringing," he recalls of growing up in Rhiwbina.
"I remember playing cricket at 11. My father was a wonderful rugby player and cricketer, so I used to wear his pads -- they were up here (points to his chin) while sitting down. I used to watch him play, so cricket came naturally to me, it was part of my DNA," he says, the twinkle in his eyes matching the joy of nostalgia in his voice.
"I had Glamorgan cricketers who I looked up to and eventually joined them in the team. My all-time idol are the great West Indians Gary Sobers and Vivian Richards. I could never bat like Viv, but I got on the same field as him, so that was very special when it happened."
WATCH: Alan Wilkins remembers taking Viv Richards' wicket. Video: Rediff.com/Afsar Dayatar
Although a boy from Cardiff with great love for rugby, Wilkins knew it was cricket that would eventually hold his attention and become priority.
"I wanted to wear the three lions of England on that white cricket sweater, I wanted to play for England. I had two good seasons with Gloucestershire -- I moved from Glamorgan to Gloucestershire -- in '80 and '81. I took 54 and 52 championship wickets per season which was quite a decent haul. Then in '82 I had a terrible shoulder injury. I was 28 and I knew that it (playing for England) wasn't going to happen."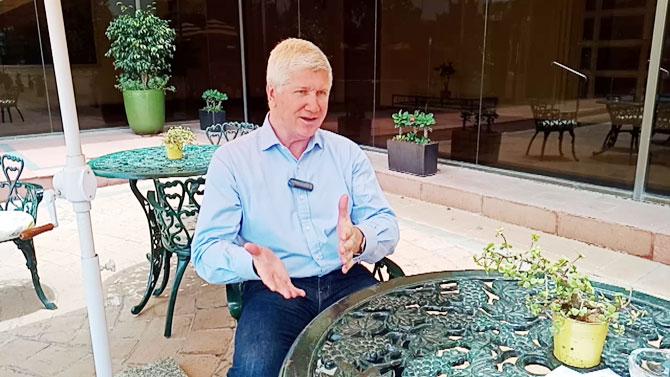 "In '83, my last year of cricket, I knew I was on the sidelines. I was going to leave the game. I decided I was going to emigrate to South Africa, I had no job lined up, but I knew people in the South African Broadcasting Corporation. I knew I was going to knock on their door until they gave me a job and that is what happened."
"Leaving cricket was emotional. When the cricketers were going back from South Africa (to play first-class cricket in England), I saw off a couple of them at the airport in Johannesburg and it was still raw that I wasn't going to play cricket," he remembers, the memory still rather painful after all these years.
Over time, the role of a cricket commentator in India has seen subtle changes. Back in the day critiquing was well accepted by the players, today broadcasters tend to be more politically correct and here's Alan Wilkins' take on the subject: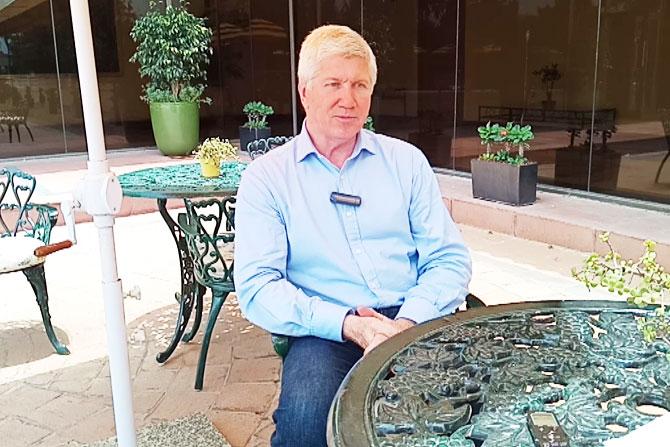 "What's happened is the broadcasting landscape has changed dramatically over time. When I started, I worked with Richie Benaud, he was with the BBC and I sat with him. It was much more structured back then," he says.
"Now, although there is structure, like you have a lead commentator and then you have an expert commentator, you've got many more ex-players who just switch roles very quickly. Kevin Pietersen has done it, Michael Slater is a fantastic broadcaster."
"A lot of players go straight into the commentary booth. Michael Clarke is one, Graeme Smith is another and a lot of the Indian boys are doing it as well. Sanjay Manjrekar -- he worked with me on his very first broadcast in 1998."
"Criticism comes with the territory. I don't necessarily like to criticise. What I do, if I have an expert sitting next to me, like Sunny Gavaskar, I would describe something and suggest to him that that wasn't the best shot somebody has played and what he thinks about it and he will give an expert opinion because he played at the highest level."
"You have to be careful to navigate your way through some tricky moments in commentary. You've got to give an opinion and I do give that, but if I have an expert sitting next to me it's his job to give the expert," Wikins explains.
Women are making headway into professional cricket commentary, and it's a change Wilkins is happy to see.
WATCH: Alan Wilkins on women making their mark in cricket commentary. Video: Rediff.com/Afsar Dayatar
Wilko has spent years sharing air time with the likes of Sunil Gavaskar, Harsha Bhogle and the like.
What's an assignment he has had the most fun on? "Gosh! The 2002 Indian cricket tour to England was fun. We had what was then called a 'Few Good Men'. Sunny Gavaskar, Ravi Shastri, Navjot Singh Sidhu, Harsha Bhogle, Geoffrey Boycott and me. We stuck together. We had such fun."
"Because I knew the road network of Britain I designated myself as the driver. And so I ended up putting bags in the cars. Sidhu would leave his bag on the floor and say, 'Shri Wilkins, put my bag in the car'. I would say, 'You can put it in yourself'. He'd say: 'You're driving, sort my bags out'." Those were great days, such a lot of fun."
"That was one of the happiest tours I've ever been on. I got to forge good relationships with Ravi, Sunny, Harsha. Geoffrey's still a great friend. I pull his leg, but a great friend."
WATCH: Alan Wilkins on working with Gavaskar, Bhogle, Shastri. Video: Rediff.com/Aftar Dayatar
"Sunny Gavaskar is very mischievous," Wilkins reveals of the cricket legend who will turn 70 in July 2019.
"He's got a great sense of humour. We mimic accents, Sunny has this lovely way about him, so I have a laugh with him. I laugh so much with him. He's mischievous to a T."
"Harsha likes a lot of fun. He's like a schoolboy. Harsha has a wealth of knowledge about so many different subjects. I tell Harsha he is too intelligent for a television commentator. He is a man for the people."
"When we go on tour we see who's got the best room in the hotel. So before I check in and get my room, I need to see his room first. He is the one who gave me the nickname 'Shri Wilkinson' (mimicking Harsha Bhogle's voice). He'd say, 'Come and see my room, it's bigger than yours and better than yours.' We're like schoolboys. It's all fun and long may that continue."
WATCH: What's working with Vijay Amritraj like? Hear it from Alan Wilkins. Video: Rediff.com/Afsar Dayatar
Vijay Amritraj has written the foreword to Easier Said Than Done, where he refers to Wilkins as a 'dear friend'.
"We are an odd couple, aren't we?" says Wilkins. "If you think of Vijay Amritraj, tall, Indian and think of Alan Wilkins next to him. Now that is an odd couple. When it began, Vijay asked me, 'What do you know about tennis?' and I said: 'Well I read a lot,' and he said: 'That's not good enough. I want to know what you know about tennis'."
"I said: 'Vijay, this is my job, I have to do this. So if I enjoy doing this, if I enjoy sitting with you, then I think I'm going to learn a lot more'."
The disciplined professional that he is, Wilkins believes in lots of preparation before he steps into the commentary box.
In Easier Said Than Done, West Indian legend Clive Lloyd introduces a chapter called 'Home Truths' with these words: 'Nothing in life comes easy. More often than not, achievement comes at the end of a long period of preparation and hard work, and Alan's broadcasting career -- after his retirement from our great game of cricket -- is the perfect example of this. Alan epitomises what sport is all about.'
"I spend hours preparing," he says. "If I had a match tonight and the Chennai Super Kings were playing the Sunrisers Hyderabad, although I know the players playing, I will spend hours. I'd be working on different aspects, you know what the strike rate is -- say of Kane Williamson, I'd be looking at what M S Dhoni has done."
"So it's a working piece of information in my head. I like to write my stuff down. So I prepare. If you don't prepare, you have to prepare to fail."