A tiny, dark-red, terracotta urn containing ashes of indeterminate origin and deemed too fragile to leave the cloistered hush of the Lord's ground museum is the focus of one of the world's great sporting rivalries.
Australia host England at the start of the latest battle for the urn on Thursday in a sport which baffles most of the world outside the Commonwealth.
Through Britain's colonial heritage, cricket has fired the imagination and inspired great deeds in ancient cultures on the Indian sub-continent, among the descendants of slaves in the West Indies and in Australia's immigrant society.
An Ashes series, hosted alternately once every two years, remains the ultimate cricket conTest, however.
WHERE DID THE ASHES COME FROM?
Britain at the peak of its imperial power believed it ruled by right the games it invented or codified in the second half of the 19th century. Australians thought otherwise and victory over England at the Oval in London by seven runs in 1882 inspired a mock obituary in the Sporting Times.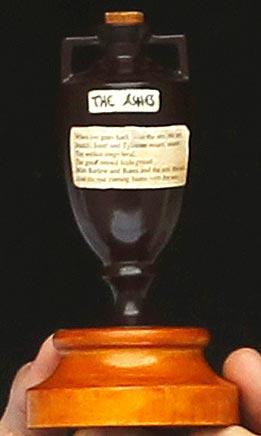 "In affectionate remembrance of English cricket which died at The Oval, 29th August, 1882. Deeply lamented by a large circle of sorrowing friends and acquaintances, RIP. NB The body will be cremated and the Ashes taken to Australia."
Months later Ivo Bligh, captain of the England team in Australia, announced he intended to recover the Ashes. In response some Melbourne society ladies presented him with an urn on Christmas Eve, generally believed to contain the burnt remains of a bail.
Bligh became Lord Darnley and on his death in 1927 his widow presented the Ashes to the Marylebone Cricket Club, the custodians of Lord's. The Ashes have become the symbol of England-Australian rivalry, gaining an increasing mystique with the years.
WHAT IS THE SPECIAL APPEAL?
For more than a century, England and Australia were routinely the best teams in the world and the Ashes series were followed avidly throughout the Commonwealth via the magic of radio and a stream of evocative commentators whose word pictures turned great players into imperishable giants.
They were also the only teams who played each regularly and other countries measured their progress by their performances against the two accepted world leaders.
The proliferation of international cricket, the emergence of first West Indies and now India as the world number one sides and a series of one-sided contests in Australia's favour during the 1990s has not lessened their attraction.
A tour of England remains the ultimate goal for any overseas cricketer and a Test at Lord's the greatest challenge. It is a measure of the ability of Australia to rise to this challenge that the defeat at Lord's last year was their first since 1934.
Winning a series in Australia remains the defining Test for any cricket side. England have not won there since Mike Gatting's side in 1986-87 and only West Indies and South Africa have subsequently succeeded.