West Indies banking on Chanderpaul to save Test
Last updated on: November 16, 2011 20:21 IST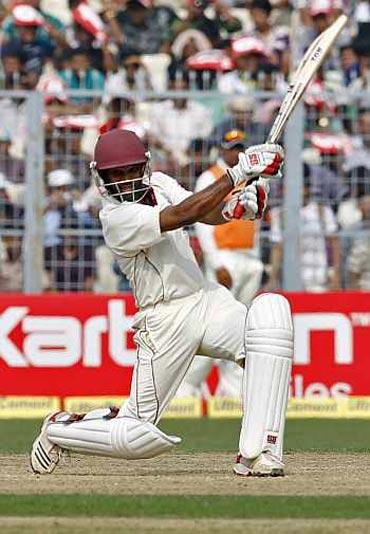 West Indies opener Adrian Barath, who scored a fighting half-century in the second innings, said the experienced Shivnarine Chanderpaul will be the visitors' key batsman on Thursday as they battle to save the second Test and three-Test series against India.
Replying to India's mammoth 631 for seven declared, the West Indies were dismissed for a mere 153 in the first innings, with as many as eight wickets falling in the morning session of the third day's play at the Eden Gardens on Wednesday.
However, the West Indies' batsmen came out with more purpose in the second innings as, following-on, they ended the day on 195 for three, still 283 runs behind India, with last match centurion Chanderpaul unbeaten on 21 and Darren Bravo on 38.
"It's important to make India bat again. It will be important tomorrow morning for Bravo and Chanderpaul to continue. I think they just need to continue batting as long as possible and make India bat again. We need to bat all day tomorrow," Barath said at the end of the day's play.
"Obviously it was about assessing the wicket. I think we did not bat as well as we should have in the first innings. Basically, we learnt from our mistakes in the first innings and we applied ourselves a bit more," he said.
"Chanderpaul is the key player for us tomorrow. He can bat through tomorrow and make it difficult for the Indian bowlers. He can take the game into the fifth day and make them bat again.
"He looks very determined, eyeing 10,000 Test runs. He definitely has plans to take the match into the fifth day," he added.
'Haynes job is obviously a work in progress'
Last updated on: November 16, 2011 20:21 IST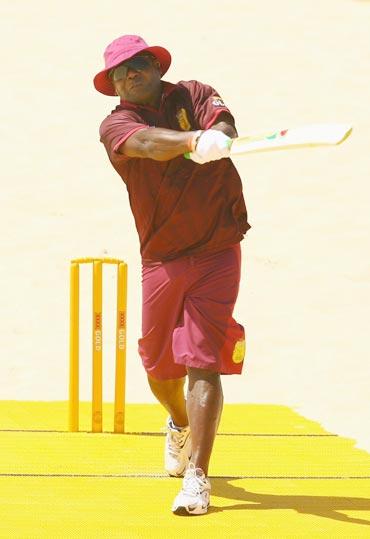 Barath said conditions were difficult for batting on Wednesday morning and it played a part in the visitors' collapse in the first essay.
"Probably the first time I have ever seen that (8.30 am start). Usually warm-up starts at 8.30 and we were starting the first ball. It was something new for us. Yes, it was a flat track, but, as I said, we have to apply ourselves."
The Indian spinners, after an impressive show in the West Indies first innings, returned wicketless in the second essay and Barath said this proves that the Caribbean batsmen can play spin.
"It shows that as a team we are capable of playing spin well. I think it was just a matter of application in the first innings. The conditions were a bit difficult for the openers to bat in the first innings," he said.
He said working with the great West Indian opener Desmond Haynes, who is the batting coach of the team, is helping them.
"It is a privilege for someone like Desmond Haynes to be a part of our team. Being an opening batsman it is great, because he has the experience of playing on different wickets around the world against different oppositions," Barath said.
"He has the experience and he can add a lot to this team. It's obviously a work in progress and there is nothing overnight he could do as a batting coach.
"He is doing a good job and definitely it's a step in the right direction. He was a sort of guy who took the bowlers on. He definitely dominated some of the best bowlers in the world. He always tells us to be positive and don't allow bowlers to get on top of us," Barath said.
'I am trying to cope with the challenge'
Last updated on: November 16, 2011 20:21 IST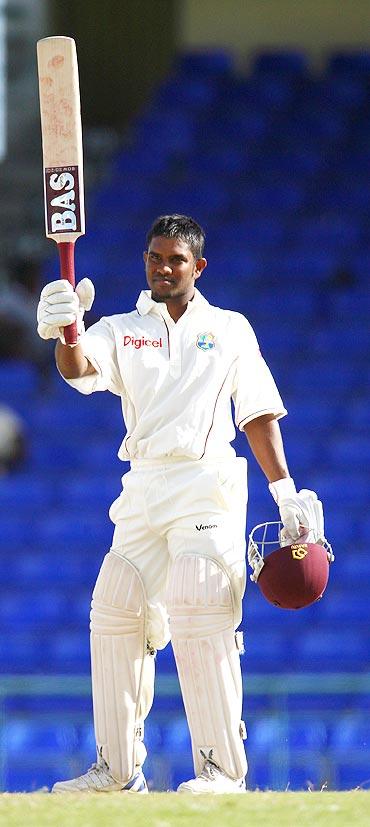 Barath's career started with an impressive century on debut against Australia, but since then has not able to capitalise on the start.
He said he is trying to cope with the challenge.
"That's something I have been trying to cope with in the past year or so where I have had good starts. Obviously, very frustrating period in my career as a young man after just coming into the team and getting a century on debut and not playing consistently as I should have," Barath said.
"It is something I have to take into perspective. It's a very difficult period, I have to keep working from strength to strength."
Injury kept him away in most of the Bangladesh tour and Barath said it is important to start afresh again.
"I have been away from International cricket for probably around a month. So it was important for me to get back in the groove. I am thankful for getting a half-century but I think I should have carried on and got a big one," he felt.
"I went out there and tried my best to get West Indies off to a good start. Our objective was to go there and just apply ourselves once again."
Barath also lauded young India pacer Umesh Yadav, who dismissed him with a rising delivery that took an edge at slip.
"I think he's bowling good line and length. I think he's bowling 90 miles an hour. Any bowler who can bowl at that speed is special. There are not much bowlers around who will bowl at that speed."
India lead the three-match series 1-0.
© Copyright 2022 PTI. All rights reserved. Republication or redistribution of PTI content, including by framing or similar means, is expressly prohibited without the prior written consent.