Kumble's tips turning things around for Ojha
Last updated on: May 8, 2013 14:48 IST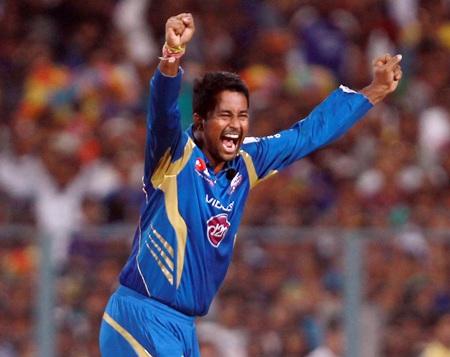 Pragyan Ojha's initial years in the Indian Premier League were impressive. While the left-arm spinner played a stellar role (with 18 wickets) in ensuring the championship for the erstwhile Deccan Chargers (now Sunrisers) in 2009, the following year he finished with 21 wickets, thereby winning the Purple cap as the tournament's highest wicket-taker.
- Photos: Mumbai Indians v Kolkata Knight Riders, at Wankhede
A lucrative deal had him move to Mumbai Indians at the start of the fourth season. However, in his first couple of years for the high-profile franchise Ojha did not enjoy the kind of success he had with Hyderabad (60 wickets in three seasons).
The fourth edition witnessed him pick just 10 wickets, while in the fifth, that number went down by one. With Harbhajan Singh in the Mumbai team, opportunities were a premium in any case and his poor show made things worse for the young spinner.
'When you have someone like Anil Kumble as mentor, it helps'
Last updated on: May 8, 2013 14:48 IST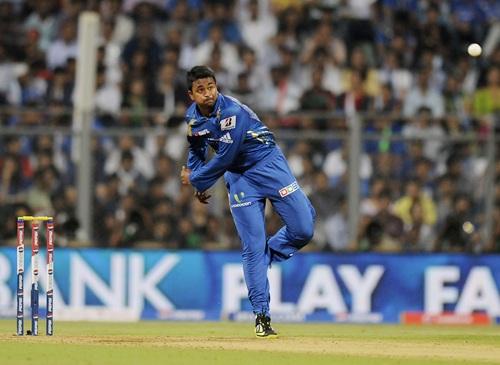 However, things have changed for the better in the ongoing edition.
"It's very simple. I'm just looking to vary my pace," said Ojha.
"Normally, in this format, a lot of spinners try to bowl fast and, therefore, cut down on the spin. I now believe turning the ball is more important," he added.
And the catalyst in this change has been the legendary Anil Kumble, who joined Mumbai as mentor at the start of the season.
"When you have someone like Anil Kumble as mentor, his experience always helps," said Ojha, proceeding to explain his interaction with India's highest wicket-taker ever.
"He always tells me to spin the ball and also keep varying the pace," explained the 26-year-old.
"On wickets like these (Wankhede) if you keep bowling at a faster pace it becomes easy for the batsman to clear the boundary.
"But if you slow it down he has to use a lot of power and get to the top of the ball before he hits it. So there's a lot involved for the batsman if you cut down on the pace," he added.
In 10 matches this IPL, Ojha has 14 wkts
Last updated on: May 8, 2013 14:48 IST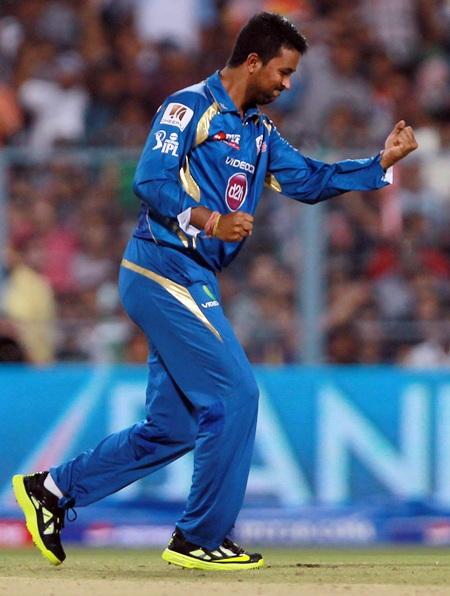 Kumble's suggestions have worked to Ojha's advantage.
In 10 matches thus far, the left-arm spinner has picked 14 wickets to move up to eighth position among the bowlers.
Besides, the haul has also helped swell Ojha's overall tally to 83 scalps, fourth on the all-time list of highest wicket-takers, after Lasith Malinga, Amit Mishra and RP Singh.
More importantly, he has cemented his place in this Mumbai squad, proving to be a perfect foil for Harbhajan.
'Rohit Sharma gives you a lot of freedom'
Last updated on: May 8, 2013 14:48 IST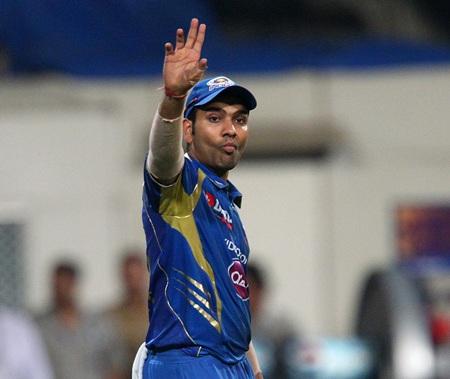 And if there's one person Ojha would like to give credit, apart from Kumble, for his success it is his captain.
"He (Rohit Sharma) gives you a lot of freedom and confidence as a captain and that, I believe, is very important," explained Ojha.
"Besides, though there are many seniors in our team, he always takes his own decisions and has so far handled things very well," he added.