How impotent our batsmen must feel
Last updated on: May 18, 2010 09:04 IST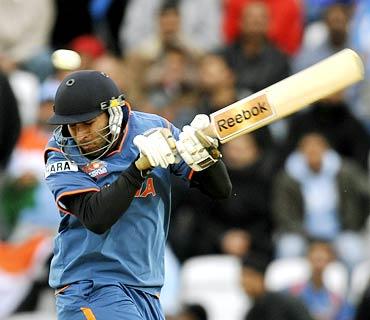 Everyone knows that India lost all three Super Eight matches of the last Twenty20 World Cup because its young stars could not handle the short ball bowled at fast pace. This time, too, the team lost all three Super Eight matches -- that makes it six out of six -- for largely the same reason.
This time, Australia issued a warning before its match against India that its bowlers will play the 'chin music'. The Aussies kept their word and won easily.
The other teams followed the same tactics and had the same results. How impotent our batsmen must feel, succumbing to rivals who had already put their cards on the table!
Text: Suveen K Sinha/Business Standard
Photograph: Reuters
Why Indian batsmen cannot handle bouncers
Last updated on: May 18, 2010 09:04 IST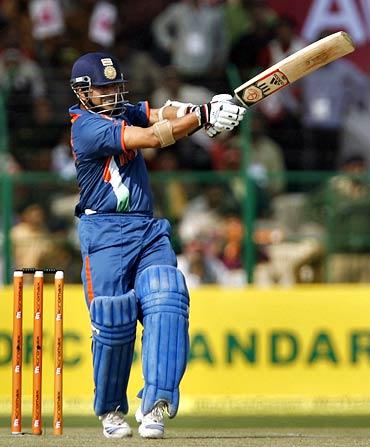 So what is it about the short, rising ball that Indian batsmen cannot handle? And how can a team that cannot handle it be the number one in Tests and number two in ODIs?
To begin with, no batsman on any team likes a well-directed short and fast ball, but some deal with it better than the others. The average Indian batsman is not one of them. Bred on the sluggish Indian pitches, they can easily dispose of the short ball with a pull, as it rises about waist-high or thereabouts.
On the faster pitches, though, and when bowled by faster bowlers, the same ball rises to the rib cage or higher, threatening the Indian batting style, which is not built around the hook shot.
But Sunil Gavaskar played fast and short-pitched bowling very well, you might argue, and so do Sachin Tendulkar, Rahul Dravid and a few others. Yes, but these are exceptional players you are talking about. They are not typical products of the Indian cricket system.
Secondly, our Twenty20 team, although it represents the same country, is not the one that is ranked first in Tests and second in ODIs. Only four members of the Twenty20 team can hope to be in the Test side: Gautam Gambhir, Mahendra Singh Dhoni, Harbhajan Singh and Zaheer Khan. Of the four, you may have noticed that only one is on the side for his batting alone.
Thirdly, it is easier to deal with short-pitched bowling in Tests. Although the longest format allows for more such bowling, batsmen can just duck under or sway out of the way of such balls. They can do that, albeit to a much lesser extent, in ODIs. In Twenty20, this option does not exist because batsmen have to score off nearly every ball.
Kirsten blamed IPL for lack of preparedness
Last updated on: May 18, 2010 09:04 IST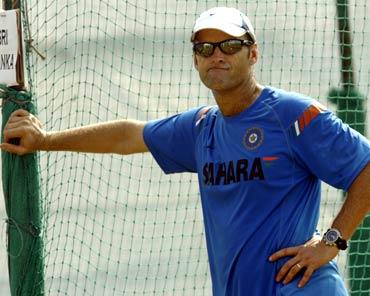 Incidentally, coach Gary Kirsten has come down hard on the fitness of the players and blamed IPL for lack of preparedness. Incidentally, he made this same point after the last Twenty20 World Cup debacle as well.
Yet, India was the last team to arrive for this World Cup, some five days after the IPL final. It chose not to play any practice match.
But no one should be surprised if a similar schedule is kept in the run-up to the next World Cup.
What would you choose if you were one of the players? Live a good life, or make a small news item about another great sportsman dying in penury?