Shoaib hasn't played since announcing his retirement
Last updated on: March 29, 2011 14:14 IST
That's the question that has been doing the rounds in the media ever since India booked a semi-final date with their neighbours.
The 35-year-old speedster, who has bowled the fastest delivery ever (161.3 kmph), had announced his decision to retire from international cricket following Pakistan's 110-run defeat at the hands of New Zealand in Pallekele, a match in which he conceded 70 runs from his nine overs.
- I was never scared of Sachin: Shoaib
The bowler, nicknamed the 'Rawalpindi Express', didn't feature in Pakistan's three subsequent games -- against Zimbabwe, Australia and West Indies -- giving the impression that it was the end of the road for him.
He could get one last opportunity
Last updated on: March 29, 2011 14:14 IST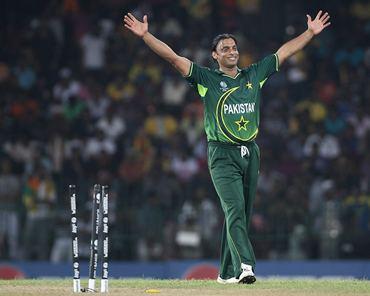 However, in the three days that Pakistan practiced ahead of the crucial semi-final, Shoaib was seen putting in a lot of effort in the nets.
- Dhoni plays down hype before semi-final clash
With coach Waqar Younis and bowling coach Aaqib Javed giving adequate attention to the veteran during the practice sessions, it became obvious that he is being considered as an option.
Pakistan manager Inthikhab Alam, while speaking to the Pakistani media, also didn't rule out the possibility of Shoaib getting one last opportunity.
Besides, if one has a look at his records, the prospect of Shoaib playing does seem bright.
Shoaib's selection looks a certainty after Riaz's failure
Last updated on: March 29, 2011 14:14 IST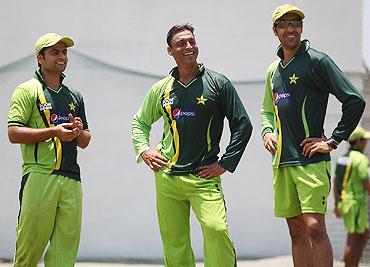 Of his 247 One Day International wickets, 41 have come against India (@ 26.78). Against no other country has he taken as many wickets.
Further, the Indian frailty against quality fast bowling is well-known and the Mohali wicket does have something in it for the quicks.
And playing the experienced Shoaib in place of the relatively inexperienced Wahab Riaz --Pakistan's second choice seamer after Umar Gul in the last two matches -- looks the best possible option for the visitors. In any case, Riaz hasn't performed very well -- in the matches in which he replaced Shoaib -- to make his selection a certainty.
'We will take a decision on his inclusion before the match'
Last updated on: March 29, 2011 14:14 IST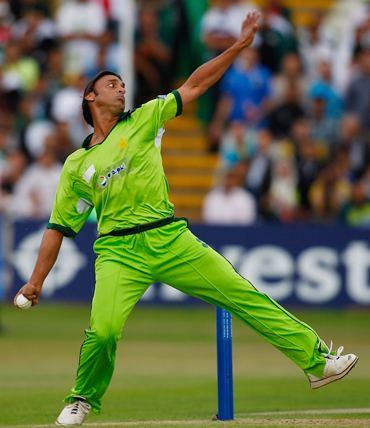 The Pakistani camp though is expectedly keeping things under wraps.
On being asked about the possibility of Shoaib playing, Pakistan captain Shahid Afridi though preferred to give a guarded reply.
"Shoaib is not 100 per cent fit," he said.
"But he is trying his best. We will take a decision on his inclusion before the match," he added.
- 'Have enough experience of playing in India'
If Shoaib does get to play, he will have an opportunity to reach the 250-wicket mark in ODIs. Besides, his presence will certainly add to his side's confidence.
It's been a good, if not great, career for the 35-year-old speedster. He definitely merits a final opportunity, one last chance to showcase his pace.
Whether he does get it or not, will be obvious in a day's time.