'It's been a good learning curve for me'
Last updated on: March 4, 2011 09:03 IST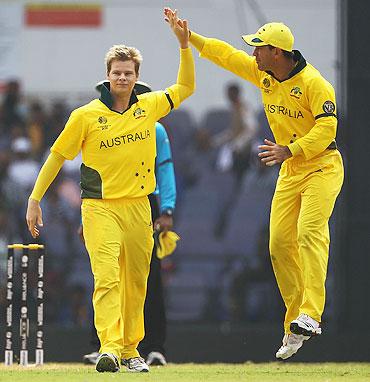 From being part of the New South Wales squad that won the inaugural Champions League T20 (in 2009) to a member of the Australian team back in the subcontinent to defend its world title, Steven Smith has come a long way.
All of 21, the Sydney-born player is slowly but surely finding his foothold in the national side. Asked about his experience thus far, the enthusiasm was palpable.
"It's been a good learning curve for me. I am enjoying being part of this Australian team," he said, adding, "It's been a good start for me, coming into this side. It's really exciting for me, even if I got to play for Australia at only 21.
"I am learning every day and I think I am doing a good job at the moment in the role that I have been assigned."
'I need to work on my spin'
Last updated on: March 4, 2011 09:03 IST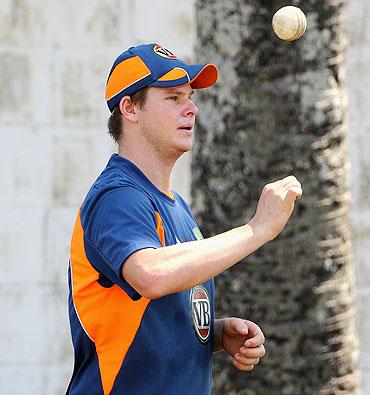 If the young player is to be believed, fitting into the team hasn't been a problem.
"It's not been very tough to get adjusted within the team," explained Smith, adding, "All the players have no problems in accepting a youngster as part of the team.
"Michael Hussey (though he is not here) has been a big help for me always and Michael Clarke has advised me a lot on how to play spin on these wickets.
- Australia will get better with every game: Haddin
"I am taking a lot of advice from the people who have played here before and learning a lot from them."
With the retirement of the likes of Shane Warne and Stuart MacGill, there has since been a lacuna in the Australian side as regards the role of the leg spinner.
And many opine Smith will eventually take over the mantle, succeeding the high-profile names above. Asked the same the youngster exuded optimism.
"Obviously, after Warnie, there are not many leg spinners around," admitted Smith, adding, "It is a big challenge for me and I would like to think I am around it.
"But I need to work on my spin at the moment. I am putting in a lot of effort in the nets.
"I just have to keep bowling and keep getting better every day."
'I have done a good job as a wicket-taker'
Last updated on: March 4, 2011 09:03 IST
So does he still go to one-time mentor Warne and MacGill for advice?
"Yeah, a little bit," said Smith, a tad reluctantly. The elaboration was more precise.
"I haven't really spoken to either Shane or Stuart in a little while now," he admitted, adding, "But if they are willing to give any advice, I am obviously going to take them. They were unbelievable bowlers."
And how does he work on his bowling at present?
"As of now I have been watching a lot of bowling of the sub-continental spinners," explained Smith, adding, "All of them are doing a good job of what they do. They bowl a lot to the wicket and not give you much of a chance to hit straight."
For a player of his age, Smith definitely is aware of what is expected of him when he is given the ball.
"Leg spinners are more often than not used as wicket-takers and I think I have done that job pretty well, especially back home," he explained, adding, "Whenever I have got a chance to bowl, I have been able to take a wicket in my first two-three overs most times."
'I'd like to be a genuine all-rounder'
Last updated on: March 4, 2011 09:03 IST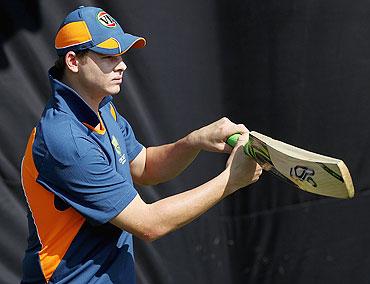 "I definitely aim to become a reliable leg spinner and get to bowl my full quota of overs. And with every game I am playing, I am getting the confidence to do that."
Smith may be working on his bowling, but his batting has suffered a bit. Asked the reason, the 21-year-old came up with a valid point.
"I bat at No. 7 and it is tough to come at that position and score big, let alone try to keep your average on the higher side," he explained.
"A lot of times I am the one batting at the end of an innings and then it is only about trying to score boundaries," he stressed.
"But getting a big score is a challenge I am looking forward to and I can't wait for it to happen."With age still on his side, is there anything that he aims to achieve in the years ahead?
"I would like to be a genuine all-rounder," said Smith.
"I would like to be as good a leg-spinner as a reliable batsman," he concluded.