Injury won't keep Tendulkar out of World Cup squad
Last updated on: January 17, 2011 10:58 IST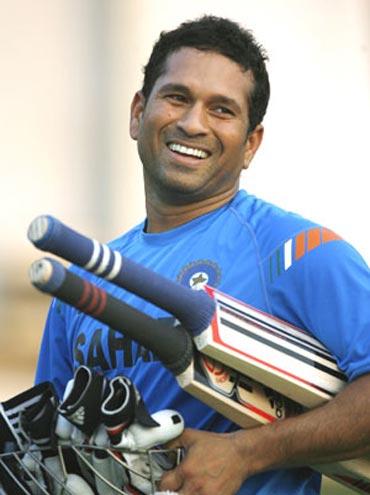 No major surprises are in the offing but a lot of brainstorming on a couple of spots is still expected when the five-member selection panel sits down to pick India's final 15-member squad for the ICC cricket World Cup in Chennai on Monday.
The list of 30 probables will be pruned to half and no big star is expected to be left out of the final squad for the mega-event starting February 19.
However, just a day before the selection meeting, doubts have arisen over veteran Sachin Tendulkar's availability after he pulled out of the remainder of the ODI series in South Africa as a precautionary measure after sustaining a hamstring injury during Saturday's second match.
But going by indications, the injury is not serious and Tendulkar will be making his sixth World Cup appearance. The champion batsman has been withdrawn from the remaining three ODIs against South Africa and will return home immediately to give him enough rest before the mega-event starting February 19.
Yuvraj, Kohli to stay put in middle-order
Last updated on: January 17, 2011 10:58 IST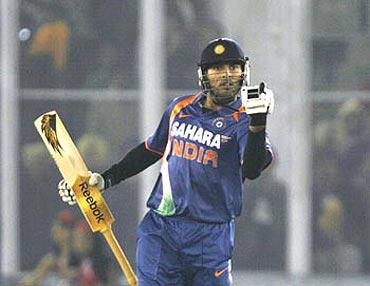 But if Tendulkar is found unfit, which is highly unlikely, Tamil Nadu opener Murali Vijay is expected to take his place in the side.
The rest of the batting line-up is, however, expected to have familiar and established stars.
The opening slots will be filled by Virender Sehwag, and Gautam Gambhir and it will be interesting to see whether reserve opener Vijay stands as both the first-choice batsmen have been given precautionary rest to heal their niggles.
The middle-order will most certainly feature the never to be underestimated Yuvraj Singh, who returned to form on Saturday with a well-made 53, and the young trio of Suresh Raina, Virat Kohli and Rohit Sharma.
'Fight is on for just one or two spots'
Last updated on: January 17, 2011 10:58 IST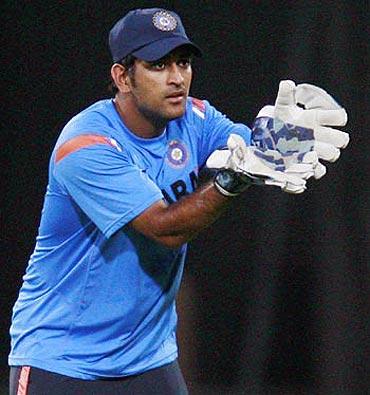 The ongoing ODI series in South Africa was supposed to have been a chance-grabber for the probables to prove their worth but skipper Mahendra Singh Dhoni has already poured cold water on suggestions that the performance there would make much of a difference to the World Cup squad.
"Not really, as not just one performance will matter. Guys who have worked hard for the last year-and-a-half may get a chance.
"I think for the World Cup, fight is on for just one or two positions as rest of the players will choose themselves. Basically, it is up to the selectors," Dhoni has said.
Zaheer, Bhajji to spearhead bowling attack
Last updated on: January 17, 2011 10:58 IST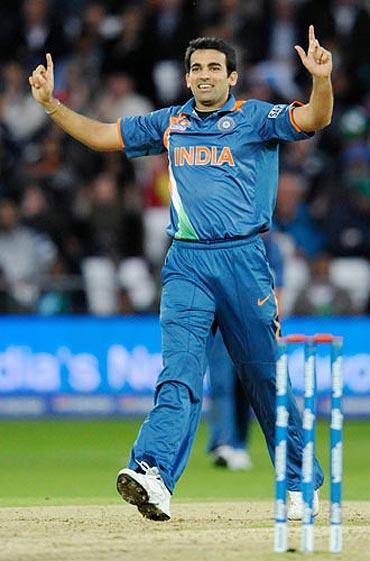 On the bowling front, India does not have much of a pool to choose from. The inspirational Zaheer Khan will lead the attack and in all probability his pacer partners would be chosen from the quartet of Ashish Nehra, S Sreesanth, Munaf Patel and Ishant Sharma.
Of these, Sreesanth, Ishant and Munaf have come up with reasonably good performances in the series against South Africa.
Harbhajan Singh will spearhead the slow bowling department but it is hard to guess on who among Amit Mishra, Piyush Chawla and Pragyan Ojha would get the selectors' nod in the pruned squad.
Selectors have a tough job to fill all-rounder slot
Last updated on: January 17, 2011 10:58 IST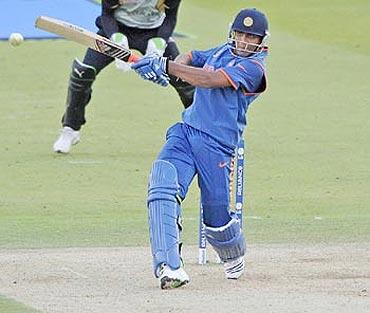 The all-rounder's slot has always been a selection headache but despite the absence of options, it would be quite a gamble to pick an inconsistent Ravindra Jadeja.
It remains to be seen whether the selectors will opt to have a reserve wicket-keeper in the squad in case of an injury to skipper-stumper Dhoni. The toss up then will be between Parthiv Patel and Dinesh Karthik even though Wriddhimaan Saha has also been tested in the past one year.
List of probables for World Cup:
Mahendra Singh Dhoni, Virender Sehwag, Sachin Tendulkar, Gautam Gambhir, Virat Kohli, Yuvraj Singh, Suresh Raina, Harbhajan Singh, Zaheer Khan, Ashish Nehra, S Sreesanth, Munaf Patel, Ishant Sharma, Vinay Kumar, M Vijay, Rohit Sharma, Ravindra Jadeja, Ajinkya Rahane, Saurabh Tiwary, Yusuf Pathan, Parthiv Patel, R Ashwin, Wriddhimaan Saha, Dinesh Karthik, Shikhar Dhawan, Amit Mishra, Piyush Chawla, Cheteshwar Pujara, Pragyan Ojha, Praveen Kumar.
© Copyright 2022 PTI. All rights reserved. Republication or redistribution of PTI content, including by framing or similar means, is expressly prohibited without the prior written consent.