We have to come back much stronger in Mumbai: Sammy
November 09, 2013 10:49 IST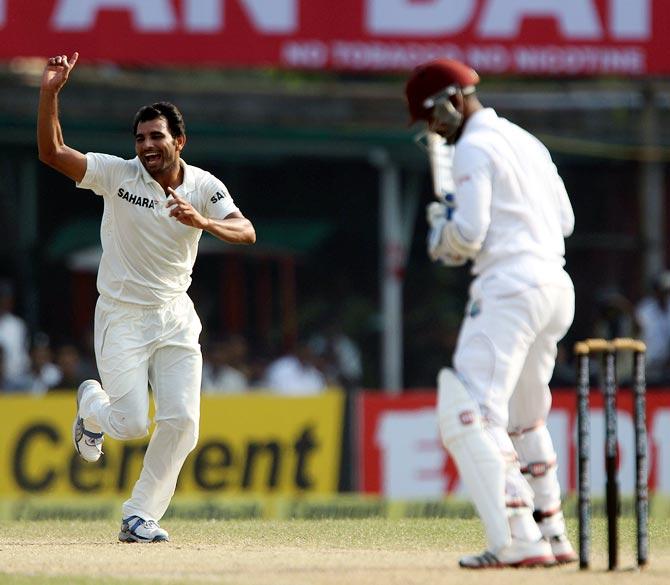 West Indies skipper Darren Sammy gave debutant pacer Mohammad Shami the credit for India's crushing victory in the first Test at the Eden Gardens, but also blamed his batsmen for "rash and irresponsible" shots, which cost them the opener of the two-match series inside three days.
"We are a much better team than how we played. Credit must go to India, the way used the old ball, especially the debutant Shami," said Sammy, after India took a 1-0 lead with an innings and 51 runs victory.
"He got the ball reversing quite well and our batsmen were not patient enough, starting with me and from the top. We got the ball to move, to reverse a little bit. The difference between our bowlers and Shami was the length.
"He was bowling the ball into the pitch, bowling wicket-to-wicket. When he was reversing into the right-hander, he started on a good length, outside the off stump, hitting the stumps. Our bowlers were bowling it full, under the bat, or short. We were not consistent in our line and length. He showed us how to do it. And that is the way it should be done," he added.
'As a batting group we have not batted well at all'
November 09, 2013 10:49 IST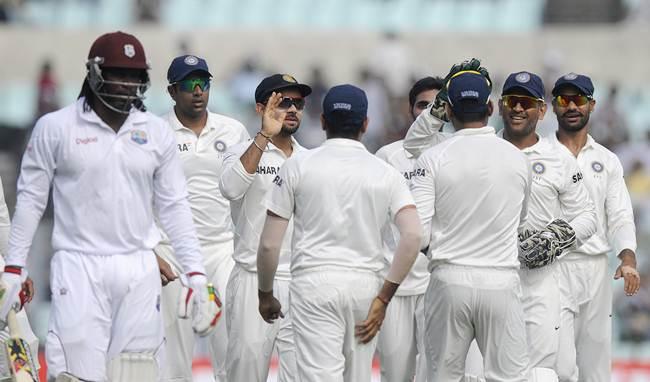 Sammy, however, said nothing is lost, and the team will try to come back stronger in the second and final Test in Mumbai that will bring the curtain down on Sachin Tendulkar's glittering 24-year career.
"I remembering saying in the pre-match (conference) that we hope the Indians will play a lot of shots. But it's our batsmen who played the shots. There's a lot to think about. All is not lost. We have to come back much stronger in Mumbai," he added.
Asked about Chris Gayle's rash shot-selection, he replied: "You can't point out one person. As a batting group we have not batted well at all. A lot of rash shots were played, irresponsible shots like I said; it started with me as captain, especially in the first innings.
"But it is something each individual has to pick up on their selves, be responsible for the runs for the team. As a group, we did not do that in any of the innings. One of our goals is to bat at least 130 overs in the first innings."
'Should take lessons from the way Ashwin, Rohit batted'
November 09, 2013 10:49 IST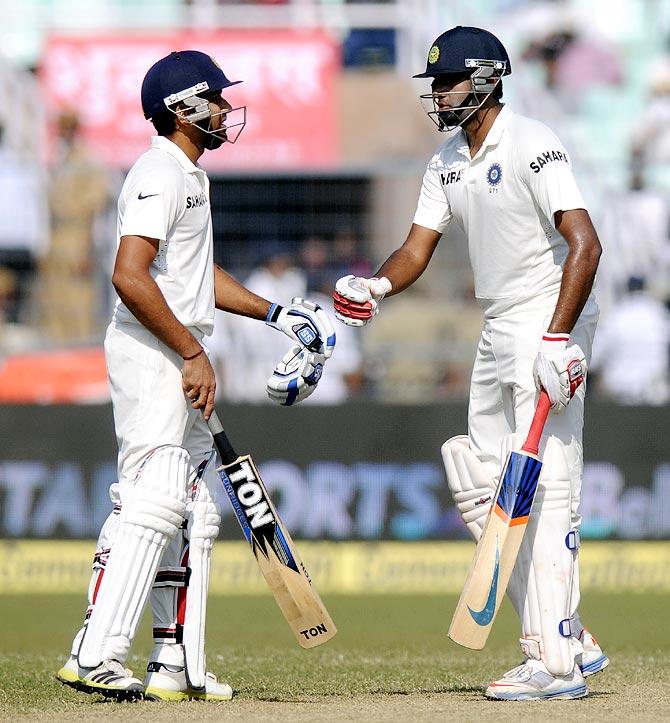 Sammy said they would have to take a lesson from India as far as batting is concerned.
"In the first innings we batted 70-odd overs, and this one probably 56 thereabouts. So we are not occupying the crease and Test cricket is about being patient.
"We saw how Rohit batted in the first game, how he occupied the crease, and so did Ashwin. We, as a batting group, should take a lesson from the way those two batted.
"We had our main spinner bowling for most of the innings and they just played ball by ball and they just batted us out of the game. That one partnership," he said.
Sammy said, probably, his squad was not well-prepared for the hastily-planned series, as they had to bow to an exhibition of some fine reverse swing by debutant Shami.
"Remember this tour was not officially on our schedule... We just did not apply ourselves. We're beaten on the mental aspect. We could play much much better.
"The funny thing is last time it was the spinners who took the wickets. Now it is the debutant taking nine in the match. Credit to him!"
'I am disappointed in the way Permaul bowled'
November 09, 2013 10:49 IST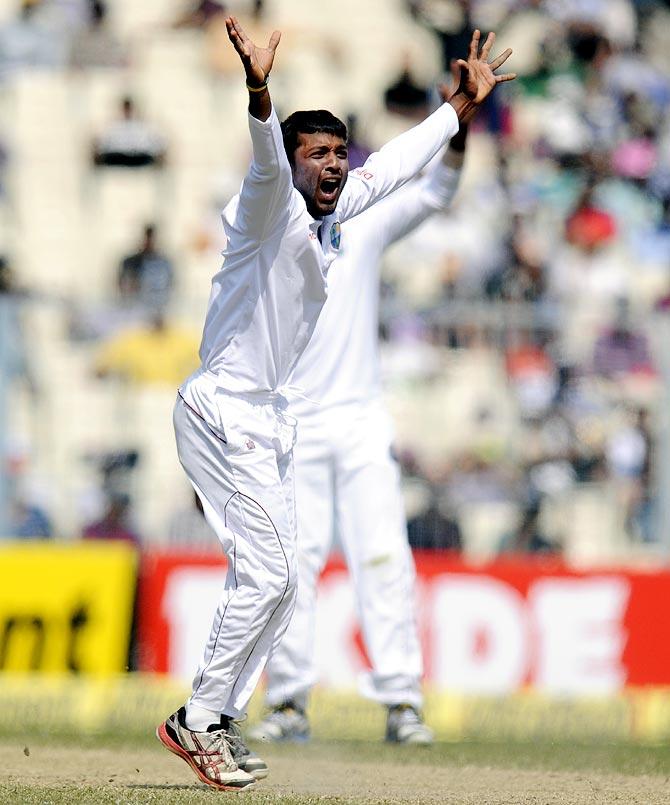 Sammy said Shami taught the West Indies bowlers how to bowl on Indian wickets.
"First game, very impressive. He showed us how to bowl on these wickets in India. If some of the balls were keeping low, bowl dead straight, starting the ball from out there and reversing it back into the stumps.
"Most of his wickets, except two of them, were bowled out or lbw. We could learn a lot from India -- the way they played their cricket -- and look to implement in our next match," he said.
The West Indies skipper further said Veerasammy Permaul let him down, as the rookie leftarm spinner could not give good back-up to their frontline spinner, Shane Shillingford.
"I am disappointed in the way Permaul bowled. We played two spinners to get wickets for us. We know fast bowlers tend to struggle in India. At one point, we just need one of me or Permaul to support Shillingford, like Ojha did for Ashwin in the first innings," Sammy said.
"Keep one end tight while Ashwin attacked (from the other end). And I thought myself especially and Permaul did not apply the pressure when Shillingford was in a good spell. He ended up bowling 50 overs in the match.
"We have been bowling out teams with that combination for the last three years. It is just that we have not put enough runs on the board to back-up our bowlers. We have always asked our bowlers to come and bowl out teams very cheaply when we ourselves as a batting group have put on low totals," Sammy added.
'We missed Roach'
November 09, 2013 10:49 IST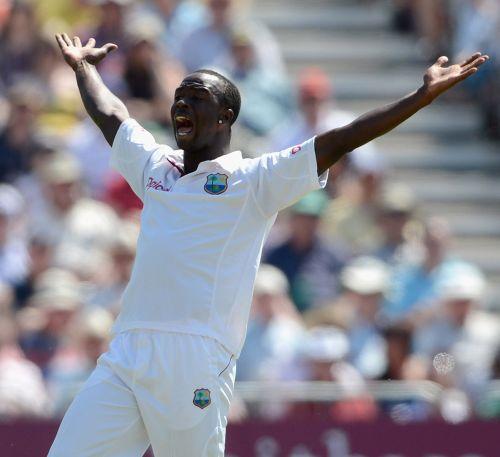 The absence of strike bowler Kemar Roach, down with a shoulder injury, was a big blow to the Windies, said Sammy.
"He's bowled well for us. He is in top 20 in the world in Test and ODIs. It's a big blow for us. He brings back the ball on to right-handers; a good skill on low wickets.
"But Sheldon Cottrell did a good job for us. We, as a fielding team, need to work really hard. We have to keep one side of the ball shining to get the reverse. Coach (Ottis) Gibson is good at these type of skills. We have a couple of days and would look to. The last time we had an exciting Test in Mumbai and we're looking forward to bounce back there."
Giving an update about Roach, Windies media manager said: "We're not sure yet. But the rehab is on. He is progressing well on a day-to-day basis. We'll monitor him at the before the Test."