'I never got a 100 in England'
Last updated on: June 7, 2011 16:21 IST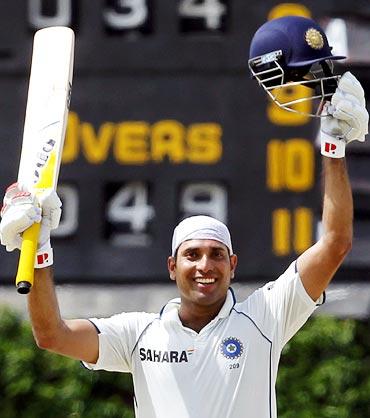 Stylish middle-order batsman VVS Laxman says his dream is to score a century at Lord's and play a role in India's victory during the team's upcoming tour of England.
A veteran of 120 Tests, Laxman has scored centuries in some of the famous grounds in the world, but is yet to get one at the Lord's, considered to be the mecca of cricket.
"I never got a 100 in England. Hopefully, it would be very special if I get a 100 at Lord's and India wins the match," Laxman said in Hyderabad.
Laxman has been appointed vice-captain of the Test squad for the tour of the West Indies and England.
Photographs: Reuters
'Definitely, we will be missing Gary Kirsten'
Last updated on: June 7, 2011 16:21 IST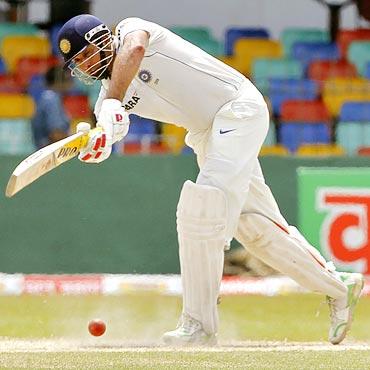 Showering praise on former coach Gary Kirsten, Laxman hoped that incumbent Duncan Fletcher would continue the good work.
"Definitely, we will be missing Gary. He has been with us for the last three years and it is a great experience that we will relish throughout our lives. But Duncan Fletcher has done well with the teams he has been associated with. I am sure the Indian team will prosper during his tenure," Laxman said.
The elegant Hyderabadi observed that the upcoming series against the West Indies, England and Australia will test the world No. 1 side.
"There are three tough overseas series. Playing West Indies in West Indies is always a tough competition. My goal is to put up a good performance and play some match-winning knocks," he said.
Reflecting further on the West Indies tour, Laxman said, "The first time I opened for the country was in 1997 against West Indies. That series was a great learning experience for me. Opening for the first time and playing the likes of [Courtney] Walsh, [Ian] Bishop and [Curtley] Ambrose was a great experience for me.
"After that, I had a great series in 2002 and the last series also. I am quite happy with my performance against them. West Indies is one of my favourite places to tour, everyone is so knowledgeable and they appreciate the opposition players also if they do well."
'I definitely will like to play much ahead in the order'
Last updated on: June 7, 2011 16:21 IST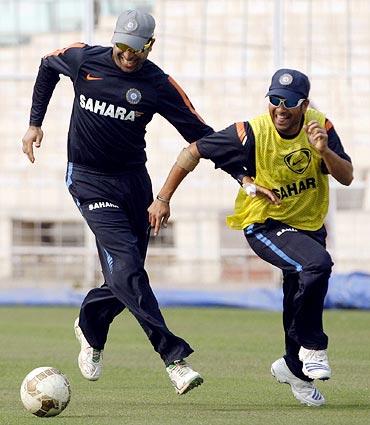 Laxman expressed confidence that the youngsters will make up for the the absence of senior players like Sachin Tendulkar and Virender Sehwag in the West Indies.
"We all take the responsibility. The replacements Abhinav (Mukund), Murali Vijay, Virat Kohli and there are many upcoming young players. It is a good opportunity for all of them. It is a good team as a whole. So, if we play to the best of our ability, I am sure we can win. We won the series when we toured West Indies last," he said.
The batsman also expressed a desire to bat higher up in the order than his usual number five slot.
"It would be known after we go there. It depends on strategy, plan, the West Indies wicket. My combination would be decided then. But, I definitely will like to play much ahead in the order," he said.
When pointed out that the West Indies lacked experienced players, he said the side cannot be taken lightly as there are some potential match-winners.
"They have very good fast bowlers. Though they are young and inexperienced, they are potential match-winners. You have to be cautious. You cannot be complacent. It will be a good contest between the bat and the ball," he said.
'We got a talented bowling attack'
Last updated on: June 7, 2011 16:21 IST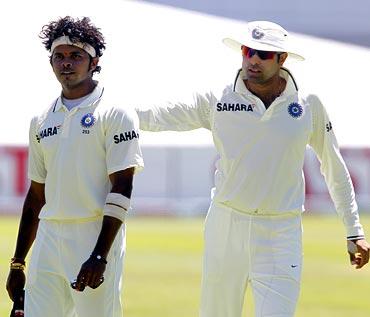 Laxman was gung-ho about the ability of Indian bowlers.
"I think we got a talented bowling attack. Zaheer Khan is one of the most dangerous bowlers in international cricket now. Ishant [Sharma] has done well in coming back to rhythm. He was fabulous in IPL. Then Sreesanth and Munaf Patel are there. It is a great bunch of fast bowlers.
"In the spin department, we got the experienced Harbhajan Singh and then [Pragyan] Ojha. The bowling combination is great."
Asked if he has set any targets for the upcoming series, Laxman said, "I always relish performing overseas. I think it is a challenge for an Indian cricketer to go abroad and perform on different conditions. I want to do well and contribute to the team's success."
Laxman bats for DRS
Last updated on: June 7, 2011 16:21 IST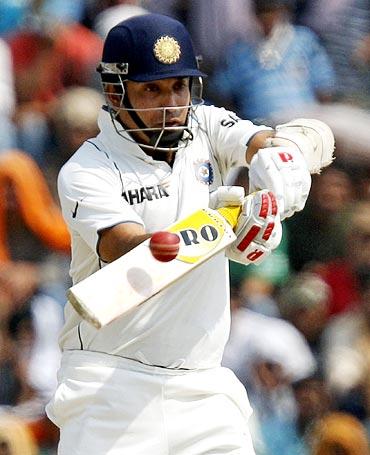 Asked about the much-debated Decision Review System (DRS), he said, "Umpiring is a tough job. I think any technology to help the umpires is good. It is something the BCCI has to take a decision."
Laxman, who is a disciple of Sri Sathya Sai Baba, said the spiritual guru would continue to guide him even after his  demise.
"There is no doubt we miss Baba physically. We always used to take his blessings. I think it came as a rude shock to the entire world. He is omnipresent. He, being God, will continue to guide all his devotees," Laxman said.
© Copyright 2021 PTI. All rights reserved. Republication or redistribution of PTI content, including by framing or similar means, is expressly prohibited without the prior written consent.