To get 200 runs is a wonderful feeling: Rohit Sharma
November 02, 2013 18:40 IST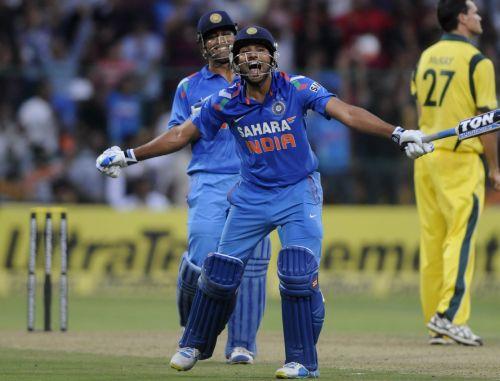 Smiling ear to ear after becoming only the third cricketer ever to smash an ODI double hundred, Indian batsman Rohit Sharma said he went in with the intent to "play big" and successfully executed the plan on the small ground.
Sharma joined Sachin Tendulkar and Virender Sehwag in the all-Indian club of ODI double-centurions in international cricket when he cracked a 158-ball 209 against Australia in the seventh ODI in Bangalore.
"To get 200 runs is a wonderful feeling. The idea was to stay on the wicket and capitalise later. This is a small ground and it's easier to hit and I just took my chances," Rohit said after the exhilarating knock, which included a world record 16 sixes and 12 fours.
'I wanted to play big'
November 02, 2013 18:40 IST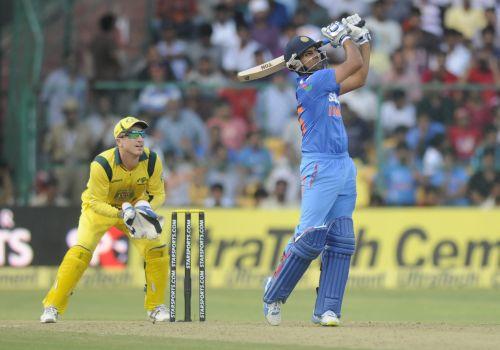 The 26-year-old said he was looking to play aggressively after getting a hundred in the second one-dayer in Jaipur, which India won to square the series.
"It is really coming off very well. I got a hundred in the last game and I just wanted to carry on from that. I wanted to play big. I just wanted to keep the momentum going," he said.
In the course of his hurricane innings, Sharma became the record-holder for most sixes in a match, crossed 1000 runs this year besides breaching the 3000-runs mark in his ODI career.
'Unhappy about the mix-up with Virat Kohli'
November 02, 2013 18:40 IST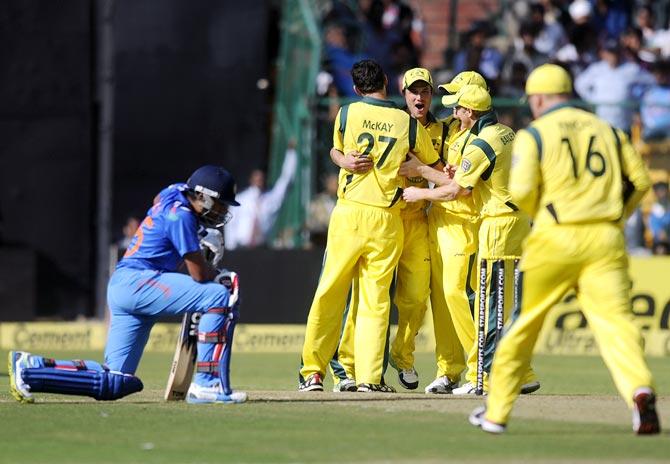 The Mumbaikar laughed when he was asked about the mix-up with Virat Kohli which led to latter being run out and leaving the field angrily.
"It happens sometimes. It's all a part and parcel of the game," he said with a cheeky smile.
Sharma, who has now played 108 ODIs, has finally got a Test call-up as well and is sure to make his debut in Sachin Tendulkar's farewell Test series against the West Indies next month.