1989-1990 Pakistan v India, 1st Test, National Stadium
Last updated on: November 14, 2009 10:09 IST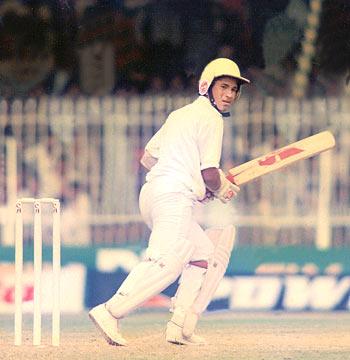 Since his debut Test against Pakistan in 1989, Sachin Tendulkar played 159 Tests, scoring 12,773 runs, with 42 centuries, at an average of 54.58. As the batting ace completes two decades in the game, here's a look at some of his best Test knocks:
Picture this: Pakistan's National Stadium, packed to the rafters with home team supporters roaring their team on against the hated enemy. In the middle, easily the most fearsome pace attack of the time - the young Waqar Younis and Wasim Akram, backed by the legendary Imran Khan. Krish Srikkanth, Navjot Sidhu and Sanjay Manjrekar are blasted out in rapid succession (13/3). Prabhakar is fourth out - and a young lad of just over 16 years walks out into the cauldron.
Imran sets an attacking field, and the two fearsome young fast bowlers go for blood, with a barrage of short-pitched deliveries that buzz around the tyke's head. A ball from Younis rears up and smacks the youngster on the helmet. Concerned, the close in fielders and the bowler rush up to render assistance.
The youngster shakes his head to clear it - and through the visor of his helmet, boyish eyes glare in defiance. He scored only 15 that day - but in the nerveless fashion in which he took guard again after having his bell rung, he announced himself a man among men.
Don't ask me why I picked this short-lived innings. Instead, ask yourself two questions: How many feet did Orville and Wilbur Wright traverse in their first flight? And what was your own biggest accomplishment at age 16?
Text: Prem Panicker
1990, England v India, 2nd Test, Old Trafford
Last updated on: November 14, 2009 10:09 IST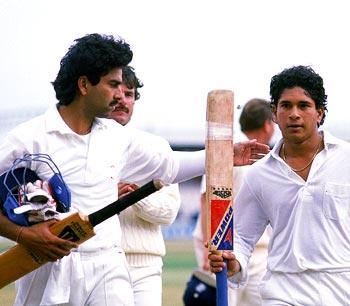 England 519. India - powered by a swashbuckling 179 from Mohammad Azharuddin - 432. England in the second innings, 320 for 4 declared, leaving India 408 to make to win.
What follows, is a sorry procession: Ravi Shastri, Navjot Sidhu, Sanjay Manjrekar, Dilip Vengsarkar and Azharuddin back in the hut with 109 on the board. Kapil Dev follows, 18 runs later.
And then a lad not yet old enough to qualify for a driving license drives England's attack to distraction. While Manoj Prabhakar (67 not out) holds his end up with dogged determination, the boy wonder cuts loose.
A defensive innings at that point would have been hailed as a masterpiece - but 17-year-old Tendulkar attacks, shots of scintillating brilliance punctuating an unbeaten innings of 119 that carries his team to safety.
Text: Prem Panicker
1996-1997, South Africa v India, 2nd Test, Newlands, Cape Town
Last updated on: November 14, 2009 10:09 IST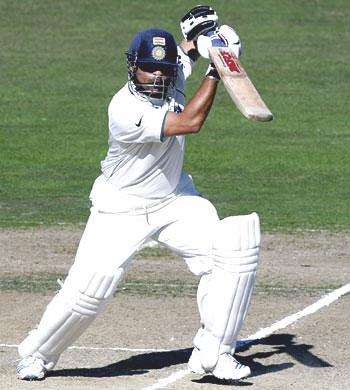 Consider the backdrop: A day after Christmas 1996, India found itself on a green top against South Africa's finest fast bowlers - and lost, by 328 runs, with two days to spare.
On the second day of the New Year, the demoralized side found itself in Newlands - wilting as the home side, powered by centuries from Gary Kirsten, Brian McMillan and Lance Klusener, ratcheted up 529 on the board, then dismissed three Indian batsmen for 29.
On day three, Sourav Ganguly fell with the score on 33. V V S Laxman was fifth out, at 58. Another three day drubbing was on the cards. And then came a display that is unparalleled in contemporary annals for sheer majesty. Tendulkar added 222 in a pulsating sixth wicket partnership with Mohammad Azharuddin. 176 of these runs were scored in 120 minutes of unmitigated mayhem between lunch and tea.
Azharuddin, batting with the artistry of a conjurer, contributed 115 runs off just 110 deliveries. Tendulkar went on - to be last man out for 169 off 253 deliveries, after having shepherded the tail past the follow on mark.
One word describes this innings: Control. On the day, he batted in a zone where nothing could intrude, where none could follow.
Text: Prem Panicker
1998-1999 India v Pakistan, 1st Test, M A Chidambaram Stadium
Last updated on: November 14, 2009 10:09 IST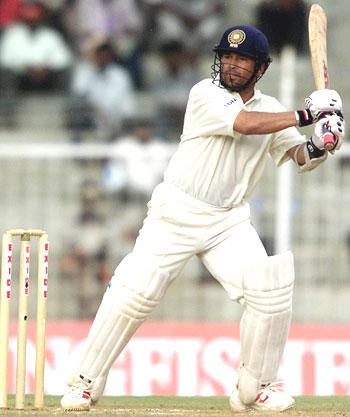 India versus Pakistan is as electric as it gets. For four days, the bitter rivals fight it out on a pitch affording pace, bounce, and turn. India, batting second, ekes out a narrow 16-run lead in the first innings.
A flamboyant century by Shahid Afridi powers Pakistan to 286 in the second - giving India 271 runs to score to win. The Pakistan attack is spearheaded by Wasim Akram and Waqar Younis - backed by Saqlain Mushtaq at the height of his pomp. Younis blasts V V S Laxman out for 0, Sadagoppan Ramesh for 5.
Tendulkar and Rahul Dravid put on 44 runs - of which the latter contributes 10. Azharuddin and Ganguly are quickly winkled out by Mushtaq and India, at 82 for five, is down and almost out.
Tendulkar takes the stage to provide a master class - taming seam and spin alike with effortless ease, all the while shepherding Nayan Mongia. Until an attempt to hit Mushtaq over midwicket ends up as a skier down the throat of point. Tendulkar has, at that point, scored 136 - in a team score of 217 for six.
It is not the impeccable defense you remember today, or the stunning range of strokeplay. What you recall, vividly, is the sight of Tendulkar with his head down in despair, walking back excruciatingly slowly after his dismissal.
Against the sweat-streaked white of his clothing, a vivid red slash stands out - the red of a back brace. He had been advised by his doctor not to play that day.
Text: Prem Panicker
1997-1998, India v Australia, 1st Test, M A Chidambaram Stadium
Last updated on: November 14, 2009 10:09 IST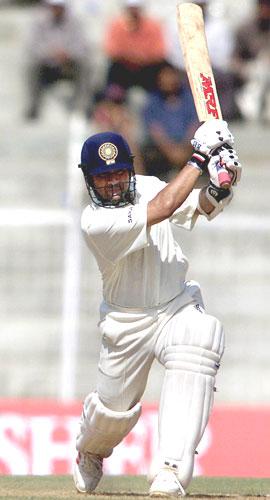 Long before Mark Taylor led his team out in Chennai, the battle lines had been clearly drawn - it was master spinner Shane Warne against master batsman Sachin Tendulkar. In the first innings, Tendulkar goes after Warne - and goes back, caught Taylor at slip off a stupid slash, with just four runs against his name.
India are 71 behind when they begin their second innings. Tendulkar walks out after Navjot Sidhu and Dravid have taken the score to 115 - and launches an assault that Warne still sees, by his own admission, in his worst nightmares.
A merciless, relentless exhibition of barely controlled savagery powers the side to 418 for four declared. The contest is over. Two sets of figures tell the story: Warne 30-7-122-1; Tendulkar 155 not out off 191 deliveries.
Text: Prem Panicker
2003-2004, India v Australia, 4th Test, Sydney Cricket Ground
Last updated on: November 14, 2009 10:09 IST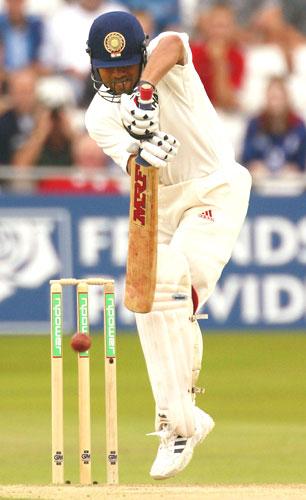 Sachin Tendulkar's best innings against Australia came during India's tour Down Under in 2004.
India had lost two quick wickets when the little giant walked in the middle. Like always, the Aussies had a plan -- not to give width to the batsman.
So, as the Aussies packed the offside with seven fielders, the champion batsman utilized the opportunity to score runs on the onside. The plan, in fact, worked in Tendulkar's favour as he let go the delieveries outside off-stump.
With the Aussies bowling a negative line, Tendulkar found a way to score on the leg-side. He faced almost two-thirds of the deliveries outside the off-stump and, by the end of India's innings, he had amassed a massive 241 runs, much to the awe of Steve Waugh's men.
The 436-ball marathon had 33 hits to the fence.