Sachin Tendulkar is god
Last updated on: November 6, 2009 19:53 IST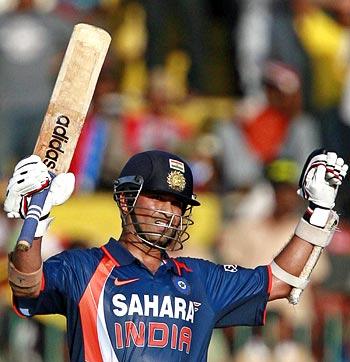 If there is one thing the argumentative Indian will accept as ineluctable fact, it is this: Sachin Tendulkar is god.
Within that broad acceptance of the divinity of Indian cricket's most enduring performer however lie two conflicting thought streams, as irreconcilable as the gulf between the Shaivites and the Vaishnavites, or the Sunnis and Shias.
The first group holds that Sachin is god, period. It is an absolute deification that permits of no ifs and buts.
The other group argues that this 'god' may walk on water or, on occasion, convert water into sparkling champagne -- but like all gods, he fails with distressing regularity to avert the catastrophes that threaten to overwhelm us.
Of what use is a god who can walk on water to us who drown in the flood?
India's ambition to challenge for the top spot
Last updated on: November 6, 2009 19:53 IST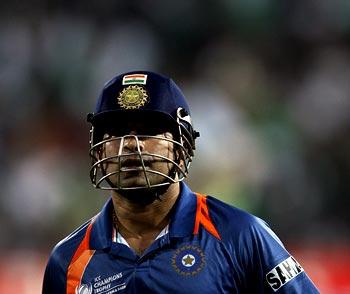 This dichotomy, and the underlying reason for the deep fissure in what, when it comes to cricket, is a monotheistic nation, is best illustrated by the ongoing one-day international series between India and Australia. While delving into specifics, keep in mind that (a) the team has of late developed the capability and, more importantly, the ambition, to challenge for the top spot in the ODI rankings, and (b) that Australia, the gold standard in the sport, is in this series missing no less than eight of its first choice players and three of the replacements.
Ignore the defeat in the curtain-raiser on October 25 at Vadodara: though the final scorecard will show that India was just one boundary hit away from a win, the fact to be noted is that the batting collectively failed, and India only got within one stroke of the stiff target of 293 thanks to a barnstorming 84-run eighth wicket stand between tail-enders Praveen Kumar and Harbhajan Singh.
India won the second game, October 28 at Nagpur, by the convincing margin of 99 runs. Tendulkar's contribution to the team's massive score of 354 was four runs off 14 deliveries faced -- but that should not matter in a team game where the whole matters, not the individual components.
On October 31 at Delhi, India notched up arguably its best win: chasing 230 on a wicket more suited to agriculture than cricketing industry, the team got there by an impressive six-wicket margin. Sachin scored 32 and consumed 47 deliveries -- and again, it does not matter.
The fourth game in the series, November 2 at Chandigarh, was the seminal moment of the series. India was 2-1 up and looking to take the definitive lead. A brilliant bowling performance backed by fielding that was un-Indian in its athleticism restricted Australia to 249. India's target, on a wicket where the batting conditions were perfect, was 250 to win off 300 balls -- a 50-run differential in the team's favour. Opener Virender Sehwag skewed the arithmetic even further with 30 off 19 balls, reducing the target to 220 off 281 deliveries. India lost by 24 runs and allowed Australia to level the series -- and the key stat that jumps out at you is this: Sachin Tendulkar 40 off 68 -- an innings that contained six fours, but also 50 dot balls. In other words, Sachin's inexplicably stodgy knock single-handedly wiped out the advantage India had taken into the chase.
Why look at Tendulkar's stats alone?
Last updated on: November 6, 2009 19:53 IST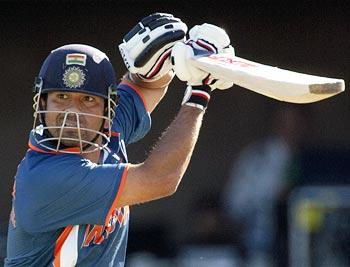 You could at this point turn the earlier question on its head and ask: why look at Tendulkar's stats alone, after harping on cricket being a 'team game'? It is at this point that we leave cricket aside and get into theology: is 'god' god, if you have to parse his deeds against those of the mortals?
That question brings up a related issue: Tendulkar started the series needing 137 runs to achieve the statistical landmark of 17,000 runs. Even the most ardent fan will concede that the milestone a largely pointless one from a team point of view, and a largely superfluous one for an individual who, by reason of achievement and longevity both, 'breaks' some record or other each time he walks out to bat -- had, for the course of the first four games, become a millstone around the batsman's neck, forcing him into an ultra-defensive mode that militated against the larger requirements of the team he was part of.
It is this that has formed grist for the apostates who claim that Tendulkar increasingly plays for himself, not for the team -- and that if the team happens to benefit, it is merely an unintended by-product of personal ambition.
Move on, now, to November 5 and the Rajiv Gandhi Stadium at Uppal, Hyderabad where an adrenalin-fuelled batting performance by Australia left India facing an unlikely, almost impossible, target.
India needed to get 351 in 300 balls; Tendulkar needed 7 runs to attain his personal milestone. For 16 deliveries, the master batsman pushed, poked and prodded until finally, off the last ball of the fifth over, a clip off the pads through square leg produced three runs that took him past his target. It was only then, with the mind freed of personal ambition, that he felt himself free to turn his attention to the team's requirement.
The vast and varied mythology of India's myriad religions is replete with moments when god manifests -- always, when least expected -- to interfere with, to decisively alter, the set course of humankind. 'God' manifested at the Uppal stadium that evening and produced an innings of immortal dimensions.
It was all there, every single element of the Tendulkar mythos: the majestic certitude of the straight-backed thumps through cover and extra cover; the nonchalant ease of his many waltzes down the wicket to hit straight with slide rule precision; the calm certitude with which he repeatedly split the field and, when it was drawn in tight, carried it; the unparalleled balance of his many whips off hips and pads; the schoolboy cheek of the impossibly late cut; the exuberant energy with which he repeatedly traversed the 22 yard strip for singles taken with the judgment of a Solomon
We have witnessed many manifestations of this divinity
Last updated on: November 6, 2009 19:53 IST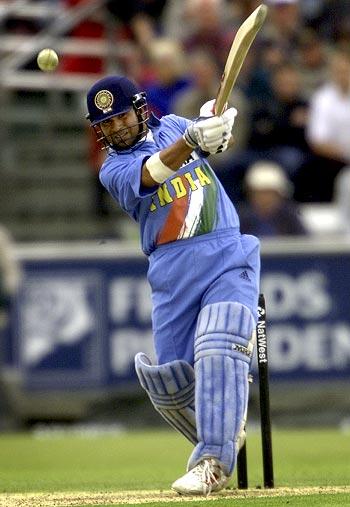 And, as is common with gods on their periodic forays to earth, his divinity played out against the backdrop of human frailty: thus, when he achieved his 17,000-run milestone he had scored 9 off 17 balls. He faced 124 of the remaining 270 deliveries and scored 166; his nine colleagues faced a total of 146 deliveries and managed 157 runs.
The team lost, but by then it hardly seemed to matter. On the night, he was the prodigious soloist headlining a scratch orchestra -- and consonant with the spirit of the truly divine solos, his knock beguiled you; it seduced the senses and tantalized the imagination; it gave you the wings to soar to heights previously unimagined. Finally, it broke your heart.
We have seen this happen before; we have witnessed many manifestations of this divinity: In Faisalabad 20 years ago, when a boy not yet old enough to drive defied the three best fast bowlers of the generation; in Chennai, when he produced in the Test arena another of his divine solos in defiance of a damaged back and a rampant bowling attack; in South Africa in the 2003 World Cup when he reduced Shoaib Akthar to tears in course of one single over.
And, above all, in Sharjah in 1998, when he defied the champion Australian side aided and abetted by a dust storm to produce a Homeric epic, then bettered it two days later.
'When Tendulkar goes out to bat, it is beyond chaos'
Last updated on: November 6, 2009 19:53 IST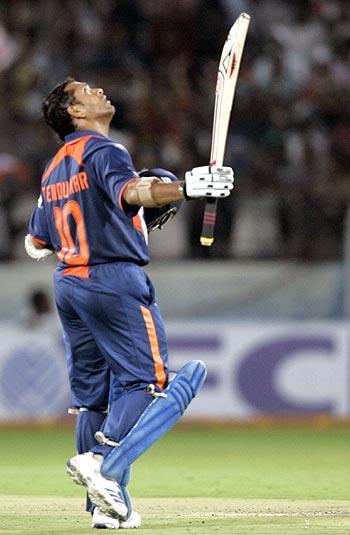 What does it say of Tendulkar that having raised the bar to impossible heights in 1998, he is able to effortlessly vault over it 11 years later?
We have for the space of two decades repeatedly witnessed the alchemy of genius effortlessly convert the impossible into the seemingly inevitable.
Do we, then, treasure each such glimpse of divinity in and of itself, painstakingly weaving them into the Tendulkar mythos and marvelling at our fortune that we were eye-witness to events that will provide grist for a generation of sports balladeers to come? And in the process of thus celebrating the genius, do we refrain from questioning the mortal who, in the lengthening interregnums between individual outbreaks of brilliance, needs the deeds of the past to justify his presence in the present?
Perhaps there is no pat answer to the conundrum. Writing in Mint, Dileep Premachandran quotes Mathew Hayden as saying: "When Tendulkar goes out to bat, it is beyond chaos -- it is a frantic appeal by a nation to one man."
Maybe we should just stop parsing the numbers; maybe we should be grateful that every once in a while, Tendulkar hears that appeal, and responds as only he can.