Pakistan trio 'betrayed cricket' with bribes: court
Last updated on: October 5, 2011 21:54 IST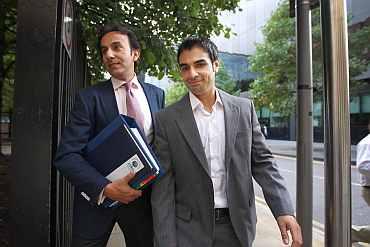 Three Pakistan cricketers, driven by greed, betrayed their teammates and the sport of cricket itself by taking bribes to fix incidents during a Test match against England last year, a London court heard on Wednesday. 
The plot was orchestrated by Pakistan captain Salman Butt and his agent Mazhar Majeed and involved the team's two opening fast bowlers Mohammad Asif and Mohammad Amir who were instructed to bowl three no-balls at a pre-agreed time, prosecutors allege. 
"This case reveals a depressing tale of rampant corruption at the heart of international cricket, with the key players being members of the Pakistan cricket team," prosecutor Aftab Jafferjee told the jury at Southwark Crown Court. 
He said the men had "contaminated" the games and "their activity represents a betrayal by them of their own team, their own Board of Cricket and most damaging of all a betrayal of the sport of cricket itself -- and all for greed".
Scam was revealed by News of the World
Last updated on: October 5, 2011 21:54 IST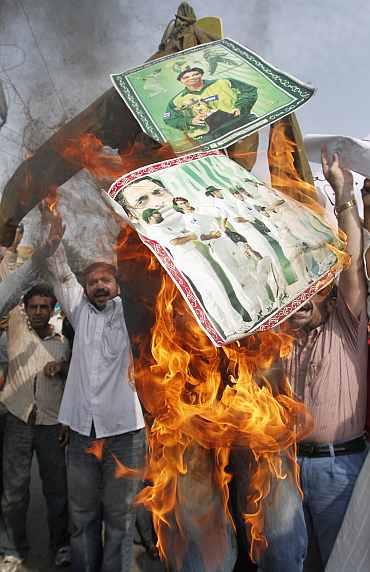 The court heard that the scam was uncovered by a journalist at the News of the World newspaper, the tabloid at the centre of the phone hacking scandal, which has rocked Rupert Murdoch's News Corp empire. The paper has since been closed down. 
Jafferjee said journalist Mazhar Mahmood, well-known for revealing wrongdoing amongst British politicians, celebrities and even royalty often posing as a "fake sheikh", had approached Majeed saying he was a wealthy Indian businessman wanting to set up a tournament in the Emirates. 
"Were this investigation not to have been permitted, this activity of 'fixing' would have certainly continued -- unabated and unaccountable -- and beyond the reach of the law," the prosecutor said.
Betting prevalent in sub-continent
Last updated on: October 5, 2011 21:54 IST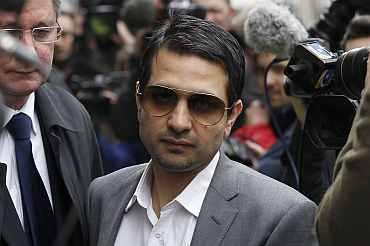 Jafferjee said the activity was underpinned by the betting industry in the Asian subcontinent -- Pakistan, Bangladesh, Sri Lanka and the Far East, adding that gambling in the Asian subcontient on cricket games alone had a turnover of $40-50 billion a year. 
The jury of six men and six women was told that only Butt and Asif were on trial, but Jafferjee stressed there was "nothing sinister" in the absence of Majeed and Amir from the proceedings, the Press Association reported. 
Butt and Asif deny conspiracy to cheat and conspiracy to accept corrupt payments between August 15 and 29 last year. 
Butt made his Test debut for Pakistan in 2003 and since then has played in 33 Test matches, 78 One-day Internationals and 24 Twenty20 games for his country. 
He was appointed captain of Pakistan's Test side on July 16 last year, during the tour of England. 
"If the prosecution are right about his activity, that appointment consolidated his influence within the team, and assured his ability to direct activity on the field, both legitimate and corrupt," Jafferjee said.
'Just by chance'
Last updated on: October 5, 2011 21:54 IST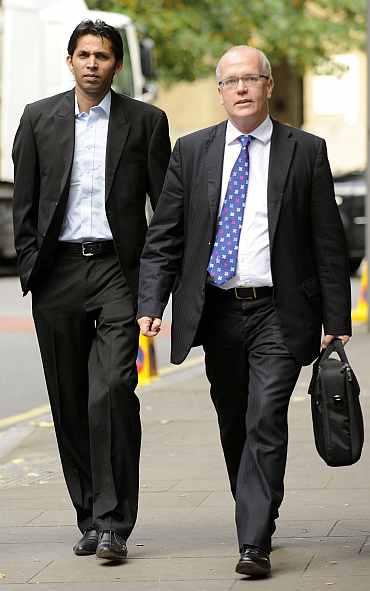 Butt told police in interview that the timing of three no-balls during the Lord's Test exactly when Majeed told the News of the World journalist they would be bowled was just "a series of freakish occurrences", the court heard.
Asif was first selected to play for Pakistan in 2005 and has represented his country in 23 Test matches, 38 One-day Internationals and 11 Twenty20 games.
Last summer he was ranked the world's second-best Test bowler by the International Cricket Council (ICC) and took his 100th Test wicket during the series in England.
Asif told detectives it was "just chance" that he bowled a no-ball exactly when Majeed said he would.
The case continues.
Source:
© Copyright 2019 Reuters Limited. All rights reserved. Republication or redistribution of Reuters content, including by framing or similar means, is expressly prohibited without the prior written consent of Reuters. Reuters shall not be liable for any errors or delays in the content, or for any actions taken in reliance thereon.