Third ODI: India undergo rigorous practice
Last updated on: January 5, 2013 21:55 IST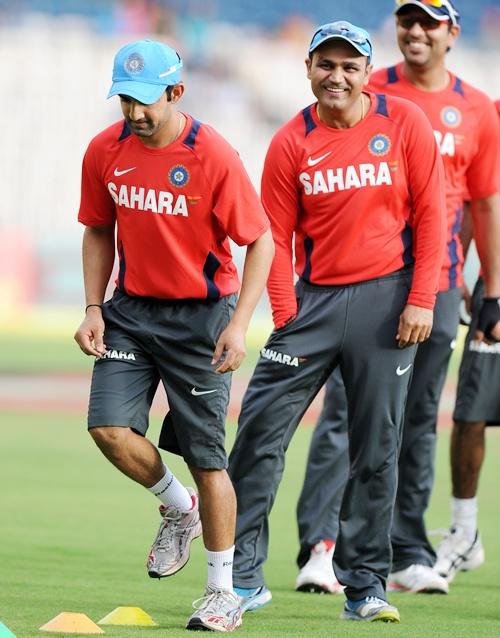 With only pride at stake after losing the three-match ODI series against Pakistan, the Indian team underwent a rigorous training session in New Delhi ahead of the final match on Sunday with the spotlight on some under-performing players, including opener Virender Sehwag.
-Dhoni should give up the Twenty20 format: Abbas
-'Indian batsmen are terribly out of form since 2011 WC'
-India look to restore some pride against Pakistan
The full Indian squad, sans middle order batsman Yuvraj Singh, had a three-hour long training session under coach Duncan Fletcher at the Feroze Shah Kotla with under-fire opening duo of Sehwag and Gautam Gambhir having extended batting sessions.
Yuvraj missed the practice session
Last updated on: January 5, 2013 21:55 IST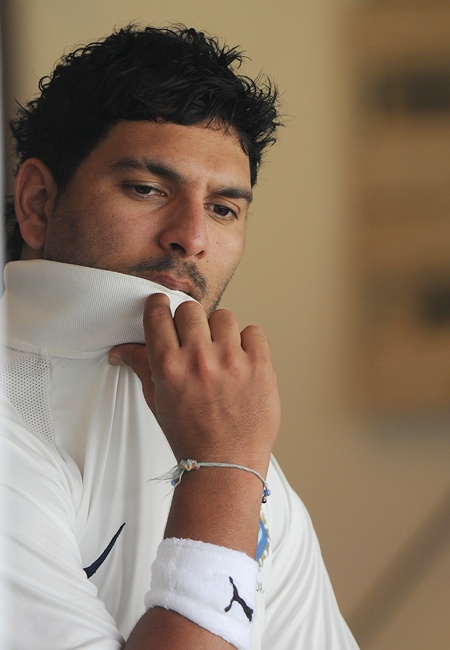 Yuvraj was conspicuous by his absence in the practice session.With the dense fog and bone-numbingly chill weather prevailing in the Capital, the Indian players arrived at the Kotla around 11:45 am.
As soon as they came out at the ground, the sun smiled on them bringing a sense of relief to the players.
There was the customary game of football as some moved gingerly while others showed their ball-control skills. The short session set the stage for a gruelling fielding session followed by the nets.
The fielding session saw players having throw downs and slip catching practice in two batches, one led by coach Duncan Fletcher and other by fielding coach Trevor Penny.
While Sehwag, Rohit Sharma, Ajinkya Rahane, Ravindra Jadeja, Ashok Dinda and Dhoni were Penny's batch, the other group comprising Suresh Raina, Ajinkya Rahane, Virat Kohli, Gautam Gambhir, Ishant Sharma and Bhuvneshwar Kumar was closely observed by Fletcher as he was seen egging on the players to be accurate with their throws.
Sehwag looked at ease against the pacers
Last updated on: January 5, 2013 21:55 IST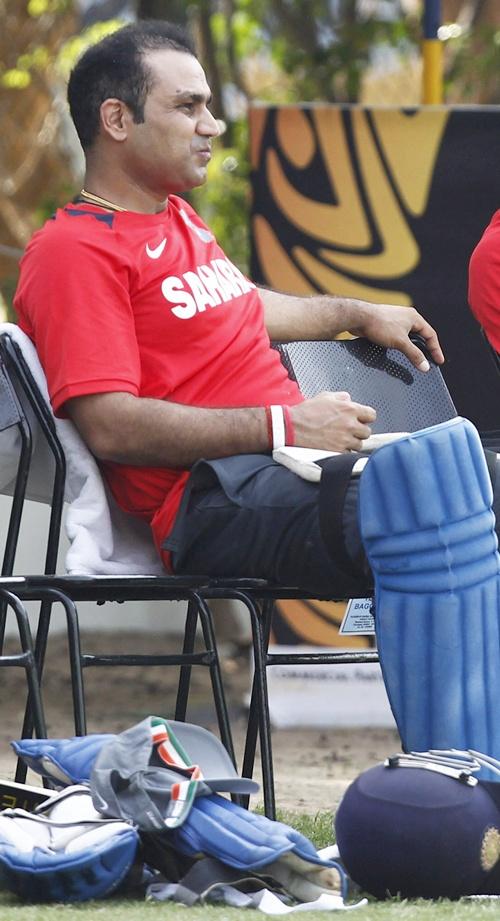 After the warm-up session, the batsmen hit the nets with renewed vigour and punished the local DDCA bowlers with their impressive shot selection.
The batsmen batted in pairs -- Sehwag and Gambhir, Kohli and Rohit Sharma, Raina and Jadeja -- with the Delhi opening duo, who face the net bowlers first, came back again after a half-an-hour stint.Sehwag and Gambhir faced the local DDCA bowlers who bowled with accurate line and length.
While Sehwag seemed to be in a defensive mode while also sharpening his reflexes, Gambhir looked more aggressive and sometimes took to the aerial route.
Sehwag was beaten a few times but he generally looked at ease against the pacers.
Sehwag, Gambhir batted with positive intent
Last updated on: January 5, 2013 21:55 IST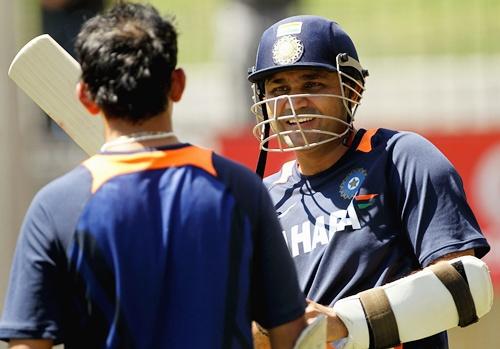 Few minutes later, Jadeja, Raina and Ajinkya Rahane joined Sehwag and Gambhir at the other sides of the nets and faced the local spinners.
After some time, vice-captain Virat Kohli and Rohit Sharma took over as they focussed on running between the wickets while facing Bhuvneshwar Kumar.
Sehwag and Gambhir came back later for their second round of batting and faced Ishant and R Ashwin respectively.
The opening pair, who have come under severe criticism for not giving a good start for some time now, batted with positive intent as they put on show their full repertoire of strokes.
While Fletcher closely observed Sehwag, Penny took the onus to test Gambhir's concentration level.
India 'A' players tested the Indian batsmen
Last updated on: January 5, 2013 21:55 IST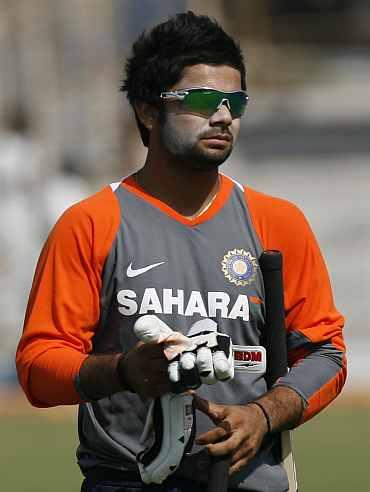 Meanwhile, Dhoni was seen involving in a serious discussion with Fletcher. They chatted close to 20-25 minutes before the Indian skipper padded up for his batting turn.
The three India 'A' squad members who were called at the nets -- Ishwar Pandey, Mohit Sharma and Pervez Rasool -- tested the Indian batsmen with their pace and spin.
While Madhya Pradesh pacer Pandey and Jammu and Kashmir right-arm spinner Rasool tested Kohli with swing and flight respectively, Mohit Sharma first bowled to Raina and then to Dhoni. Bengal paceman Shami Ahmed also bowled at the nets.
Rasool was particularly impressive while bowling to Dhoni at the end of the session as the Indian captain was beaten a few times. Dhoni also faced pacers Bhuvneshwar, Pandey and Ahmed.
© Copyright 2021 PTI. All rights reserved. Republication or redistribution of PTI content, including by framing or similar means, is expressly prohibited without the prior written consent.