N Srinivasan: 'Conscience is clear; I've not done any wrong'
July 03, 2014 16:14 IST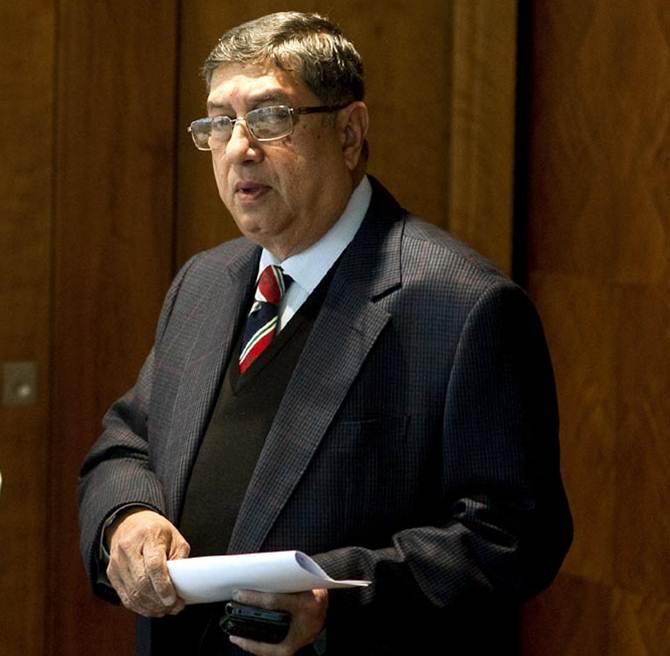 Firmly maintaining that his "conscience is clear", new ICC chairman Narayanaswmi Srinivasan said he has "done nothing to tarnish the image of the game" and will speak out once the Probe Committee, headed by Justice (retd) Mukul Mudgal, tables its final IPL spot-fixing report.
"Let the report come out and I will speak. At this point, I am at a disadvantage. I would like to say one thing: my conscience is clear. I have not done anything to tarnish the game, bring disrepute or done anything wrong. I do hope that this will come out cleanly. When there is something before the court I don't want to say anything more," Srinivasan said.
He reiterated that he "stepped aside" from functioning as president of the Board of Control for Cricket in India and does not interefere or intervene in its activities.
"I have stepped aside and I don't have a habit of going inside and poking my nose," he told NDTV.
He was sarcastic when asked about the never-ending controversy of his "conflict of interest".
"What is conflict of interest? This is now going on for many years," he said.
Srinivasan said it is difficult to answer how it feels to be ICC chairman despite the legal hassles.
"Difficult question to answer now that it's all over. The attempts that were made in some quarters didn't succeed and other members of the ICC reposed faith in BCCI and me. As a result, election was unanimous. So, in hindsight, it's difficult for me to say what was going through my mind at that time," he said.
- Please click NEXT for more...
'Actually, I had voluntarily stepped aside'
July 03, 2014 16:14 IST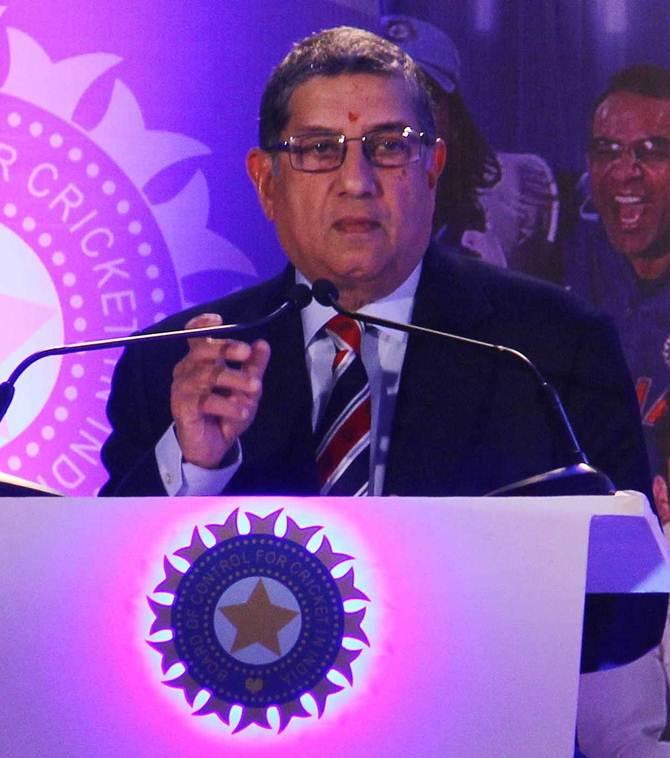 The India Cements supremo, who owns the high-profile IPL franchise Chennai Super Kings, feels he is at a "disadvantageous position" as some matters are still pending in court.
"I am at a disadvantage as some matters are still pending in court. That's why I am not able to speak freely."
He sought to downplay negative reports in the western media about his appointment to the ICC's top post.
"Look at it the other way. This is what the newspapers say. So I can't fight the media. That's a perception; a headline that is given! Even some people said that I was barred. Actually, I had voluntarily stepped aside. What is important is what you have got to look forward to."
Srinivasan defended ICC's Anti-Corruption & Security Unit (ACSU) stating that they are doing "significant amount" but have a few bottlenecks as they can't act like a law-enforcement agency.
"I don't think ICC has failed to do it. In fact, ICC has stepped up the vigil. I think an important aspect in the whole issue is that there has been lot of efforts to educate players as to what extent approaches can be made. In fact, I understand that the players have started to report more about approaches.
"The slightest approach is being reported. So I can surely say that ICC's efforts are paying off. ACSU is being kept informed and players are being counselled," he said.
He went on to highlight the problems of the ACSU.
"ACSU is not a police force. It does not have the powers that law enforcement agencies have. But they have an understanding with more and more police forces around the world for exchange of information so that they can do their job a little better. It's an ongoing process."
- Please click NEXT for more...
'The impression that power is vested within three countries is not quite correct'
July 03, 2014 16:14 IST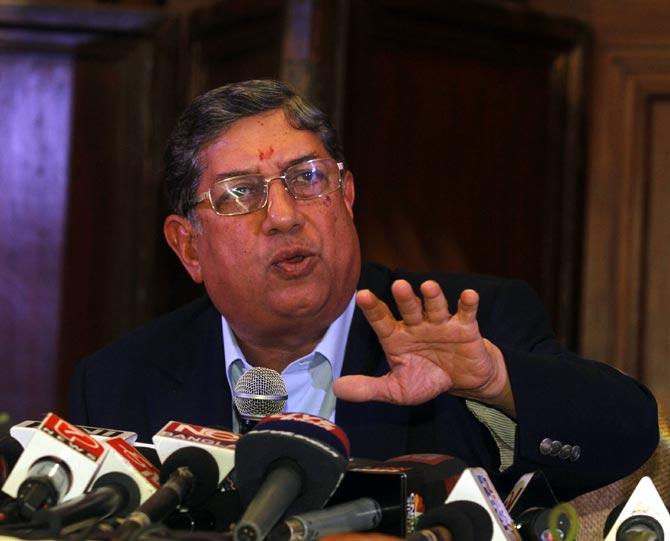 Srinivasan said that at the next ICC board meeting, the 'Code of Ethics' will be "updated and strengthened".
He once again justified why the BCCI was right in demanding greater share of the ICC pie but also explained that other boards will stand to gain more from the new revamped ICC revenue model.
"For almost 70 years, two countries, England and Australia, have had a veto. It's only in the late 90s, it's changed. The impression that power is vested within three countries is not quite correct. It's just that three countries will assume greater responsibility.
He gave a detailed explanation as to how the BCCI is justified in demanding a larger chunk of the revenue having contributed 75-80 percent of ICC's earnings.
"In fact, India has been contributing a very significant part of that revenue. It's around 75-80 percent. However, as per the new model going around for eight year cycle 2015-2023, all countries will get more than what they got during the last cycle. This is expected that India will get a bit more of the share recognizing its contribution.
"I don't think there's anything wrong in that. India will be getting 21-22 percent compared to 3-4 percent, it was getting earlier. India is not taking all it brings to the table. India is fair and the perception needs to change," he added.