Meet the contenders for the coveted No. 4 slot in Tests
Last updated on: November 17, 2013 15:45 IST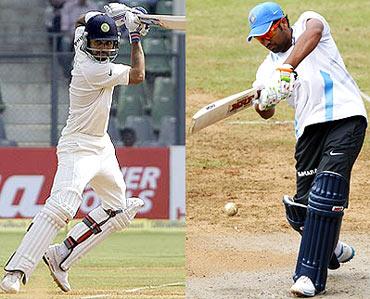 Sachin Tendulkar's retirement leaves a huge void in the Indian Test team's middle order. Rediff.com's Harish Kotian lists the contenders for the coveted No 4 slot.
Sachin Tendulkar's departure leaves a huge void in the Indian Test team. He laid siege to nearly every batting record in cricket and deservedly retired as one of the greatest players to have graced the game.
It is hard to imagine anyone coming close to his records, forget breaking them.
Tendulkar played a mammoth 200 Tests, scoring 15921 runs, at an average of 53.78, hitting 51 centuries and 68 fifties, since making his debut 24 years ago in November 1989.
The Little Master has batted mostly at number four for most part of his career and shouldered the major burden of the Indian batting, while excelling both at home and abroad.
Following his departure, it remains to be seen who will be chosen for the No. 4 slot in the Test team.
India's first assignment in the post-Tendulkar era begins with a difficult tour of South Africa, where they will play two Test matches.
Who'll bat No.4?
Meet the contenders for the coveted No. 4 slot in Tests
Last updated on: November 17, 2013 15:45 IST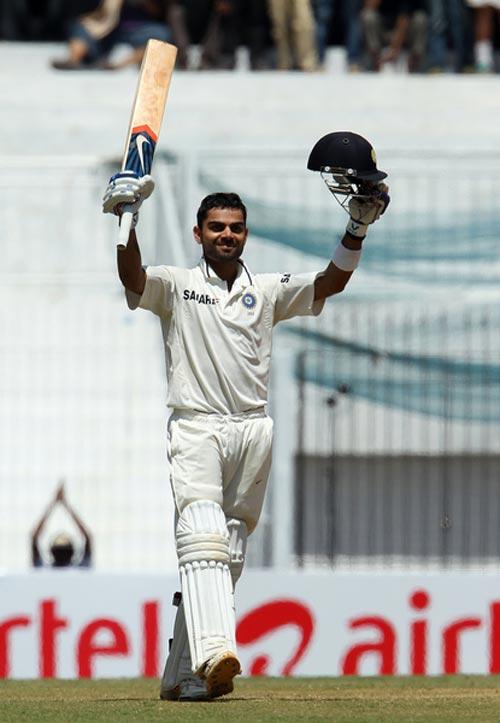 Virat Kohli, India's latest batting sensation, is the favourite for the coveted slot, but there are a few others too who can lay claim.
Kohli, 25, has already announced himself as the next big thing in Indian cricket. He is now one of India's batting mainstays in all three formats and one of the team's biggest match-winners in recent times, especially in limited-overs cricket.
After a difficult start to Test cricket, when he scored just two fifties in his first 11 innings, Kohli suddenly rose to the prominence after a century against Australia in Adelaide, in January last year.
His record, after 20 Tests, reads: 1235 runs, at an average of 41, four hundreds and seven fifties.
Given his temperament and ability to shine under pressure, he definitely leads the race when it comes to taking over at number four.
Who'll bat No.4?
Meet the contenders for the coveted No. 4 slot in Tests
Last updated on: November 17, 2013 15:45 IST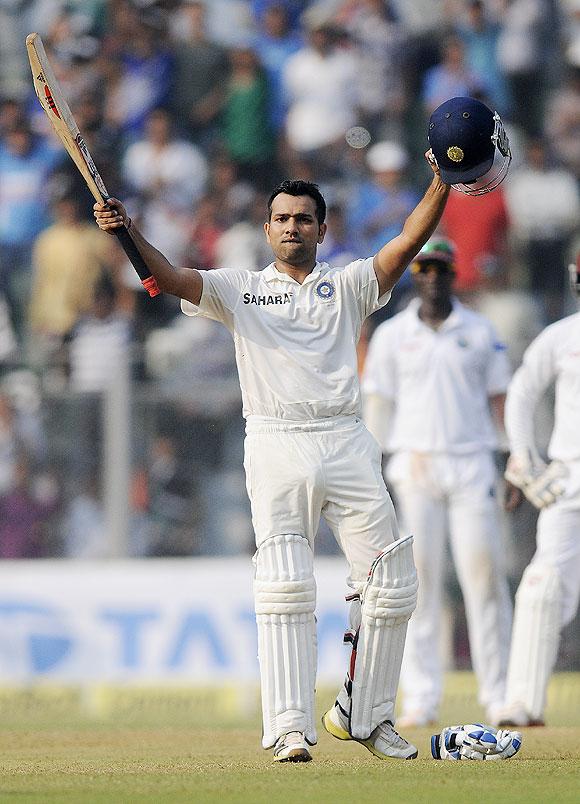 Rohit Sharma has also thrown his hat into the ring for Tendulkar's batting position following a splendid performance in his debut series, against the West Indies.
The Mumbai batsman had to wait for nearly six years to get his first chance in Tests and when he got it, he made sure that he made most of the opportunity.
Two hundreds in his first two matches, and suddenly Rohit is also being talked about taking over the number four slot.
As was witnessed in the two Tests against the West Indies, Rohit proved that he has all the requisites to be a good Test batsman. His real test, though, will come in South Africa when he plays against the pacers on bowler-friendly pitches.
Who'll bat No.4?
Meet the contenders for the coveted No. 4 slot in Tests
Last updated on: November 17, 2013 15:45 IST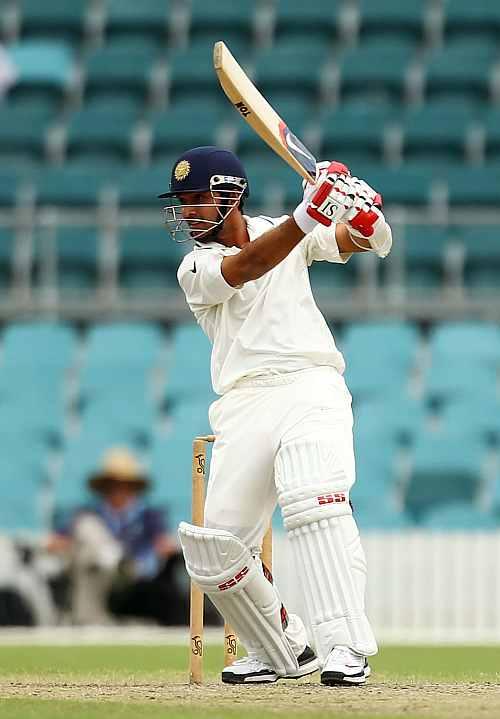 Another Mumbai youngster keen to break into the Indian Test team is Ajinkya Rahane. Rahane has been travelling with the Indian team for a long, but has failed to get enough chances. He will certainly benefit from Tendulkar's retirement as he is guaranteed a position in the middle order.
The right-hander has a terrific record in first class cricket, but failed to seize his chances at the international level. He has featured in 17 ODIs, but is unable to seal a permanent berth in the squad, while he failed in the only Test match he played, against Australia, in March.
Rahane started as an opener in first class cricket before switching to the middle order. Even chairman of selectors Sandeep Patil confirmed last year that he was picked in the team as a middle order batsman and not an opener.
A clearer picture of who of the abovementioned trio will have a first tilt at the No. 4 slot will appear in the coming weeks. Till then, Indian cricket fans, as also the man who monopolized the slot with great success, will have to wait and watch.
Who'll bat No.4?