Meet Indian cricket's Next Big Thing
August 07, 2014 13:25 IST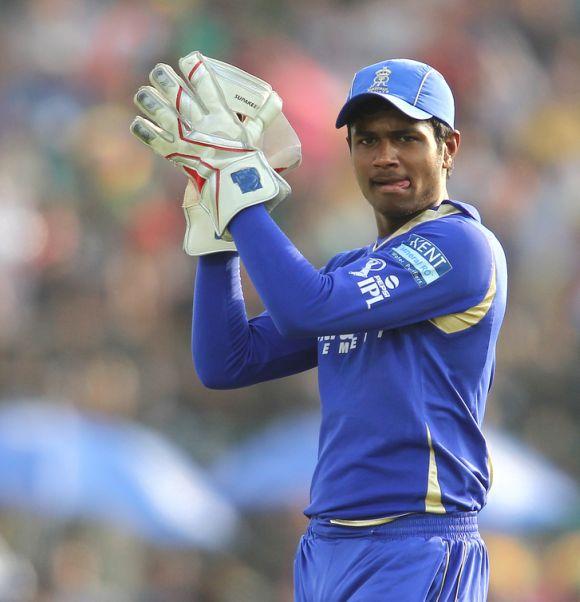 'Rahul (Dravid) sir has been a big influence in my batting. He constantly motivated me to do well.'
Teenage star Sanju Samson, a member of the Indian ODI team in England, tells Manu Shankar/Rediff.com how he has improved as a cricketer.
The phone lines at the Viswanath family home have been busy. Friends, family, Kerala's Chief Minister Oomen Chandy all call to convey their wishes to a young man hailed as the next big thing in Indian cricket.
After his dynamic show in the Indian Premier League, 19-year-old Sanju Samson enhanced his reputation with a sterling show in the recent Quadrangular A-Team One-day series in Australia.
Sanju was India's top-scorer, amassing 244 runs from seven innings, which included two half-centuries, at an average of 81.33. Not surprisingly, he got the India call-up for the England ODI series ahead of big names like Yuvraj Singh and Cheteshwar Pujara.
"I'm happy to have made it to the Indian team and thank all the people who stood by me," he tells Manu Shankar/Rediff.com
Please click NEXT to read more...
Meet Indian cricket's Next Big Thing
August 07, 2014 13:25 IST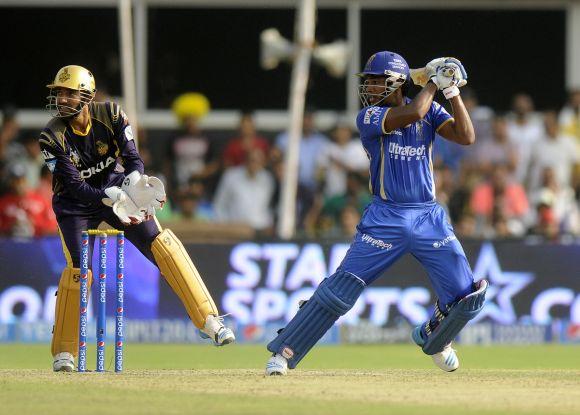 Making his first class debut at 16, Sanju arrived with a bang in 2011, scoring 377 runs, which included two centuries.
"I enjoy batting in challenging situations. The initial matches were something to forget. But senior players and the KCA (Kerala Cricket Association) helped me settle in and not be pushed over," he says.
It was with the Rajasthan Royals and the IPL that Sanju was noticed.
"Rahul (Dravid) sir has been a big influence in my batting. He constantly motivated me to do well. I've gained confidence."
"In the nets, Rahul sir would tell me to play to the merits of the ball and anticipate what the bowler will do next. I gained confidence in facing top-quality bowlers in the IPL."
Please click NEXT to read more...
Meet Indian cricket's Next Big Thing
August 07, 2014 13:25 IST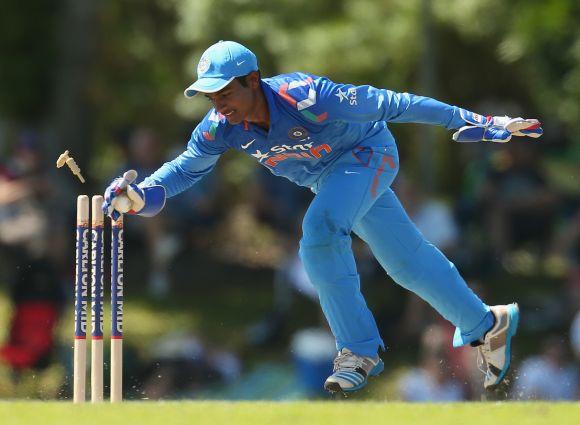 His father Samson Viswanath, who worked as a constable with the Delhi police, took voluntary retirement and returned to Thiruvananthapuram a few years ago to enhance the cricketing interests of his two sons, of whom Sanju is the younger.
Sanju's form dipped after his impressive debut and in the Under-19 Asia Cup 2012 he only scored 14 runs from three innings. He was not picked for the Under-19 World Cup later that year.
The wicketkeeper-batsman came back strongly in this year's Under-19 World Cup and Asia Cup, finishing as the top scorer amongst the Indians.
"You always look to improve," he says. "This time round, I went into the tournament as a better cricketer."
Please click NEXT to read more...
Meet Indian cricket's Next Big Thing
August 07, 2014 13:25 IST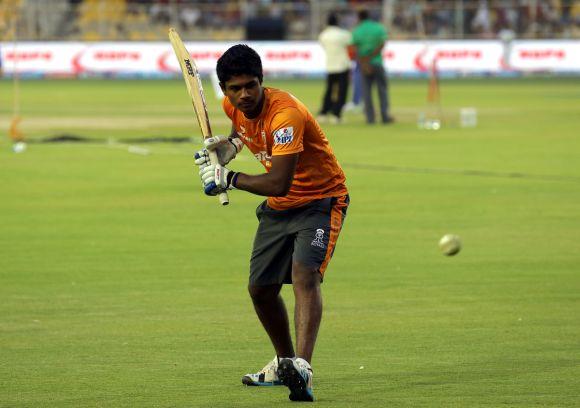 A top-order batsman, Sanju was assigned a new role -- that of a finisher during the recent Quadrangular series.
"This was something new for me. I've always played as a top-order batsman. But I always looked forward to the fact that I wanted to be there when the final run is taken."
"It's a challenge to turn your game according to the situation and face different bowlers with different skills," he adds.
Kerala can rejoice that after Tinu Yohannan, Abey Kuruvilla and Shantakumaran Sreesanth -- all bowlers -- another Malayalee has made it to the Indian team.