Will SRK's Knights taste success against Preity's Kings?
Last updated on: April 25, 2013 14:57 IST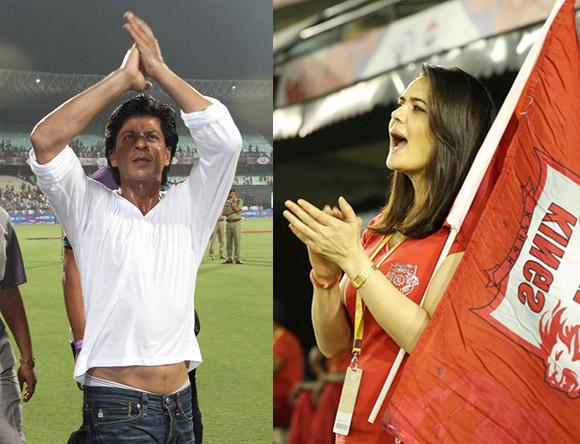 Their title defence in danger, struggling Kolkata Knight Riders desperately need a win against a resurgent Kings XI Punjab in Kolkata on Friday, in order to revive their fortunes in the Pepsi India Premier League 6.
-PHOTOS: Gayle celebrates 'Gangnam style' at IPL!
-PHOTOS: Force India drivers turn bowlers at IPL
-PHOTOS: Kolkata celebrates Tendulkar's birthday at Eden
After slumping to its fifth loss in as many as seven matches, the Knight Riders have a difficult task ahead as they have slipped to the seventh spot with just four points.
From here on, the Kolkata outfit need to win at least seven more games from nine outing (five being away matches) to keep their hopes alive for a place in the play-offs.
Come Friday, the Knight Riders would fancy their chances against one of the weak sides in the competition, even as form favours the Punjab outfit which is brimming with confidence after back-to-back victories.
Injury worries for KKR
Last updated on: April 25, 2013 14:57 IST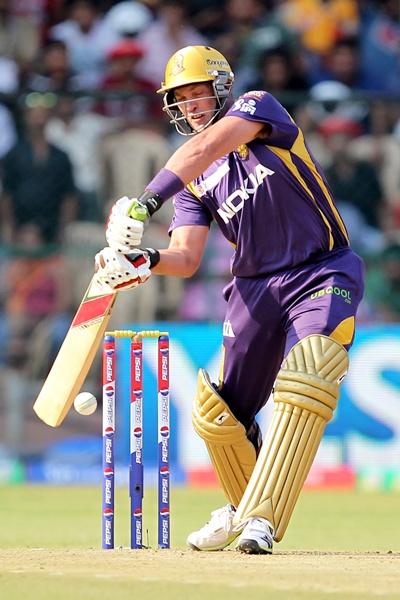 It's quite certain that the Knight Riders may miss out on the injured trio of Jacques Kallis (twisted right knee), Manoj Tiwary (split webbing) and Laxmi Ratan Shukla (ligament tear).
The injury problem maybe a blessing in disguise for the beleaguered Knight Riders as it may pave the way for explosive Kiwi batsman Brendon McCullum, while Ryan ten Doeschate, Manvinder Bisla and Mohammad Shami Ahmed will certainly be in the spotlight.
A win against Kings XI will also avenge their shock four-run loss at Mohali in the first leg as Gambhir's men would look to turn it around.
The Knight Riders are clearly faltering with their last season's strategy of attacking the opposition with mystery spinners on a sluggish wicket aided by a couple of part-time medium pacers.
Gambhir is running out of options
Last updated on: April 25, 2013 14:57 IST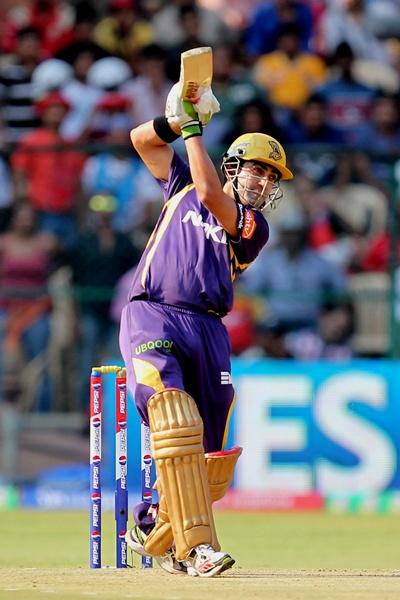 No doubt, Sunil Narine has the guile and looked threatening every time he came on to bowl, but the opposition teams have become smart enough to play out the off-spinner's four overs and attack the rest who are nothing but mediocre.
Mumbai Indians showed it on Wednesday night while chasing a tricky 160 on a slow Eden Gardens pitch. They played Narine (4-0-17-3) with caution but the likes of Dwyane Smith and Kieron Pollard went after the rest of the bowling attack to complete a five-wicket win.
With the pitch not being tailor-made this time -- after the BCCI's diktat that the franchises cannot interfere –- the otherwise 'dead' Eden turf in fact looks better, hurting the Knight Riders all the more.
The Knight Riders desperately need a quality Indian medium pacer, who can take wickets on any wicket as Kallis' void in the bowling department was clearly felt on Wednesday.
With the talented Shami Ahmed warming the dugout, Gambhir in fact has run out of options.
Yusuf Pathan is proving to be a burden
Last updated on: April 25, 2013 14:57 IST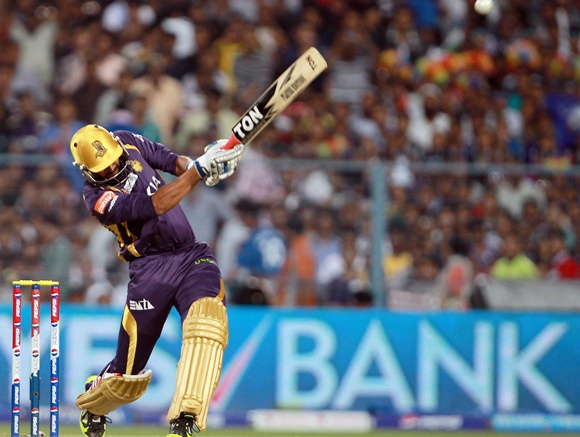 For the Knight Riders, their biggest worry has been the failure of its batting unit.Yusuf Pathan is proving to be a burden for the side because of his prolonged poor form both with the bat.
Talented Shukla and Debabrata Das have been quite ordinary and have never showed appetite or application required in this format, while so-called all-rounder Rajat Bhatia has been a flop and his place in the playing eleven is definitely debatable.
Time has come for Gambhir to make some drastic changes to bring a balance in the side.It's high time the Knight Riders field Ryan ten Doeschate in the team as he is not only good with the bat but is also very handy pacer.
Sachithra Senanayake, with a suspect action, proved to be the most expensive (12.50) on Wednesday and it would be a far better ploy to drop him for hard-hitting McCullum.
In the domestic lineup, the Knight Riders might be forced to bring in their regular wicket-keeper Manvinder Bisla as a possible replacement for Tiwary.
Hussey, Miller provide Kings XI the stability
Last updated on: April 25, 2013 14:57 IST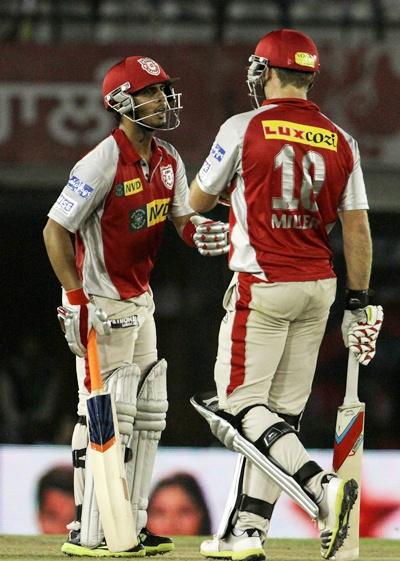 On the other hand, the Kings XI might be one of the weakest teams in the competition but they have got into a winning momentum especially after their comfortable five-wicket win over Delhi Daredevils in their last game.
Medium pacer Harmeet Singh, who returned with a match winning performance of 3/24, turned out to be the star for Kings XI at Feroze Shah Kotla the other night.
On the batting front, young Mandeep Singh has shown the appetite for runs upfront while David Hussey and David Miller provide Kings XI the stability in the middle order.
But skipper Adam Gilchrist has been big flop in the tournament so far, and with their little-known players contributing in the wins, time has come for the Kings XI team management to take a tough decision on the veteran wicket-keeper batsman.
Gilchrist has been a big failure
Last updated on: April 25, 2013 14:57 IST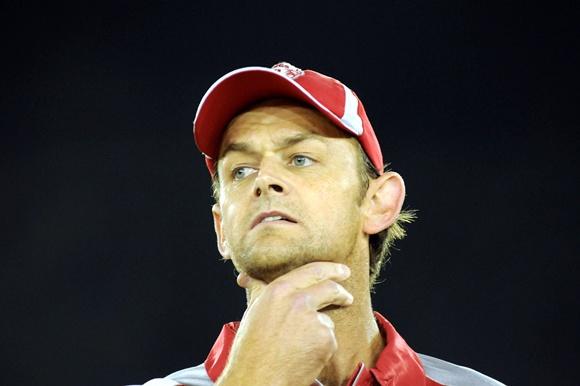 Kings XI need to take a cue from Mumbai Indians, who dropped struggling skipper Ricky Ponting and gave away the captaincy duties to Rohit Sharma. Their ploy worked to perfection as Mumbai looked a more balanced outfit on Wednesday night.
The 41-year-old Gilchrist, IPL's oldest player, has been a big failure with the bat with knocks of 15, 9, 0, 7, 26, 4 and 6 in his last seven outings.
For Kings XI, Hussey would be a better option to lead the side in place of Gilchrist, and it will also lend the much-needed balance to the Punjab team.
Teams (from):
Kolkata Knight Riders: Gautam Gambhir (Capt), Yusuf Pathan, Jacques Kallis, Manoj Tiwary, Eoin Morgan, Debabrata Das, Rajat Bhatia, Iqbal Abdulla, Sachithra Senanayake, SunilNarine, Laxmipathy Balaji, Sarabjit Ladda, Brad Haddin, Brendon McCullum, Ryan McLaren, Pradeep Sangwan, Mohammad Shami Ahmed, Manvinder Bisla.
Kings XI Punjab: Adam Gilchrist (Capt), Mandeep Singh,Luke Pomersbach, David Miller, Manan Vohra, David Hussey,Piyush Chawla, Praveen Kumar, Harmeet Singh, Bhargav Bhatt,Parvinder Awana, Azhar Mahmood, Bipul Sharma, Siddharth Chitnis, Aniket Choudhary, Manpreet Gony, Gurkeerat Singh Mann, Ryan Harris, Shaun Marsh, Dimitri Mascernhas, Nitin Saini, Sandeep Sharma, Rajagopal Sathish, Sunny Singh, Paul Valthaty.
© Copyright 2021 PTI. All rights reserved. Republication or redistribution of PTI content, including by framing or similar means, is expressly prohibited without the prior written consent.