Sehwag disappointed by Delhi batsmen's no show
Last updated on: May 23, 2012 09:24 IST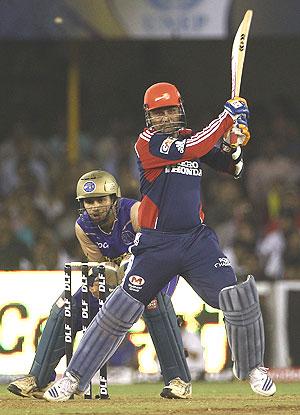 With the first chance to qualifying for the IPL final slipping out of their grasp, Delhi Daredevils skipper Virender Sehwag has blamed his batting unit for failing to fire against Kolkata Knight Riders in the Qualifier.
- Kolkata thrash Delhi by 18 runs to qualify for final
Delhi could manage just 144 for eight with all big guns failing to contribute enough.
"We did not bat well, 160 was chaseable. The required batting effort was just not there. We lost two early wickets and failed to make it in the last few overs," Sehwag said on Tuesday.
Sehwag also defended selection when asked if presence of spinner Nadeem could have made some difference.
"Varun Aaron and Umesh Yadav have bowled brilliantly for me. I cannot sit them out. It was a tough choice but we thought that the grass might help the pace bowlers," he said.
He promised to bounce back in Qualifier 2, saying, "We have another chance to get there, we cannot relax, need to go all out."
'We believed 160 was an above par score'
Last updated on: May 23, 2012 09:24 IST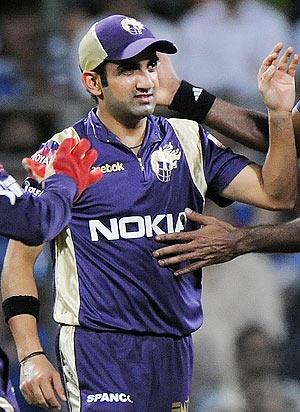 Winning skipper Gautam Gambhir said KKR were confident of defending the total.
"We always felt that it was a 140-145 wicket, but when we got 160, we thought it was an above par score," he said.
Asked if Jaques Kallis's all-round effort has proved crucial, Gambhir said, "It's not only about Kallis, all of them have bowled very well. Lot of credit to all the bowlers including Balaji, Abdulla, Narine and others," Gambhir said.
Paceman L Balaji had looked in some discomfort during the match but Gambhir said he will recover in time before Sunday's final.
"We have four days for Balaji to recover from the injury."
'I know I can get going in a big match'
Last updated on: May 23, 2012 09:24 IST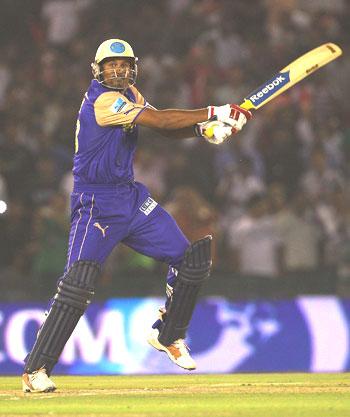 Yusuf Pathan, who smashed a brilliant 21-ball 40 to help his side reach a good total, said he was pleased to have lived up to the expectations of the team.
Yusuf had copped a lot of criticism following a spate of poor batting performances before this match.
"There are always big hopes from me. I had not performed well in the previous games, but I know that I can get going in a big match," he said on receiving the man-of-the-match award.
Yusuf said having enough overs to settle on the pitch helped him get his touch back.
"I had a lot of time to get in and adjust myself to the track today. Now we are waiting for the big game. We will relax and await it eagerly," he said.
'We read the wicket well'
Last updated on: May 23, 2012 09:24 IST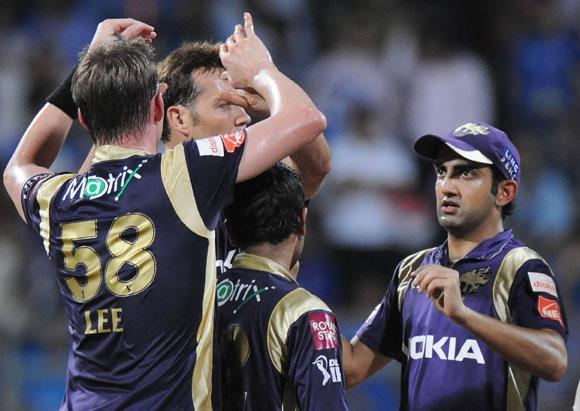 Following the win, KKR's bowling consultant Wasim Akram said Gambhir's leadership has made a huge impact on team's fortunes this season.
"I am happy to be associated with KKR. It's a great bunch of boys, love to stick around with each other. Long story what's changed from the first four years, but to cut it short, it's all because of a very good captain and an enthusiastic owner," the Pakistani bowling legend said.
Akram was happy that the team strategy worked on the day.
"We read the wicket well, we played four spinners, they played only one. Had they got in another spinner or two, it could have gotten lot closer," he said.
© Copyright 2021 PTI. All rights reserved. Republication or redistribution of PTI content, including by framing or similar means, is expressly prohibited without the prior written consent.