'My son will never betray cricket'
Last updated on: May 16, 2013 16:02 IST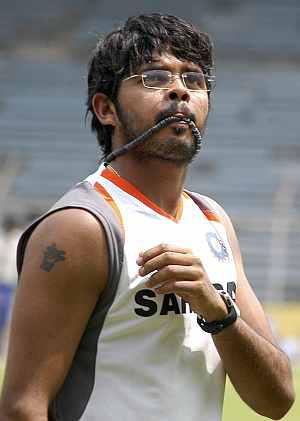 Shocked by the arrest of her son on the charges of spot fixing in the ongoing Indian Premier League, cricketer S Sreesanth's mother Savithridevi said "my son will never betray cricket". 
"I am hundred per cent sure that he will not do anything wrong. His innocence would be proved," Savithridevi told PTI. She said she did not want to blame anybody until the details of the plot were out. 
"Now I just want to say that my son is not a person who runs after money. This is very clear since he has turned down many offers from the film world as he is totally devoted to cricket, which is his life. He will never betray cricket."
'We are all totally convinced that he is innocent'
Last updated on: May 16, 2013 16:02 IST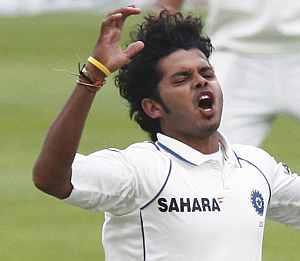 Earlier, Sreesanth's father Santhakumaran Nair had allegedly told a television channel that his son was trapped by Indian captain Mahendra Singh Dhoni and Harbhajan Singh due to some personal grudge. 
Sreesanth's brother-in-law Madhu Balakrishnan said that the pacer would never indulge in such an act and it was totally false.
"He will be the last person to do such a thing," he said. Savithridevi said the entire family will support Sreesanth. 
"We are all totally convinced that he is innocent. God knows everything and my son will come out clean," she said. She also said her family members would be leaving for Delhi to help Sreesanth during the case.
© Copyright 2021 PTI. All rights reserved. Republication or redistribution of PTI content, including by framing or similar means, is expressly prohibited without the prior written consent.