Gayle blows over after stamping mark on IPL V
Last updated on: May 22, 2012 09:34 IST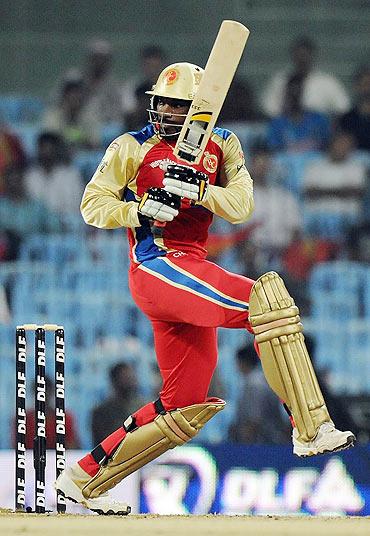 If Chris Gayle plays for the West Indies again, a new and distinct flavour will be added not only to the West Indies team but also international cricket, says Haresh Pandya.
A force of Nature. This is how one might describe Christopher Henry Gayle. Befitting his image as the most explosive batsman of the early 21st century, he dominated the IPL V with a string of tours de force, getting the bowlers' hearts racing and thrilling the spectators and television viewers alike, till his team Royal Challengers Bangalore (RCB) dramatically crashed out of the tournament on Sunday.
But for Deccan Chargers diamond Dale Steyn castling him at the most crucial juncture when he was going great guns with a whirlwind 27 off (10 balls, 3 fours, 2 sixes), he would surely have taken the RCB to the play-offs with plenty of overs to spare. This is one failure -- by his own high-scoring spree in the IPL V, that is -- Gayle is bound to rue for a long time.
The Jamaican's very presence at the top lent an aura and a dimension to the RCB batting line-up other teams could only envy. From the beginning itself he had been promising to explode in a bigger, grander manner and his astonishing, unconquered 128 off just 62 balls with 13 sixes and 7 fours against Delhi Daredevils on Thursday was only on the expected lines.
Gayle is a cool customer who decimates bowlers with clinical precision
Last updated on: May 22, 2012 09:34 IST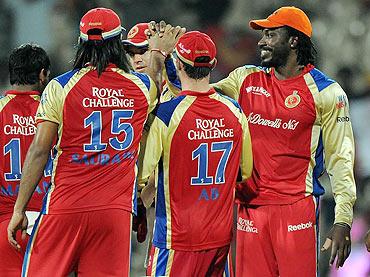 There is just no one else in the world, not even Virender Sehwag, who can approach Gayle in ferocious hitting without caring a fig for the reputation of bowlers. There are reasons why Dean Jones calls him a weapon of mass destruction.
When the West Indian is on song and massacring the bowlers, the fielding captain is usually left with only two choices: he can either curse his luck or simply enjoy the Gayle show and sing with him. Although the southpaw makes his runs incredibly quickly, his whole body language gives the impression that he is never in any sort of hurry.
Gayle is a cool customer who decimates the bowlers with clinical precision. When he lifts or lofts the ball with the nonchalance that has become part of his persona, it just soars and lands on the roofs or into the stands nine times out of ten. It does not matter to him whether he is facing a speedster or a spinner, whether he is up against Dale Steyn or Muttiah Muralitharan.
A fitness fanatic, Gayle is superbly built (height 6ft 2in, weight 98 kg) and supremely athletic. Doubtless he packs awesome power in his hands when he hits the ball with his heavy bat but, as Jones says, the Jamaican has "incredibly fast hip movement", too. His ability to watch the ball quickly and his hand-eye coordination are amazing.
Obviously Gayle relishes Twenty20 cricket
Last updated on: May 22, 2012 09:34 IST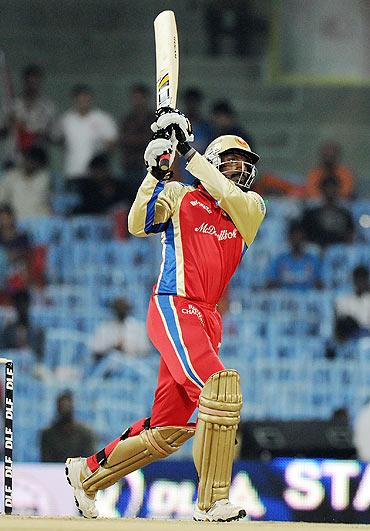 You invariably find Gayle dead serious when armed with the willow. He seldom or never smiles when batting. But when he does, albeit off the field most of the time, he smiles brightly and often laughs heartily. His quiet but eloquent eyes reveal his steely resolve and deadly designs. For one so aggressive at the crease, Gayle's remarkable concentration comes as a splendid surprise.
Obviously he relishes Twenty-20 cricket. And he has been in terrific form and has plundered runs with a fair degree of consistency in almost every tournament in which he has participated in the past two years or so. For instance, the IPL IV and Champions League in India and Big Bash League down under. His dream run in the IPL V came close on the heels of his booming 101 not out (44 balls, 7 fours, 10 sixes) for Barisal Burners against Sylhet Royals at Mirpur in the maiden Bangladesh Premier League in February.
Gayle averages above 40 in all Twenty20 matches with a phenomenal strike rate of 155-plus. He has eight centuries to his credit. In fact, Gayle marked the inaugural World Twenty20 in South Africa in 2007 with a hurricane hundred in the opening match between the West Indians and the Proteas.
The same Gayle has scored two triple centuries (317 against England at St. John's inAntigua in April 2005 and 333 versus Sri Lank at Galle in November 2010) in the heavyweight division of cricket donning the maroon West Indies cap. (The only three other batsmen who have achieved the feat are Don Bradman, Brian Lara and Sehwag.) And to think he loves limited-overs matches more than Test cricket!
The name Gayle spells magic
Last updated on: May 22, 2012 09:34 IST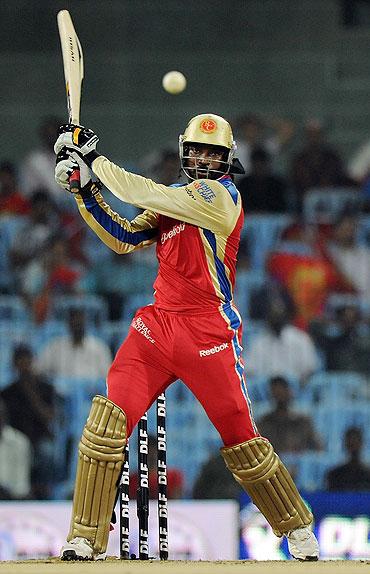 A batsman of Gayle's genius can walk into any international team. Why, any country would give him a red carpet welcome. But the West Indies do not want him at a time when they actually need him the most. Gayle has fallen foul with the West Indies Cricket Board (WICB) for more than a year now with one controversy leading to another.
Of course, no player is bigger or greater than his team, his country. But given the prevailing situation and the critical time in the Caribbean cricket, it must be said that more than Gayle's, it is the West Indies' loss to keep him persistently out without trying to solve the problem.
There are, however, brighter chances of his return to the national side now after he reached an agreement with the WICB on April 6. If Gayle does get to play for his country again, a new and distinct flavour will surely be added not only to the West Indies team but also international cricket.
Indeed, the name Gayle spells magic.