Kohli lashes out at Yuvi's critics
Last updated on: May 14, 2014 19:52 IST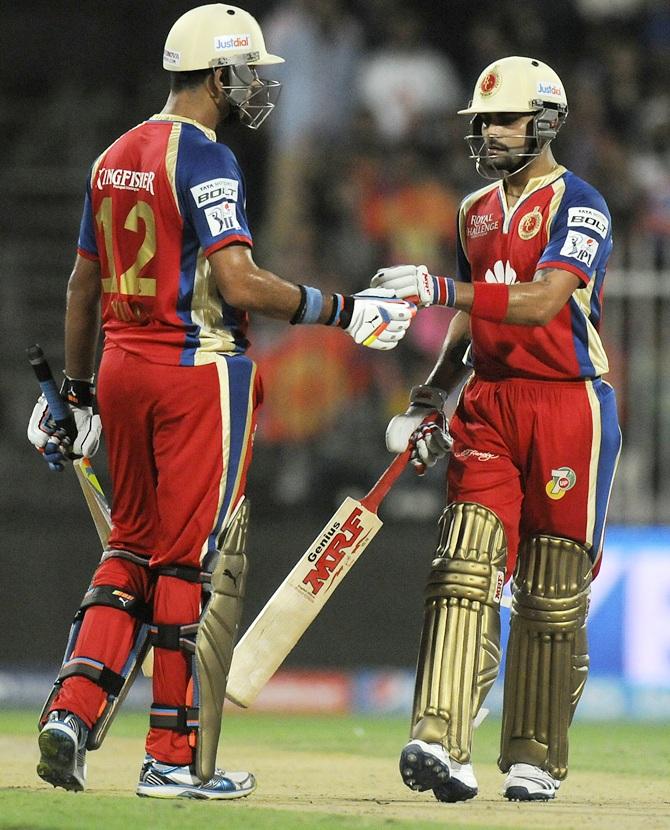 For captain Virat Kohli, watching Yuvraj Singh torment the Delhi Daredevils bowlers in Tuesday night's IPL match in Bangalore was a pleasing sight. He used it as an opportunity to lash out at the detractors of his Royal Challengers Bangalore team mate, saying people should refrain from writing off cricketers who are class apart.
The flamboyant southpaw struck form with two consecutive half-centuries in the last two IPL matches after being criticised for a prolonged lean patch.
Yuvraj was chided following the Indian team's defeat to Sri Lanka in the final of the World Twenty20 in Dhaka, after scoring just 11 runs.
On Tuesday night, he hammered nine sixes in his knock which set up Royal Challengers Bangalore's victory over Delhi Daredevils.
"I am glad that Yuvraj Singh has stood up. Lot of people had written him off, which I think should never been done to any cricketer, because we never know when one can make a comeback," he told reporters.
People should respect Yuvraj since he made immense contribution in the country's wins in the World Cups, Kohli added.
- Please click NEXT for more...
World-class player
Last updated on: May 14, 2014 19:52 IST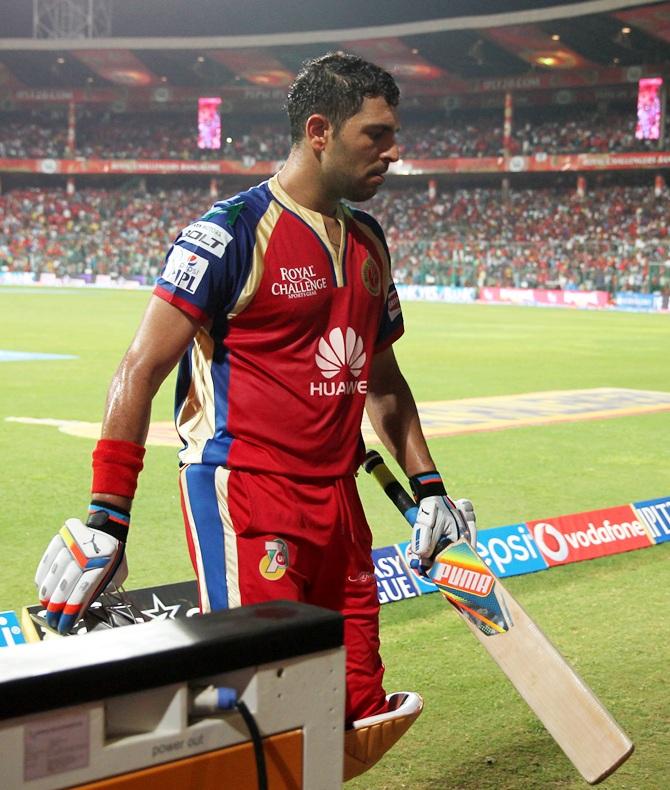 "What a world-class player Yuvraj has been for India. It is all about respecting him. He has won two World Cups for us single-handedly. I am really glad to see him stepping up at crucial times for RCB," he said.
Kohli was also pleased to see contributions from his other RCB teammates in the business end of the tournament.
"I am really happy to see that rest of the players also are picking themselves up. Now we are looking to take one game at a time and not thinking too far away," he added.
- Please click NEXT for more...
Now I am relaxed
Last updated on: May 14, 2014 19:52 IST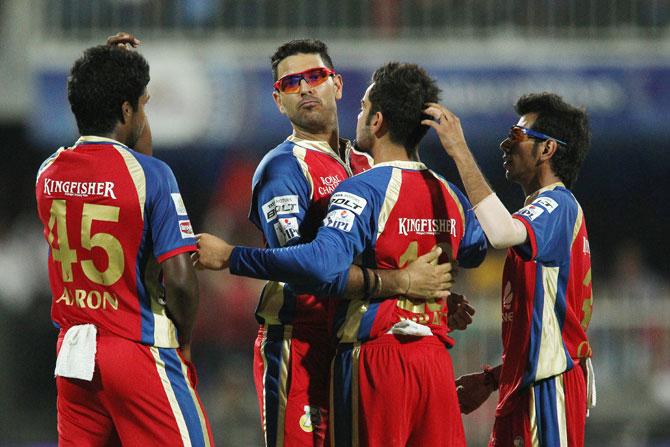 On the changing game plan, Kohli said some changes were made because the management wanted to give bowlers rest after being hit all over the park in the last game.
The management also changed the batting order but fell back on the normal plan since it did not click, Kohli said, adding, "Yuvi, me and AB (de Villiers) can capitalise on someone getting 30 or 40 at the top."
On his dismal form, Kohli said he is not worried about his performance if the team is winning matches.
"I promoted myself up the order because, as I said, I was trying a bit hard in trying circumstances; now I am relaxed. The players are contributing, which is acting as a cushion for me," he said.
Replying to a query, he said captaincy is not affecting his batting.
"I was captain last year and I scored 680 runs. So that's not the pressure I am taking. Sometimes we should accept things the way they are rather than getting frustrated. which harms you even more.
"I have realised that I have to be mature enough to take that in stride," Kohli added.
- Please click NEXT for more...
'Yuvi can be India's match-winner at 2015 World Cup'
Last updated on: May 14, 2014 19:52 IST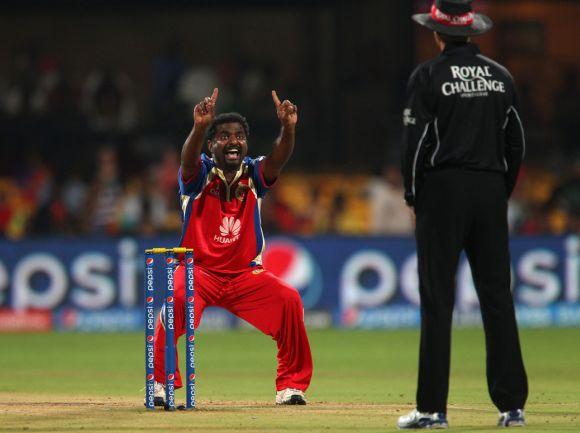 Royal Challengers Bangalore's veteran spinner Muttiah Muralitharan also lauded Yuvraj's showing, saying the left-hander still has it in him to be India's match-winner in the ODI World Cup next year.
Muralitharan, who did his bit with the ball by picking two wickets, was lavish in praise of the all-rounder, who had been struggling for some time.
"He is a great limited-overs' player, but his confidence was low. After the World Twenty20, the whole country put a lot of pressure on him. I know the situation well, as I played for 20 years at the highest level. I knew it was just a matter of helping him regain his confidence," Muralitharan told the IPL's official website.
"I was sure once he did that, he would be a different player. And after the way he has performed in the last two games, it seems I was right.
"I honestly think Yuvi has still got it and India should look after him, because I feel he will play a big role in the 2015 World Cup. He will be India's match-winner there," he said.