'We preferred RP over Munaf because of his swing'
Last updated on: August 21, 2011 16:43 IST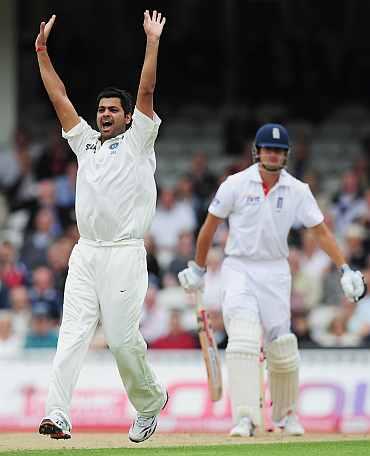 India's bowling coach Eric Simmons defended RP Singh's inclusion in the playing eleven for the ongoing fourth and final Test against England, saying he was preferred over Munaf Patel because of his ability to swin the bowl.
RP Singh, who joined the Indian squad midway through the England tour as a replacement for injured Zaheer Khan, looked out of sorts and far from match fit in the ongoing Test.
The left-arm pacer has been away from the cricket field for the last three months and the fact was quite evidently in his bowling during England's first innings.
"We needed to get the balance right. Praveen was injured and we needed a swing bowler and RP can swing. We didn't want too much of the same attack," Simmons said after the third day's play.
"He (Munaf) was spoken to about the decision and why it was made and he understood it from the team's perspective," he added.
No momentum
Last updated on: August 21, 2011 16:43 IST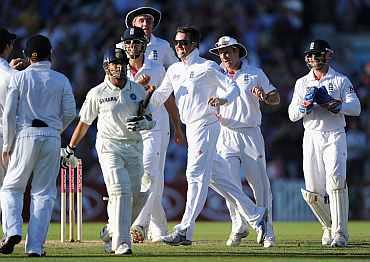 Asked about the difference in quality in the spin departments of the two teams, he said, "When you have 500 runs behind, you can have men around the bat. Till this match, we matched each other in spin department. (Graeme) Swann also knows his conditions and he has the home advantage."
He also said that Zaheer's injury at the start of the tour has nothing to do with India's dismal performance in the series, saying the visitors simply didn't get the momentum going in their favour.
"I can't comment on his (Zaheer) injuries. It's not part of my profile. He was missing when we beat South Africa. We have depth in bowling.
"There are a number of reasons (for the debacle) but it's time not to panic. We just didn't get any momentum in the series. This attack has worked outside (home), but it's disappointing that in this high profile series we've failed," Simmons said.
'Luck was not with India'
Last updated on: August 21, 2011 16:43 IST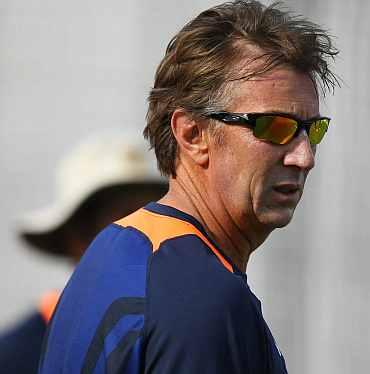 Simmons tried to give a few lame excuses when he said that luck also did not favour the Indian in the tour so far.
"On a few occasions we got them under pressure but they got out of it through positive and aggressive batting. We found the edges a lot of times but were unlucky," he insisted.
"If we can't bowl 145kmph, we need to do the clever act together, compliment each other. This is the first series we've failed collectively. It's also not right to push promising youngsters in so early.
"It's not my job to analyse. The coach, captain, board and the selectors would decide what needs to be done to go forward," he said.
'As a team we are disappointed'
Last updated on: August 21, 2011 16:43 IST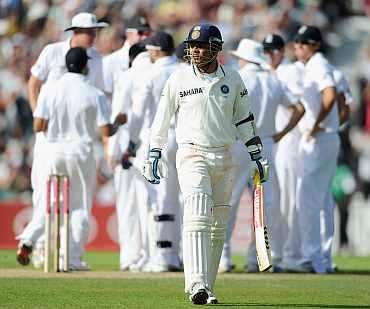 Simmons said the collective failure has hurt India and it would not be right to single out batting or bowling as the team's biggest bane.
"There is pressure on our batting line up with the record scores the opposition is posting. Bowlers have bowled a lot, also because of the we have played (batted).
"As a team we are disappointed. It's not right to isolate one particular area. In terms of expectations of the cricketing public, we needed to give better account of ourselves," he concluded.
© Copyright 2020 PTI. All rights reserved. Republication or redistribution of PTI content, including by framing or similar means, is expressly prohibited without the prior written consent.