The harsh reality of India's debacle in England
Last updated on: August 24, 2011 22:44 IST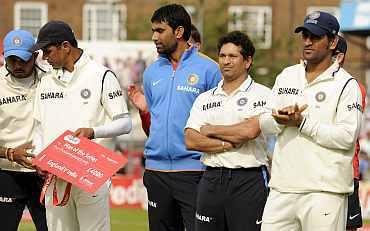 What went wrong for Team India in England? Harish Kotian examines what contributed to the 4-0 series whitewash, and suggests measures to stem the rot.
August 22, 2011 will always be remembered as a black day in India's cricket history. The team, ranked No 1 at the start of the series, again surrendered tamely in the fourth Test at The Oval, and suffered the ignominy of a 4-0 whitewash by England.
It handed Mahendra Singh Dhoni his first Test series defeat as captain.
It was the not the margin of defeat that hurt, but the manner in which the team capitulated match after match.
New coach Duncan Fletcher will surely be heading back to the drawing board to find ways to spark a revival, though the Board of Control for Cricket in India is unlikely to go in for a major shake-up or a post-mortem, like Australia did recently.
They are fully aware that any such move will only point fingers at the Indian Premier League (IPL), which has helped it become one of the richest sports bodies in the world.
Dhoni can't be held responsible
Last updated on: August 24, 2011 22:44 IST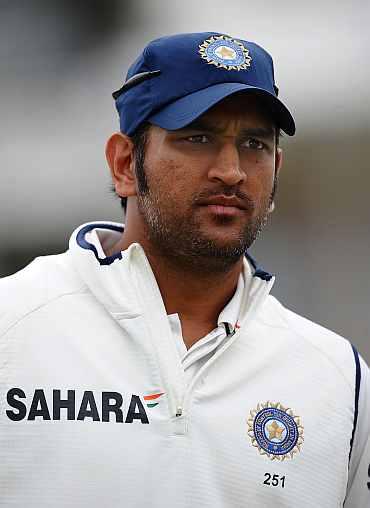 So, what can we expect after the humiliation in England, where India suffered innings defeats twice, in the third and fourth Tests, and the much-hyped batting line-up scoring 300 just once in eight innings?
A few possibilities:
Change in captaincy?
India suffered similar fate in England in 1974, when they were whitewashed 3-0 in the Tests, forcing Ajit Wadekar to quit. However, it seems unlikely that Dhoni will step down, or be forced to, as captain. Remember, only a few months back he won India the limited-overs' World Cup. Also, a point to be noted is that there is no suitable candidate in the current team to take over the reins.
Dhoni made it clear immediately after the Oval defeat that he is not one to give up so easily.
"I don't believe in surrendering. This job was given to me when I didn't really expect it, and I'm not a person that believes in surrendering," he declared.
This loss is the first blip in Dhoni's captaincy, and, certainly, he can't be held solely responsible for it.
Change in selection committee?
Last updated on: August 24, 2011 22:44 IST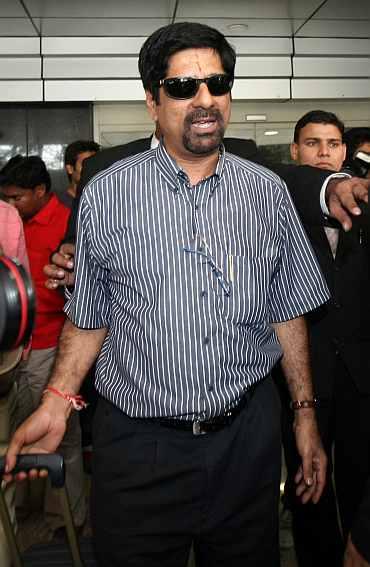 One of major factors that contributed to India's downfall was poor choices by the Krihnamachari Srikkanth-headed selection committee.
Since the BCCI has appointed paid selectors, they must be held accountable for their deeds. Zaheer Khan carried an injury into the series and had to pull out after bowling just 13 overs in the first Test at Lord's, thus throwing India's campaign out of gear right at the start. Similar was the case of Virender Sehwag. Much was expected from the swashbuckling opener, but he scored only 41 runs in four innings.
In a bid to save face, the BCCI issued a statement, saying he has an ear aliment in addition to his existing shoulder injury that needs more rehabilitation.
Question is: how come these two players made it to the squad for England? Clearly, the selectors are at fault. If players can be sacked after a poor outings, then why not the same yardstick for the selectors!
Fitness concerns
Wonder what the physios at the National Cricket Academy are doing? All injured players have to go to the NCA in Bangalore to work on their rehabilitation.
Only after they are declared fit by the physios, and the reports submitted to the selectors, are they considered for selection. That is the norm supposed to be followed. Then, how did Zaheer and Sehwag make the squad for England?
Lack of bench strength
Last updated on: August 24, 2011 22:44 IST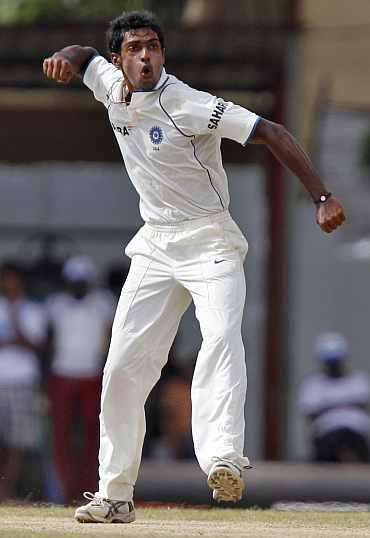 As Dhoni admitted after the Oval Test, grooming youngsters is the need of the hour.
The fact that the selectors had to call up pacer RP Singh to replace Zaheer exposes India's poor bench strength. RP was holidaying in Miami when he got the surprise call. After his poor showing in the fourth Test, it seems he had embarked on another holiday in the UK.
He last played Test cricket in 2008; his last first class match was nearly seven months back, and he bowled just 50 overs in 14 matches in the IPL!
It seems the selectors had forgotten Abhimanyu Mithun, Jaidev Unadkat and Umesh Yadav, all young fast bowlers, tried and tested, only to be dumped.
The batting department too is lacking in talent coming through. VVS Laxman, Rahul Dravid and Sachin Tendulkar are nearing the 40s, but still hold their places in the middle due to lack of competition.
Suresh Raina's poor technique in seaming conditions was exposed, while Virat Kohli, after his struggles in the West Indies, was uninspiring.
Cheteshwar Pujara is a player marked out for the future in Tests, but, sadly, he is sidelined with injury, while the talented Rohit Sharma hasn't lived up to expectations.
Better preparation
Last updated on: August 24, 2011 22:44 IST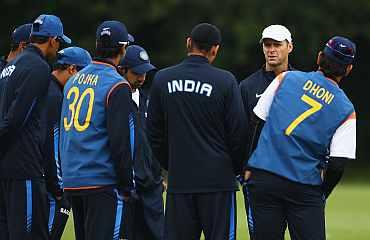 One striking feature in Gary Kirsten's successful tenure as India's coach was his planning and preparation ahead of every series. He made it a point to get all the players together in a camp before every series in order to gauge their fitness and work on weakness, if any.
But India went into the England series without a preparatory camp, and played just one practice game ahead of the Test series. It wasn't surprising that all the batsmen were at sea against England's pacers.
The BCCI must schedule at least a couple of practice games ahead of every 'away' Test series to help the team prepare better, even if it is at the cost of losing a few millions.
Better-balanced schedule
Last updated on: August 24, 2011 22:44 IST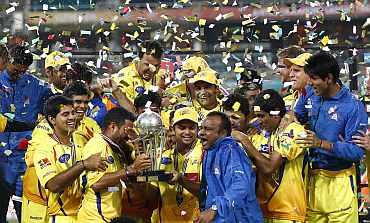 Was playing in the IPL the difference between India and England?
India went into the England series well-rested, as many of the senior players opted out of the West Indies tour, which came after a gruelling schedule, that included the IPL and World Cup.
So the IPL cannot be solely blamed for India's woes, though the pressure from the franchise owners to have all their top Indian players participate in every game must be questioned.
How else can one explain Sehwag and Gambhir playing the IPL with injuries? In fact, only after Sehwag's Delhi Daredevils were out of the running that he opted to skip the last few games and underwent surgery, while Gambhir braved a shoulder injury to take his team to the knock-out rounds, risking his future in the process.
It's time the BCCI comes down hard on the team owners. The fitness of its players is paramount.