What went wrong for Team India at Trent Bridge?
Last updated on: August 3, 2011 19:34 IST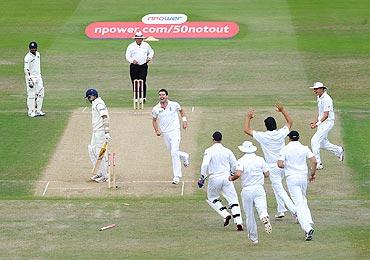 India were miserably thrashed by England by a whopping 319 runs in under four days in the second Test at Trent Bridge on Monday.
Following the defeat, India captain Mahendra Singh Dhoni blamed the absence of key players and batting failures for the team's fate.
- Kohli, Ojha to replace injured Yuvraj, Harbhajan
"It's important to put runs on the board and we are slightly lacking that," Dhoni said.
"Right from the last series we played we haven't scored consistently, so that's also a bit of a concern.
- Bresnan stars as England rout India
- Images: England thrash India by 319 runs
"We have also lost one of our openers (Gambhir) so Rahul had to open and Laxman had to bat at number three (instead of five)."
Sehwag, after recovering from a shoulder injury, is expected to join the embattled Indian team in Northampton on Wednesday, and Gautam Gambhir is also expected to be fit for the next Test.
Added to that, the BCCI has named Virat Kohli and Pragyan Ojha as replacements for the injured Yuvraj Singh and Harbhajan Singh respectively for the last two Tests.
Will the inclusion of the abovementioned tried and tested openers, and Kohli and Ojha, turn the tide India's way in the third Test?
What does India need to do to bounce back in the third Test at Edgbaston? Have your say