'Yahaan match to jeetna hai'
Last updated on: August 4, 2011 11:22 IST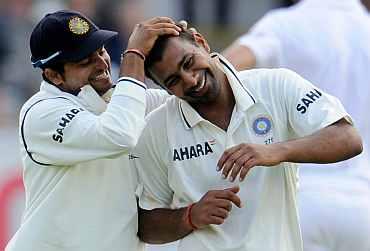 Despite trailing 0-2 and their world number one Test ranking at stake, India are quiet confident of turning the tables on a rampant England in the remaining two Tests of the four-match Test series.
Even as the injuries and batting failures have hit India hard, Dhoni's men are not overlooking a few positives from the two defeats at Lord's and Trent Bridge.
"Bhai saahab, yahaan match to jeetna hai (we have to win matches here)," Praveen Kumar, who has so far taken 13 wickets from two Tests at an average of 26.53, said.
Indians are not ready to get caught in the swirl of negatives floating around them and are working on strengthening their belief in themselves, which alone can help turn the tide in their favour.
Like Bhajji, Swann has also struggled
Last updated on: August 4, 2011 11:22 IST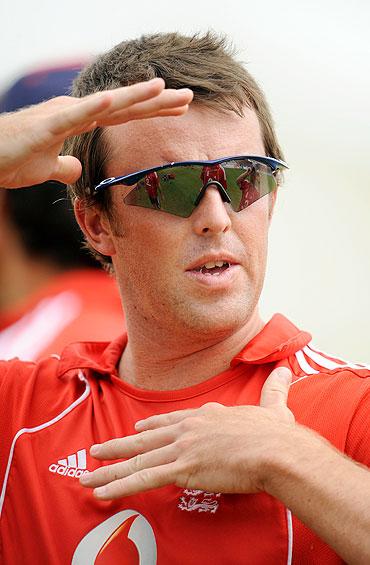 They are keen to draw confidence from the fact that Sachin Tendulkar was not well at Lord's, Gautam Gambhir was laid low by an elbow injury, while Rahul Dravid and VVS Laxman did little wrong in the last two Tests. Even Suresh Raina showed a glimpse of his ability.
There is not a single pacer one can find fault with, even though off-spinner Harbhajan Singh has failed miserably and the 'Bhajji bashing' started almost immediately.
Harbhajan, who is now ruled out of the Test series due to an abdominal strain, was being viewed as an unimaginative bowler and as somebody who wouldn't mind being injured at this stage of his career.
The off-spinner bowled just 13.4 overs in the second Test and has been woefully out of form in the series. The tweaker grabbed one for 69 in the second Test after his one for 218 in the first at Lord's. But the fact that even Graeme Swann equally struggled on seamers' strip, has conveniently been brushed under the carpet.
'You break this team now and you will pay the price in Australia'
Last updated on: August 4, 2011 11:22 IST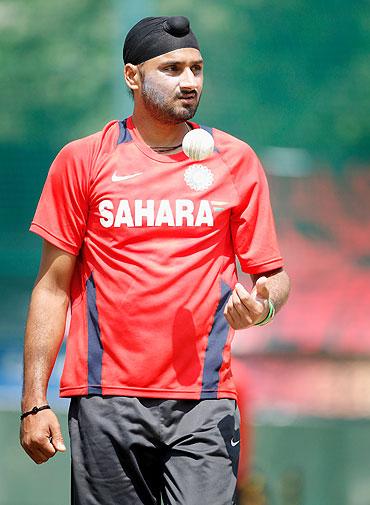 "We are very good at running down our own men. You break this team now and you will pay the price in Australia later this year. No spinner, other than (Shane) Warne, (Muttiah) Muralitharan and (Anil) Kumble, has taken more wickets than Harbhajan in the history of the game," said a former Indian captain, who is now a cricket commentator.
"And are Bhajji's critics implying that Warne, Murali and Kumble never had an ordinary series? Kumble averaged nearly 60 in his final three Test series. Warne is averaging nearly 50 in 14 Tests against India. And do you want to know what is Murali's average in India -- over 45 in 11 Tests!" he added.
Lack of respect for Dhoni
Last updated on: August 4, 2011 11:22 IST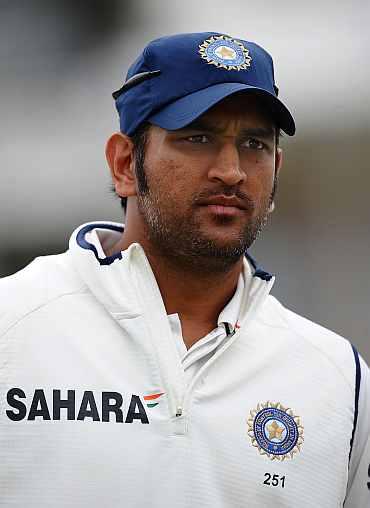 As far as Dhoni is concerned, he has also been a subject of similar attack. There is nothing that critics can find right with his batting, keeping or captaincy.
But the Indian team knows that it is not only him who has failed with the bat in the series but also England captain Andrew Strauss and Alastair Cook.
Dhoni's collection behind the stumps is faulty, even when the wickets have been uneven at times. There is a lack of respect for a man who has helped India reach the top of the Test ladder and stay there for 19 months.
Most of the members of the Indian cricket team have seen highs and lows in their careers and are experienced enough not to get bothered by all the criticism surrounding them at the moment.
India will be desperate to prove critics wrong
Last updated on: August 4, 2011 11:22 IST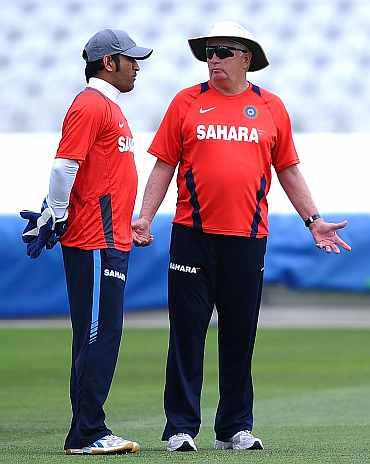 Teams can, and do, lose a match and a series. But it must not be a trigger to stamp out the good cricketers. Players, who serve long, can have an aberration once in a while but it shouldn't be a signal to take them off the roster.
An act in haste could be one of repent later. And No.1 Test side in the world is all desperate to prove their critics wrong when they take on England in the last two Tests at Edgbaston and The Oval.
© Copyright 2021 PTI. All rights reserved. Republication or redistribution of PTI content, including by framing or similar means, is expressly prohibited without the prior written consent.