Broad credits short county spell for turnaround
Last updated on: August 25, 2011 11:52 IST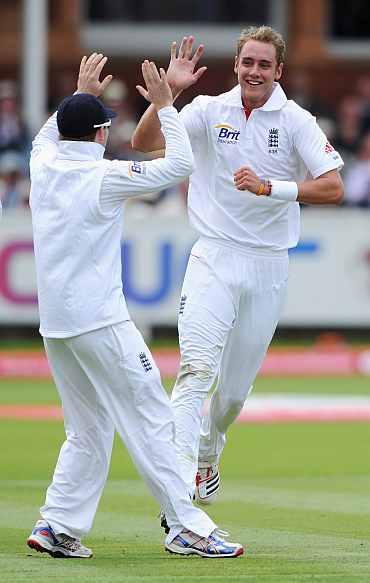 England paceman Stuart Board has credited a short stint with Nottinghamshire and a pep talk with county coaches for the amazing resurrection of his career as he emerged Man-of-the-series in India's 4-0 whitewash after struggling against Sri Lanka a few weeks back.
Broad took 25 wickets at an average of 13.84 in the series against India, compared to just eight wickets against Sri Lanka at a whopping 48.75.
During the ODI series against Sri Lanka, Broad made a brief return to county cricket, missing the final match to play for Nottinghamshire, a move, he felt, that changed his career.
"After Sri Lanka, I had to work out what type of bowler I wanted to be and what was the best way to take Test wickets. To go away and play for Notts and get a five-wicket haul pitching the ball up a week before that first Test gave me a lot of confidence," Broad said.
There at the county, coach Mick Newell and Andre Adams helped him rectify his flaws.
"It was more going back into the changing room and speaking to the likes of Andre and Mick and realising what I wanted to do. It was the first time in my short career that I'd been put under a huge amount of pressure and you do start asking questions of yourself," Broad was quoted as saying by Daily Telegraph.
'My fuller ball is more dangerous than the bouncer'
Last updated on: August 25, 2011 11:52 IST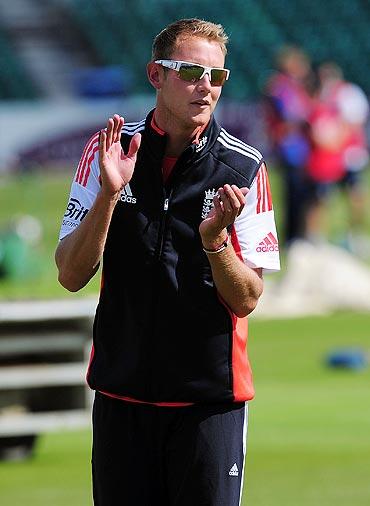 "My bouncer is a dangerous weapon, but to use it as a surprise makes the fuller ball more dangerous. For the change in approach to succeed straight away at Lord's, where I picked four wickets, really showed me the way to go for the rest of the series and the 25 wickets I took speak for themselves," the young paceman added.
Broad said after achieving the number one status, his side is aiming for the inaugural Test Championship in 2013.
"The World Test Championship is something we are aiming for. The best chance of winning that is by being the best team in the world because, firstly, you are playing good cricket and, secondly, if you draw the final you will retain the championship," Broad said.
© Copyright 2021 PTI. All rights reserved. Republication or redistribution of PTI content, including by framing or similar means, is expressly prohibited without the prior written consent.