'Someone is going to have to miss out and I hope it isn't me'
Last updated on: August 3, 2011 12:51 IST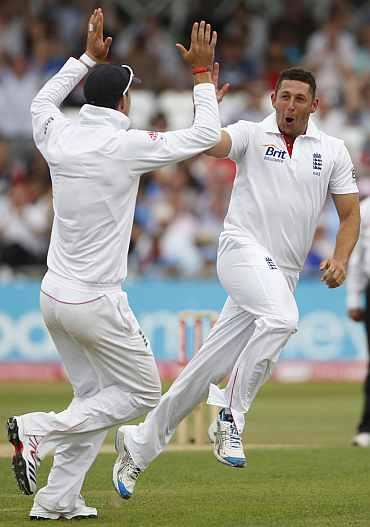 An injury replacement who almost scored a hundred and got his maiden five-wicket haul in the second Test win over India, England pacer Tim Bresnan says despite the superb performance he can only hope not to be left out of the third match.
"I think I definitely grabbed my chance with both hands. And that is pretty much all I can do now," said Bresnan.
- Bresnan stars as England rout India
- England's on-field domination becoming predictable
"It's up to the selectors, the captain or whoever is going to make the decision to pick the side for the next game. It's going to be a tough decision, someone is going to have to miss out and someone is going to be very disappointed, and I hope it isn't me," he was quoted as saying by The Daily Mirror.
'Trent Bridge Test will give me a lot of confidence going forward'
Last updated on: August 3, 2011 12:51 IST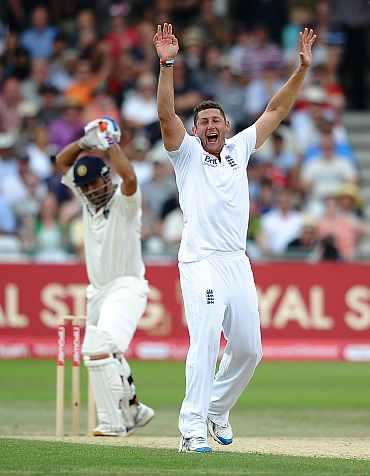 Bresnan was called in after Chris Tremlett was ruled out due to back spasm and he performed exceptionally well scoring 90 second-innings runs along with his first ever five-wicket haul in a Test.
Bresnan said he hopes to be picked for the third Test starting August 10.
"It's a good position for English cricket really and I've said this all along, if you've got a stable of bowlers to choose from then it's going to give the selectors a headache and thankfully that's not my problem and I don't have to worry about that.
"It was a phenomenal game to play in and it felt immense to have got the five wickets, which will give me a lot of confidence going forward," Bresnan said.
Flower praise for Bresnan
Last updated on: August 3, 2011 12:51 IST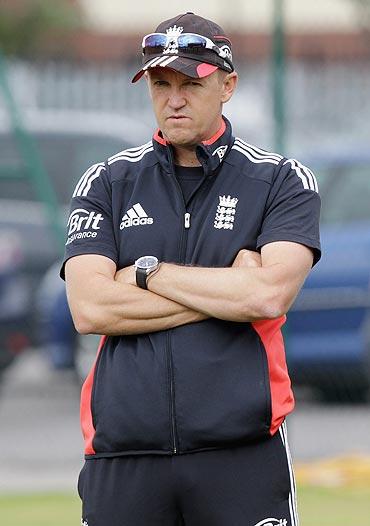 England coach Andy Flower was all praise for the pacer for bullying the likes of Suresh Raina and Yuvraj Singh with his short-pitched bowling.
"Tim has played eight, won eight and it's a stat he isn't afraid to mention to me," said Flower.     "After watching Raina in the first dig he just didn't seem to enjoy the short stuff at all and then as soon as Yuvraj got hit on the finger I thought I might as well keep testing him out there because it would be difficult to play," he added.
"With a bit of variable bounce and the ball coming on at different paces you have to stand up and play it, you can't back off, you've got no trust in the wicket to just to let it go over your head or past your body, you've got to play. I really enjoyed it, especially Yuvraj."
© Copyright 2022 PTI. All rights reserved. Republication or redistribution of PTI content, including by framing or similar means, is expressly prohibited without the prior written consent.