Flower defends team over Bell run-out row
Last updated on: August 3, 2011 12:53 IST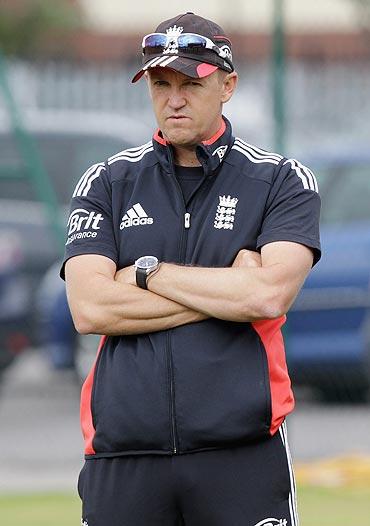 England coach Andy Flower has defended his team for asking India to reconsider its appeal in the bizarre run-out of Ian Bell in the second Test, insisting that it would have become an "international incident" had Sachin Tendulkar been dismissed in a similarly controversial manner.
- England's on-field domination becoming predictable
- Bell was out, but it didn't feel right: Dravid
- I was naive to assume the ball was dead: Bell
Bell was allowed to come back and bat when Indian skipper Mahendra Singh Dhoni withdrew the run out appeal against him after he left his crease under the impression that tea break had been taken during the second Test which India lost by 319 runs in four days.
Dhoni's decision to reinstate Bell came after England captain Andrew Strauss and Flower requested the Indian team to withdraw the appeal.
'Bell-like Sachin dismissal could have become international incident'
Last updated on: August 3, 2011 12:53 IST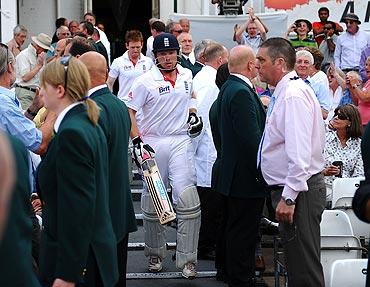 Andy Flower said the English had every right to do so.
"We didn't think sitting in our changing room and fuming quietly to ourselves was going to do any good," Flower said at Trent Bridge.
"We thought communicating like that would be the way to go. We felt that Bell wasn't attempting to take a run and therefore we wanted to ask the Indian side to reconsider their appeal," he said.
"If an England side had done that in Mumbai (against Tendulkar), I think there would have been a proper international incident on the cards. I don't think that's being overly dramatic. We've seen similar things happen before," Flower added.
"In evaluating the situation, I don't think you should have double standards."
'Looking forward to our next challenge at Edgbaston'
Last updated on: August 3, 2011 12:53 IST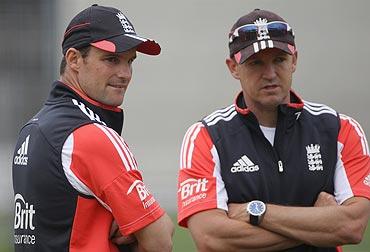 England just need a couple of draws or one more victory in the four-match series to upstage India as the world number one Test side but Flower said that was not the focus for the team.
"I would like to emphasise right now that we're ahead in the series but we're only halfway through the series," he said.
"So there is no point in triumphalism, we don't even know if we're going to win the series yet. At the forefront of our minds right now should be resting and recuperating after the back-to-back Tests and then getting our minds and bodies ready for the next challenge at Edgbaston.
"It's actually not only pointless looking further ahead than that, it's dangerous," added.
© Copyright 2022 PTI. All rights reserved. Republication or redistribution of PTI content, including by framing or similar means, is expressly prohibited without the prior written consent.