Desperate Australia contemplating changes for third Test
Last updated on: March 6, 2013 16:18 IST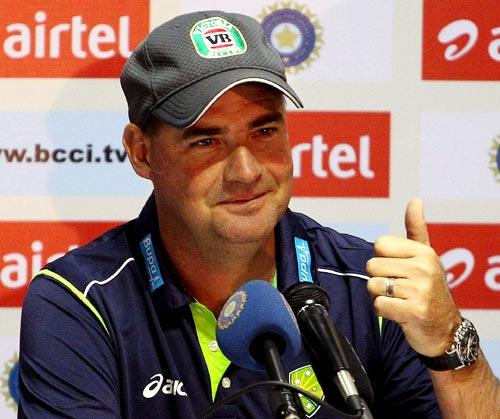 Desperate to claw their way back in the series, Australia's chief coach Mickey Arthur on Wednesday said they are not averse to the idea of making a few changes in the playing eleven if that can change their fortunes.
Australia have suffered back-to-back defeats in the four-match Test series and they need to win the last two games to retain the Gavaskar-Border Trophy.
"Look, I would be lying if I say that we are not contemplating changes. We do have to reassess the whole situation. We have got two Tests to stay in the series and retain the Border-Gavaskar Trophy which is big thing for us. We would try to assess and field the best possible team to win and if that means making changes, we surely will," Arthur replied when asked about the composition of the team for the third Test, beginning in Mohali from March 14.
The coach tried to put up a brave face and said that the morale of the team is 'very good' despite the huge defeats in Chennai and Hyderabad.
"As a team, we have to work really hard for a turnaround but morale is very good at the moment. We have done some soul searching yesterday night and guys have come back strongly."
'We are all waiting for a big innings from him'
Last updated on: March 6, 2013 16:18 IST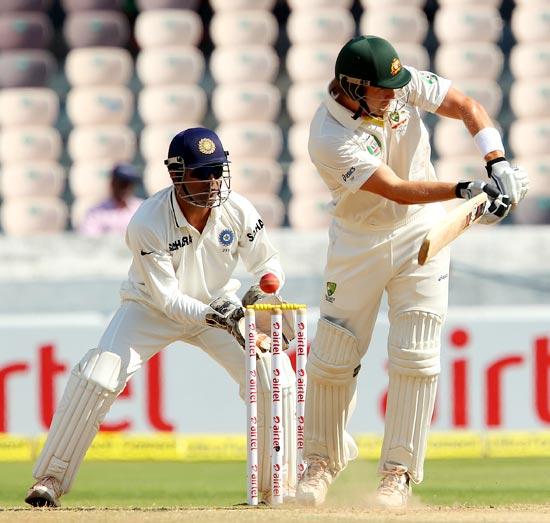 The chief coach also defended an out-of-form Shane Watson, who hasn't yet made any significant contributions in the four innings he has played so far.
"It becomes a case of balance for him now. He has decided to put all eggs in one basket. When he was bowling, he was our No. 1 all-rounder and now he is among the top six batsmen and he knows his responsibilities.
"He has played well so far without excelling. He knows that and aware of that. I think we are all waiting for a big innings from him and nobody knows that better than Shane himself," he said.
Shane Warne had spoken to the Australian spinners after the first Test in Chennai and pointed out to them that his bowling average in India is 45. Arthur was asked that whether such a comment had a demoralising effect on the bowlers, he answered in the negative.
"Shane (Warne) gave us some good information which was great. Certainly it added value and didn't play (negatively) on our minds. About Mathew Hayden, he has definitely given some advice to the batsmen."
Australia open to suggestions from former India players
Last updated on: March 6, 2013 16:18 IST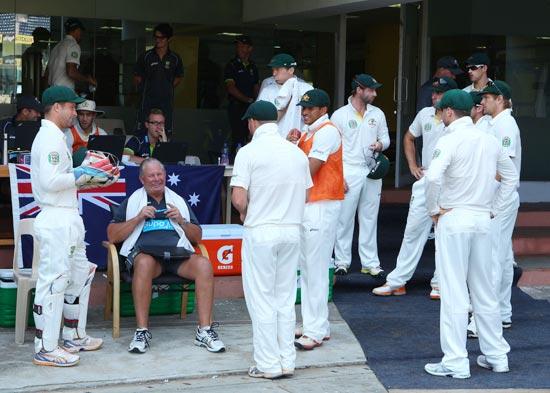 Arthur feels that the nine-day break between the second and third Test will help the players "reflect on their game" and come back fresher.
"We will be travelling tomorrow and then take two days off and train again from Sunday. These two days off will give us chance to reflect as to how we can retain the trophy."
Asked whether this Australian team lacks skill or patience, he answered, "Neither of them. Aussie batsmen need to have a look at the way Pujara and Vijay batted in this Test match. It's a lesson for our batsmen. They scored 47 (49) in the first session, 106 in the second and because they were batting till tea, they scored 150 in the final. They showed us how to go about it."
Arthur said that his boys are open to tips and suggestion from any former Indian players.
"Our spinners try and interact with whoever is around. We encourage them to speak to as many people as they possibly can. About taking help from Bishan Sigh Bedi, we are into anything. We can explore that option also," he said.
© Copyright 2022 PTI. All rights reserved. Republication or redistribution of PTI content, including by framing or similar means, is expressly prohibited without the prior written consent.