We don't want to chase 100 or 120: Pietersen
Last updated on: November 25, 2012 20:33 IST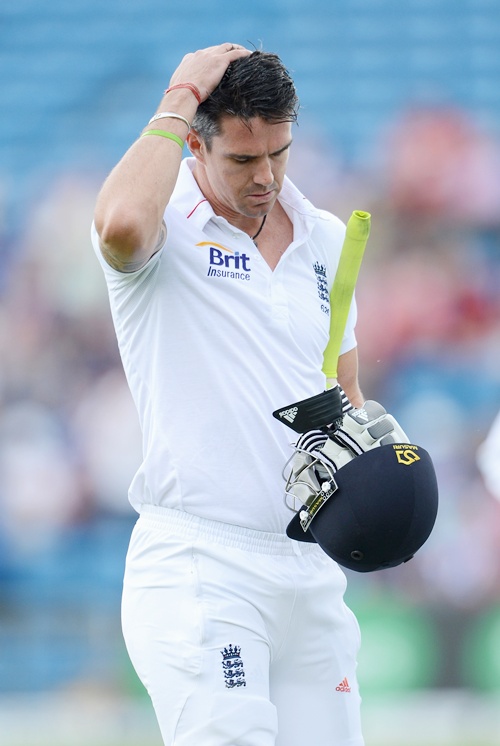 On his day, Kevin Pietersen can be a match-winner; a batsman capable of destroying any attack, in any conditions.
On Sunday, at the Wankhede stadium in Mumbai, he gave ample proof of that again and enhanced his reputation as one of the world's most dangerous batsman, as he hammered 186 from 233 balls, to put England in prime position for a series-levelling victory in the second Test.
Pietersen was originally not picked in England's squad for the India tour following controversy during the South Africa series. He was accused of sending text messages to the opposition. But soon England realized that if they stood any chance of grabbing an unlikely series victory in India, their first since 1984-85, Pietersen had to be in the team.
'The dressing room is absolutely fine'
Last updated on: November 25, 2012 20:33 IST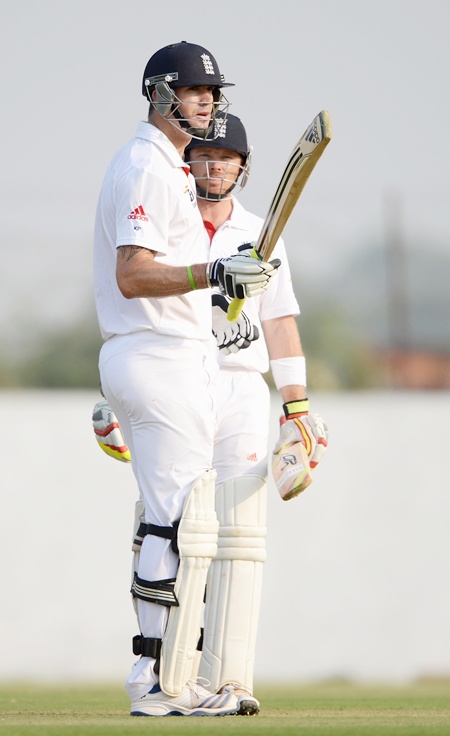 So, after a peace deal was brokered between the England players and Pietersen, he returned to the squad just ahead of its departure for India last month. A reintegration process was put in place to help him settle down in the dressing following 73 days in exile.
-Gambhir lauds England spinners, hopes miracle saves India
After the century in Mumbai, the dashing right-hander had his first media conference since his return to the squad and made it a point to stress that the dressing room is united and the players are focusing on performing better.
"The dressing room is absolutely fine. It's fantastic. We are sticking together really well. We are all helping each other out. We are working hard as we always do and we're also not letting things get on top of us. If anyone is going through a bit of rough time, everybody helps the player out. It's a very united dressing room at the moment. It'll be even more united if we can pull off a victory tomorrow," he said.
'I wasn't playing well at all in Ahmedabad'
Last updated on: November 25, 2012 20:33 IST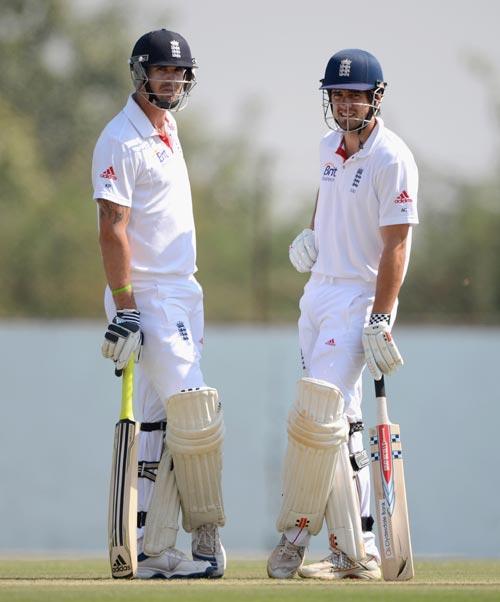 Pietersen said his strategy was to attack from the start, since batting was difficult against the spinners, who got a lot of assistance from the pitch.
"It was a pretty difficult wicket. You knew that at some stage the ball had your name on it. To have got them on this track was fun," he said.
The 32-year-old batsman said after his twin failures (17 and 2) in the first Test in Ahmedabad twice to left-arm spinner Pragyan Ojha he worked on improving his defences.
"I wasn't playing well at all in Ahmedabad. I did not trust my defence as much as I trusted my defence coming into this Test match, and as a batter if you don't trust your defence, you try too many things to force the issue. I did a lot of hard work as I always do and luckily that paid off," he said.
The former England captain conceded that the match is still open and a target of around the 100-mark would be a real challenge on this track.
'The quicker you bowl, the quicker it spins'
Last updated on: November 25, 2012 20:33 IST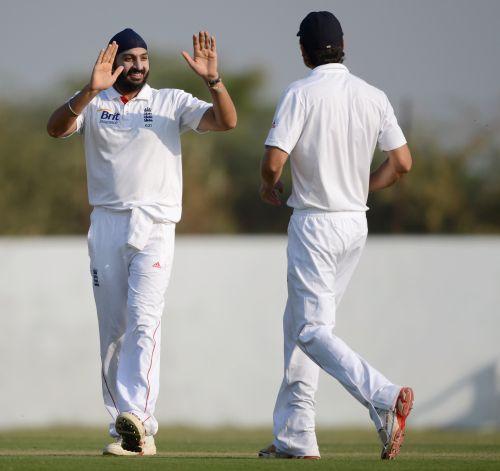 "You've seen the wicket now; it's spinning, bouncing. It's going to be a tough time to go out there and, hopefully, we don't have to get too many. We don't want to chase 100 or 120 on there. We've tried that once this year and failed in Abu Dhabi," he said in a television interview after the third day's play.
England's spin duo of Monty Panesar and Graeme Swann used the conditions to good effect as compared to their Indian counterparts Harbhajan Singh, R Ashwin and Ojha.
Pietersen reasoned that the speed at which the English spinners bowled made the difference, with the batsmen not getting enough time to adjust if it was bowled a bit quicker.
"The quicker you bowl, the quicker it spins, and the less time you have to adjust on this wicket. The less chance you have to adjust. We saw that with [Mahendra Singh] Dhoni and [Sachin] Tendulkar But if you bowl kind of looping spin, you have time to adjust."