Fresh controversy as BCCI sidelines Eden curator
Last updated on: November 28, 2012 21:05 IST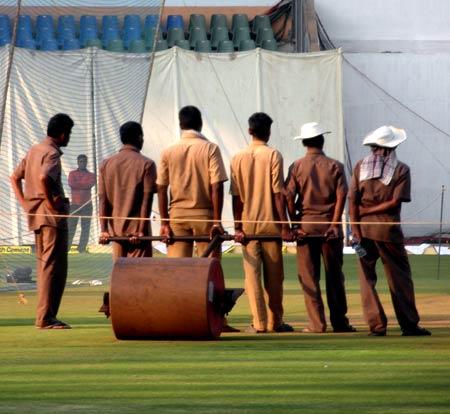 In a move that has triggered fresh controversy, the Board of Control for Cricket in India asked the Cricket Association of Bengal to appoint East Zone curator Ashish Bhowmick to prepare the Eden track instead of veteran Prabir Mukherjee, who is in charge of the historic Eden Gardens pitch for decades.
According to reports, octogenarian Mukherjee, who looks after the Eden strip, has been sidelined due to his differences with India captain Mahendra Singh Dhoni, who insisted on rank turners from day one of the Kolkata Test against England, starting December 5.
Bhowmick, who hails from the Tripura Cricket Association (TCA), will arriving on Wednesday evening on the BCCI's instructions.
"He is going there as per BCCI's instruction. But I've no idea whether he has replaced the local curator there (Prabir Mukherjee). I'm not aware of the details," TCA secretary Arindam Ganguly said.
CAB joint-secretary Sujan Mukherjee, however, termed Bhowmick's visit as a "routine" inspection tour and maintained that the 83-year-old Mukherjee hasn't been replaced.
"It's a routine visit to assess the pitch and conditions which happens every time before a match. Prabir Mukherjee remains the Eden curator," Sujan Mukherjee said.
The BCCI's move to send Bhowmick to Kolkata ahead of the third Test has raised many eyebrows as, only on Sunday, Daljit Singh, the chairman of the BCCI's ground and pitches committee, did a recce of the same Eden track.
'It's most unethical if the India captain makes such statements in public'
Last updated on: November 28, 2012 21:05 IST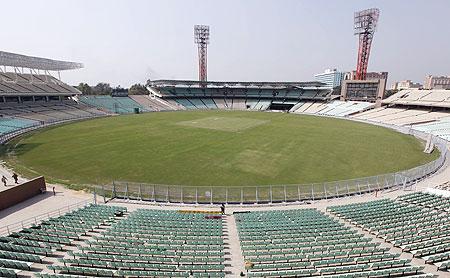 Senior BCCI official and IPL chairman Rajiv Shukla refused to read too much into the matter and said the decision to send Bhowmick to Kolkata was taken by the Board's grounds and pitches committee.
"All the curators work independently. This is absolutely wrong (that Dhoni had a role). No decisions are taken on the advice of anyone. The grounds and pitch committee of the BCCI took the decision in this matter," Shukla said.
Outspoken and forthright, Mukherjee has in the past criticised Dhoni for his demands on pitches, and this time too the veteran curator reportedly had a difference of opinion with India's skipper on the nature of track to be prepared for the Eden Test.
In the second Test, Wankhede curator Sudhir Naik offered a turner at Mumbai which helped spinners from Day 1, but the move backfired as India suffered a humiliating 10-wicket loss to England.
Even after being thrashed on a customised Wankhede track, Dhoni insisted on having a similar rank turner for the Eden Test.
Mukherjee, however, criticised Dhoni and demanded a written instruction from the BCCI to prepare a turner, saying, "Two pitches can never be the same, logically. It's most unethical if the India captain makes such statements in public. He's passing such comments every now and then, which is really unfortunate."
Both Dhoni and Eden curator Mukherjee are known for their critical remarks against each other.
During England's last appearance in Kolkata (for an ODI on October 25, 2011), Dhoni had termed Eden an "ugly wicket". Incidentally, India won the match to complete a 5-0 whitewash.
© Copyright 2022 PTI. All rights reserved. Republication or redistribution of PTI content, including by framing or similar means, is expressly prohibited without the prior written consent.