Cric Buzz: Former Bangladesh captain Ashraful gets 8-year ban for match-fixing
Last updated on: June 18, 2014 22:17 IST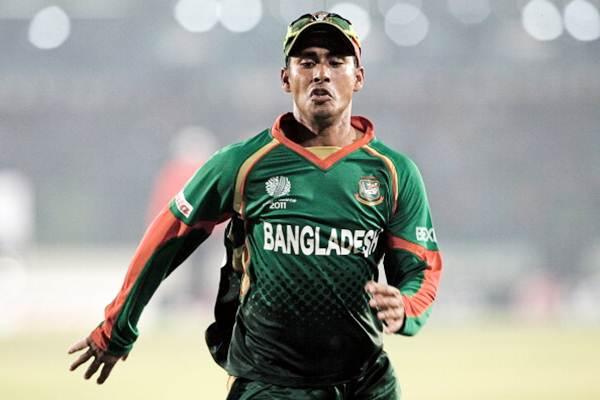 Former Bangladesh captain Mohammad Ashraful was banned for eight years on Wednesday after he was found guilty of involvement in match-fixing in the domestic Twenty20 competition last year.
"He was found guilty of all charges including match-fixing," said Khademul Islam Chowdhury, head of a special tribunal set up by the Bangladesh Cricket Board to investigate match-fixing and spot-fixing during Bangladesh Premier League (BPL) matches.
Talented right-handed batsman Ashraful, who confessed to match-fixing after being quizzed by ICC anti-corruption officials in June 2013, has played 61 tests and 177 one-day international matches since his 2001 debut.
The tribunal also announced that New Zealand batsman Lou Vincent and Sri Lanka's Kaushal Lokuarachchi had been banned for three years and 18 months respectively after they failed to inform the authorities that they had been approached to fix matches while playing in the BPL.
Vincent is also at the centre of a match-fixing investigation in England which earlier on Wednesday resulted in former Sussex player Naveed Arif being banned from cricket for life by the England and Wales Cricket Board.
The managing director of BPL champions Dhaka Gladiators, Shihab Jishan Chowdury, was banned for 10 years for his part in the match-fixing scandal.
- Please click NEXT for more...
Australia sign Murali as spin consultant
Last updated on: June 18, 2014 22:17 IST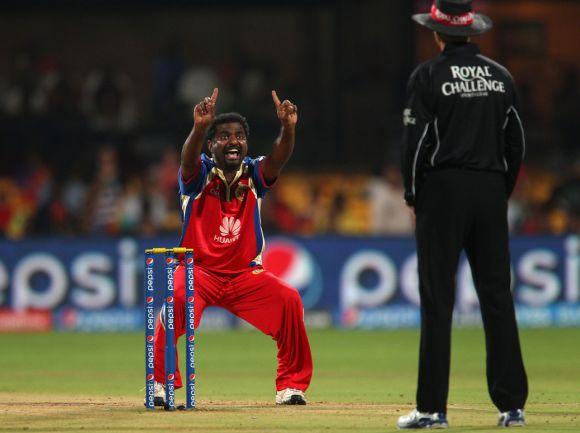 Australia has hired leading Test wicket-taker Muttiah Muralitharan as a spin bowling consultant as the team prepares for October's Test series against Pakistan in the United Arab Emirates.
The world's top-ranked Test side boasts one of the world's strongest pace attacks but has struggled to unearth a world class spinner since the 2007 retirement of Shane Warne.
Off-spinner Nathan Lyon, who has 112 Test wickets at an average of 32.99, is currently Australia's leading slow bowler, but will be given some special tips by Murali, who took 800 Test wickets over an 18-year career.
"Nathan Lyon has been bowling brilliantly but hopefully I can help him a little bit on how to bowl in these subcontinent conditions, on how to use the conditions and how to set up the field," the 42-year-old Murali said on Cricket Australia's website.
"I have bowled to most of the Pakistani batsmen in the past so hopefully I can help a bit."
Australia's batsmen have also floundered against quality spin bowling on turning wickets, and their struggles in India last year saw the team crash to a 4-0 Test series loss.
Murali will aim to help Michael Clarke's side prepare to face wily Pakistan spinner Saeed Ajmal, who has proved a handful on Middle Eastern pitches and is a master of the 'doosra', the ball that turns the opposite direction of the off-break, the off-spinner's stock ball.
Murali had a colourful association with Australia, and threatened in 2004 never to return to the country due to persistent abuse from local fans over the legality of his bowling action.
He was controversially no-balled in Australia in the 1995 Boxing Day Test against the hosts and again by umpire Ross Emerson during a One-day series the following year.
Although his action was subsequently cleared by the ICC, Emerson later no-balled Murali in a one-day match in Adelaide against England in 1999, enraging Sri Lanka captain Arjuna Ranatunga who led his team off the pitch for 15 minutes.
Murali buried the hatchet with Australia and has played in the past two tournaments of the country's domestic 'Big Bash' Twenty20 competition.
- Please click NEXT for more...
Pakistan 'A' bowler gets life ban for match-fixing
Last updated on: June 18, 2014 22:17 IST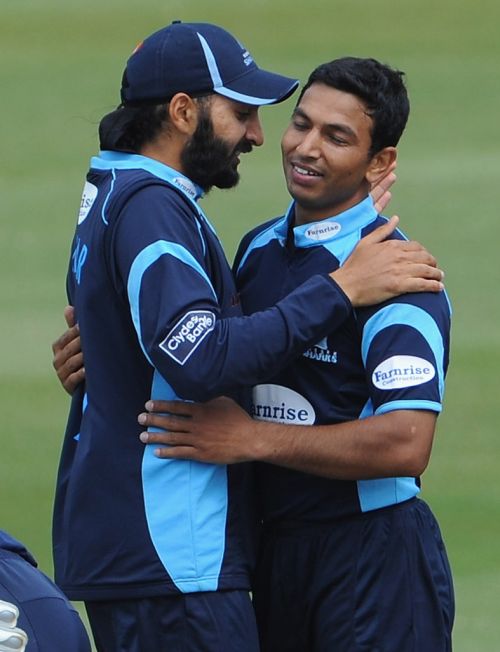 Former Sussex and Pakistan 'A' bowler Naveed Arif was banned from cricket for life after being found guilty of match-fixing.
Arif pleaded guilty to six breaches of the English Cricket Board's anti-corruption code in connection with a 40-over fixture between Sussex and Kent in August 2011.
The ECB banned the 32-year-old Arif from playing, coaching or participating in any form of cricket which is recognized or sanctioned by the ECB, the ICC or any other national cricket federation.
"Today's announcement sends out a very clear message that the ECB has a zero-tolerance approach to corruption in cricket and that it will root out and punish those who pose a threat to the game's integrity," ECB chief executive David Collier said.
Arif, a left-arm seamer, joined Sussex in 2011 and spent two seasons with the south coast county.
Arif expressed his regret and apologized for his actions in a statement through his lawyers.
"Mr. Arif regrets his conduct which has let himself, his teammates, Sussex County Cricket Club and the cricket fraternity down," the statement said. "He is deeply ashamed of his actions and, consequently, bringing the game of cricket into disrepute. These actions were unacceptable and Mr. Arif has no excuses."
- Please click NEXT for more...
Brathwaite, Bravo put Windies in control vs NZ
Last updated on: June 18, 2014 22:17 IST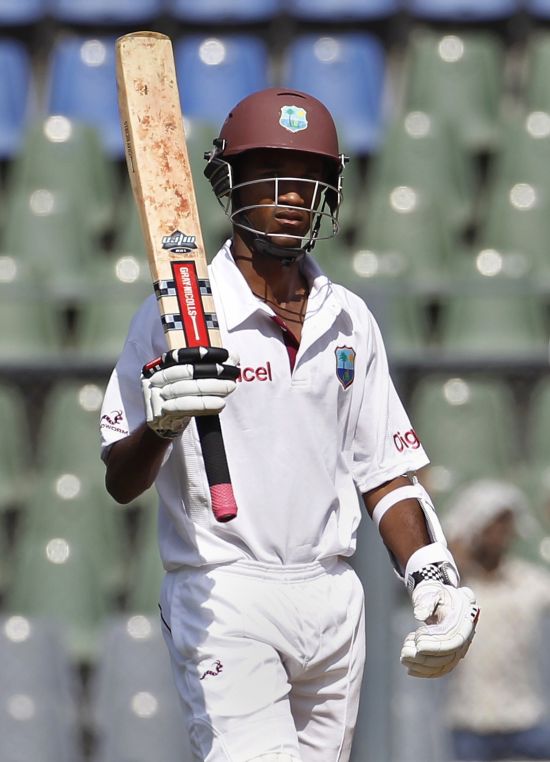 Kraigg Brathwaite and Darren Bravo both smashed centuries to put the West Indies in control of the second Test against New Zealand in Trinidad on Tuesday.
Brathwaite scored a patient 129 to register his maiden Test hundred while the more aggressive Bravo blasted a rapid 109 to give West Indies a healthy first innings lead at Queen's Park Oval.
When stumps were drawn on day two, the West Indies were cruising along at 310 for five, leading by 89 runs after New Zealand were restricted to 221 on the opening day at Port of Spain.
Shivnarine Chanderpaul was unbeaten on four while Kemar Roach was yet to score after the pair came to the crease when Brathwaite and Bravo fell in the last session.
The pair had batted together throughout most of the day, sharing a partnership of 182 after New Zealand picked up two wickets before lunch.
- Please click NEXT for more...
Southee cleaned up Benn
Last updated on: June 18, 2014 22:17 IST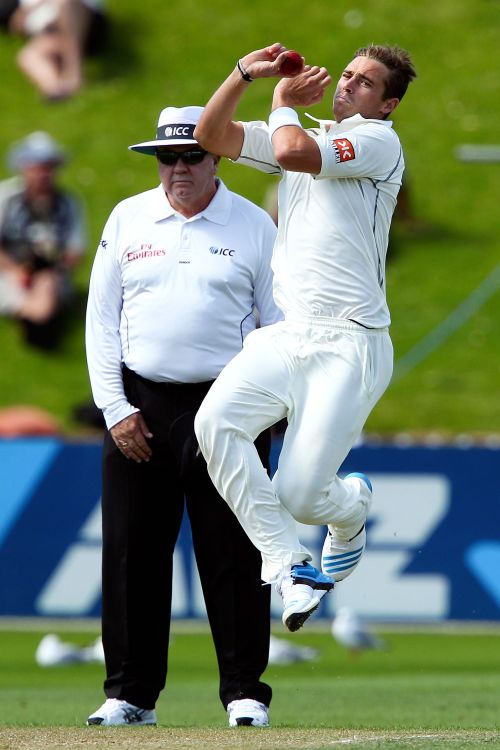 Tim Southee cleaned up nightwatchman Sulieman Benn for four, then leg spinner Ish Sodhi removed the dangerous Kirk Edwards, who smashed 55 off just 64 balls.
He dominated a 93-run stand with Brathwaite, belting seven boundaries and three sixes before he edged one to wicketkeeper BJ Watling.
"I thought we bowled pretty well without a lot of reward but to be fair they batted really well with Brathwaite and Bravo both scoring hundreds," Watling said.
"We'll come back tomorrow and look to take five quick wickets and get out there and score some runs and put a target on the board."