'It will be wonderful if he can play in Champions League'
Last updated on: September 9, 2011 19:32 IST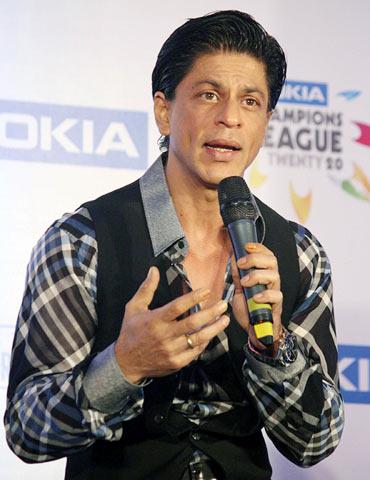 Kolkata Knight Riders co-owner Shah Rukh Khan stressed that Gautam Gambhir, who leads his franchise, will decide on his participation in the upcoming Champions League Twenty20.
Gambhir was ruled out of the five-match One-Day International series against England because of blurred vision due to mild concussion, after his head hit the ground while attempting to take a catch in the fourth and final Test at The Oval.
- Take a look at Team India's casualty list
"It is unfortunate. He has been passing through a series of injuries. And when such a decision like this happens to a big player like him, a professional player like him, then the decision will have to be completely his and his fitness team. Our people are also looking at him, meeting him and we are in complete touch with him.
"It will be wonderful if he can play in the Champions League. There will be nothing better than that, but the decision will have to be left to his fitness staff and himself. Whatever decision he takes, we will ask him to come for at least one match and cheer us," said Shah Rukh, in Mumbai on Friday, at the launch of the Champions League Twenty20.
"He is a wonderful professional player and whatever decision he takes we will have to respect that," he added.
Photographs: Hitesh Harisinghani
I didn't force Gambhir to play, says SRK
Last updated on: September 9, 2011 19:32 IST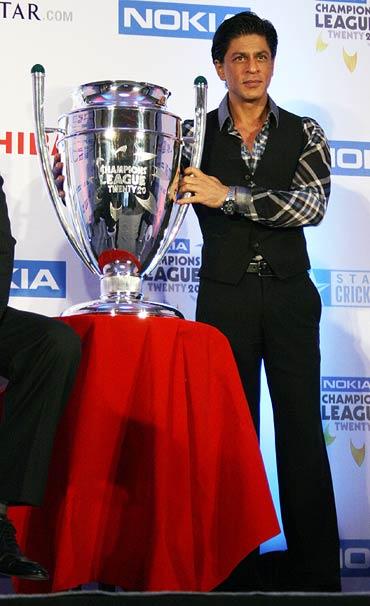 This year's tournament will feature 29 matches across four venues -- Hyderabad, Bangalore, Kolkata and Chennai. For the first time there will be a six-team qualifier that will determine the final three participants in the group stage.
The qualifiers will be played in Hyderabad from September 19 to 21, while the final 10-team League Twenty20 starts in Bengaluru on Friday, September 23, and ends with the final on Sunday, October 9, in Chennai.
The Bollywood superstar refuted claims that the franchise owners forced Gambhir to play in the Indian Premier League matches despite being injured.
"I remember last time some people said that Gambhir was injured and Shah Rukh forced him to play. That was totally untrue. In fact, when I met him, I told him you are not well, why don't you take some rest, because you have to go for a long tour'. We cannot make a big thing out of it. I hear this big talk, like he played [in the IPL] despite being hurt. The best person to know it at a professional level like this is, of course, the player himself and they need to take the decision. And they know that sometimes the decision can get to be wrong," said Shah Rukh.
Tendulkar to miss Champions League
Last updated on: September 9, 2011 19:32 IST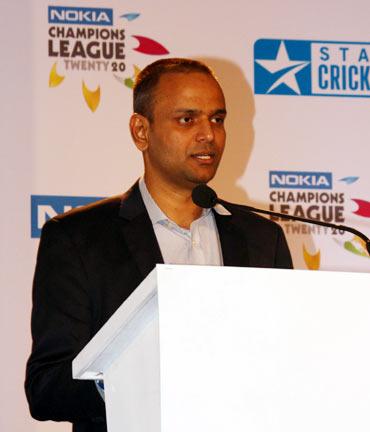 IPL and Champions League CEO Sundar Raman also echoed Shah Rukh's sentiments on the issue.
"It is left to the players; nobody is denying the players a rest. So, if a player says I don't want to play, nobody ever forces the player to play. It is their call."
He also confirmed that Sachin Tendulkar, who is currently recovering from an injury on his big toe, will miss the Champions League.
"I think there are 100-plus current international players playing out of the 135-odd players in the tournament. Yes, it is unfortunate that somebody like Sachin Tendulkar will miss the tournament. If he is injured then there is nothing else more important than him recuperating than rushing into a game," said Raman.
When Shah Rukh cried in his bathroom
Last updated on: September 9, 2011 19:32 IST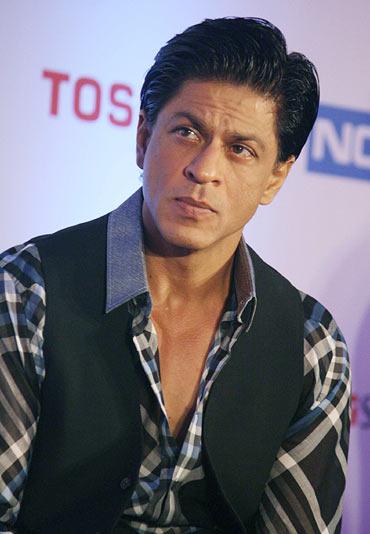 Shah Rukh also came down hard on criticism that the IPL is to be blamed for India's poor showing in the Test series in England, where they were whitewashed 4-0.
"When we won the World Cup everybody said it was because of the IPL being played in India we did so well. There is a lot more reasons than the IPL or the Champions League destroying Test cricket in the country. I don't think that is the case, else we can stop IPL for a year and see how we are performing.
"In England we are losing because the conditions are different, the pitches are different and we have been hit by a few injuries. Even Australia also got thrashed when they toured England last time. Maybe we should have gone there a bit earlier and got acclimatized to the conditions.
IPL is a domestic cricket league and we get so many young players from there. Nobody had heard of Ravindra Jadeja or Manoj Tiwary before the IPL. Everybody is getting a second chance and I think it is a great grooming ground for all forms of cricket to expand," he added.
The 45-year-old actor also revealed that his team's poor showing in the second edition of the IPL in 2009 had made him cry.
"Yes, it happened in South Africa [during IPL 2] when we lost, like nine matches in a row. I have no shame in saying that real men are those who cry when they feel sad. It is not only in films that I cry but in real life also I cry. In South Africa when we were losing matches I got depressed and I used to cry in my bathroom," he said.