Border hails Ponting as 'best since Bradman'
Last updated on: August 04, 2009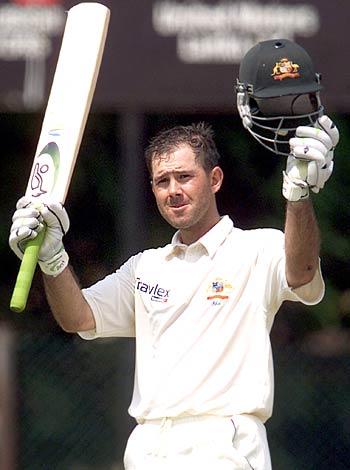 Ricky Ponting has been lauded as the best Australian batsmen since Don Bradman after breaking Allan Border's national Test aggregrate in the third Ashes Test at Edgbaston.
Border personally bestowed the honour on Ponting after the Tasmanian surpassed his record of 11,174 Test runs against England on Friday to become Australia's all-time leading run-scorer.
With no one able to come close to Bradman's career average of 99.94, the argument over who is Australia's second best has raged for decades but Border said it was hard to look past Ponting.
"Ricky's done it all. I think he's probably our second-best batsman after Bradman," Border told Sydney's
Daily Telegraph
.
'Ponting is a pretty complete player'
Last updated on: August 04, 2009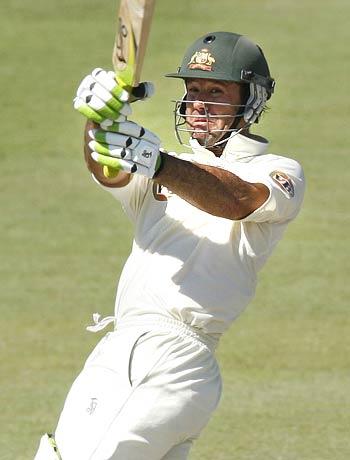 'He's got all the shots and the fact he pulls and cuts so well makes him very difficult to bowl to.
"Ricky can also take on pace. He's pretty fearless.
"I just reckon when you've got those sort of qualities you're a pretty complete player."
Ponting overtook Border's record in his 134th Test, 22 less than the former skipper, with a superior average of 56.22, compared to Border's 50.56.
The 34-year-old is now third overall behind India's Sachin Tendulkar (12,773) and West Indian Brian Lara (11,953) with potential years left in him to reach the summit.
Ponting was earmarked for greatness at a very young age. An aggressive right-hander raised in the Tasmanian city of Launceston, he made his Test debut just before his 21st birthday in 1995.
Ponting quickly learnt from his mistakes
Last updated on: August 04, 2009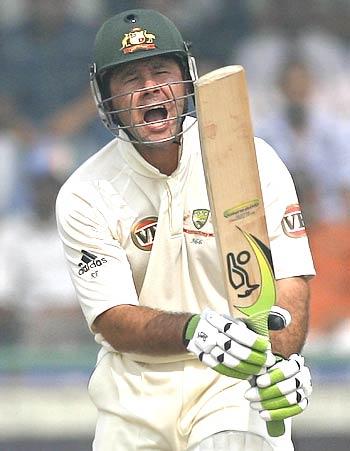 A dubious umpiring decision cost him a century on debut and his early career was troubled.
He was dropped a year after his debut and twice found himself in trouble with officials after being involved in nightclub scuffles.
But Ponting quickly learnt from his mistakes and developed a maturity that saw him not only score a mountain of runs but also become one of the most respected players in world cricket.
He replaced Steve Waugh as Australian one-day captain in 2002 then took over as Test skipper a year later.
Strike rate is highest by any Test skipper
Last updated on: August 04, 2009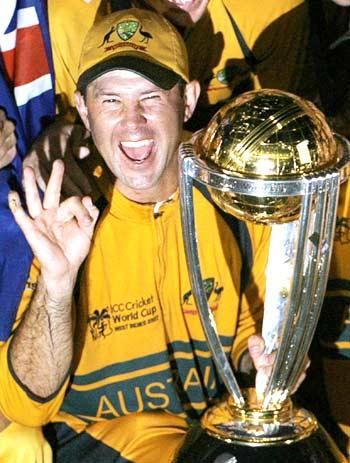 He led Australia to victory at the last two World Cups and has won a staggering 17 of the 20 Test series in which he has been in charge.
His winning strike rate of 85 percent is the highest by any Test skipper who has led their team in at least five series yet his captaincy has never received the same recognition as his batting.
At the same time as he should have been celebrating his achievement in overtaking Border, Ponting was left battling to avoid another record.
He was heavily criticised when Australia lost the Ashes in England in 2005 and despite leading his team to a 5-0 cleansweep at home in 2006-07, he is suddenly in danger of becoming the first Australian captain since 1890 to lose two Ashes series in England.
Source:
© Copyright 2021 Reuters Limited. All rights reserved. Republication or redistribution of Reuters content, including by framing or similar means, is expressly prohibited without the prior written consent of Reuters. Reuters shall not be liable for any errors or delays in the content, or for any actions taken in reliance thereon.