Sehwag's woeful away form costing India dear
Last updated on: January 21, 2012 15:58 IST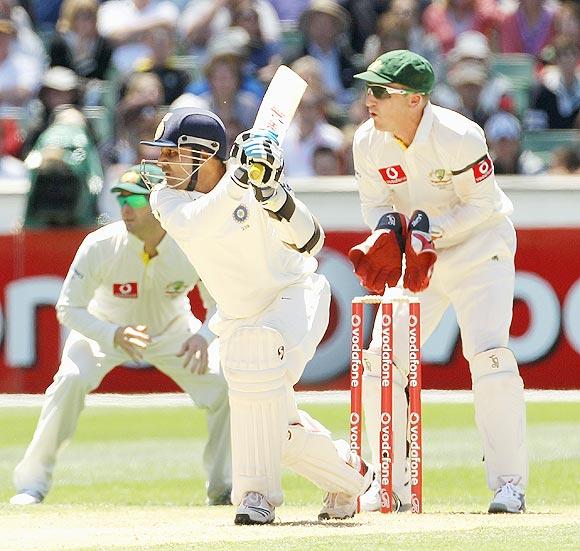 A couple of scores in single digits in the upcoming fourth Test in Adelaide and Virender Sehwag's average, for the first time in 26 months and 25 Tests, could fall below 50 per innings.
More hands would go up in the likelihood of such a possibility, which is a reflection on how Sehwag's stocks have fallen abroad in the last four years.
Stats in this period show that on the last four tours to New Zealand, South Africa, England and Australia, Sehwag's average has never touched 30.
In 21 innings, he has less than 500 runs and just two 50s -- stats which don't fare well in comparison to even Harbhajan Singh, leave alone Mahendra Singh Dhoni or Suresh Raina.

He has succumbed to quick bowling
Last updated on: January 21, 2012 15:58 IST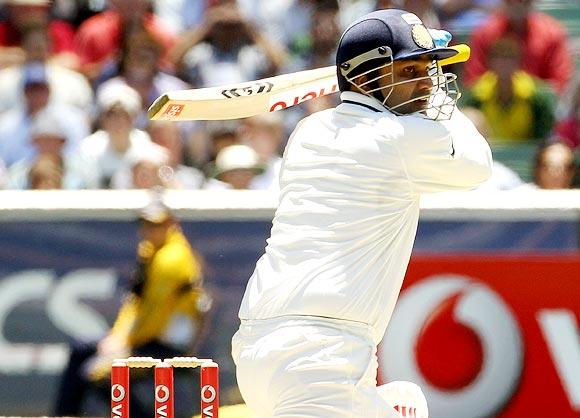 Also noticeable in these 21 innings are his 16 dismissals at the hands of quicker bowlers. Anyone with a decent swing in perceptible conditions could hope for the scalp of Sehwag, till recently the most destructive batsman in the world.
Even in his pomp, Sehwag was an average performer in New Zealand, England and South Africa, barring an odd innings or two. Since the Test at this very venue in Adelaide in 2008, even such a rare sighting has been missing.
Sehwag's strength has always been to flash at deliveries leaving his off-stump or tucking them away to the onside if they are within his stumps.
There have not been those dramatic hooks or pulls or punches straight down the ground. Sehwag liked room on the off-stump and he loved getting inside the line of a delivery on the stumps.
Sehwag is being strangled by the accurate Aussies
Last updated on: January 21, 2012 15:58 IST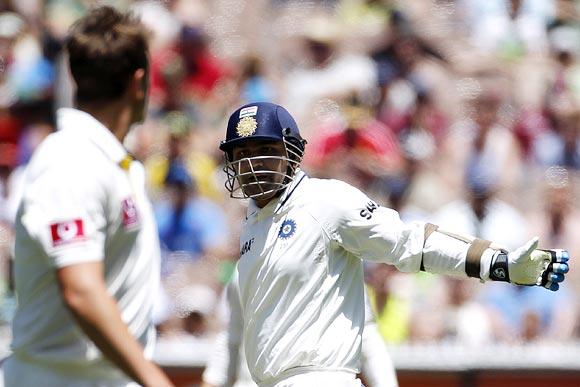 The length bowled to Sehwag on this tour, rather the consistency of this ploy, has been the key. It's a length which isn't allowing him to swing his bat in an arc.
He also can't hit through the line as it seams and swings. If he tries to force the issue, two gully positioned fielders, are catching even a fly.
Says Geoff Lawson, Australia's former fast bowler, "Like the great West Indian batteries of the 1980s, the current Australian fast bowlers give you few opportunities to score...they are making square cuts and clips to square leg rare indeed."
To top it, there is the bounce. Sehwag could still prosper if the height of the ball is below waist. It's a rib-cage height in Australia and it's defeating his methods of forcing shots off the back foot.
'Sehwag's stationary base has been exposed by the movement'
Last updated on: January 21, 2012 15:58 IST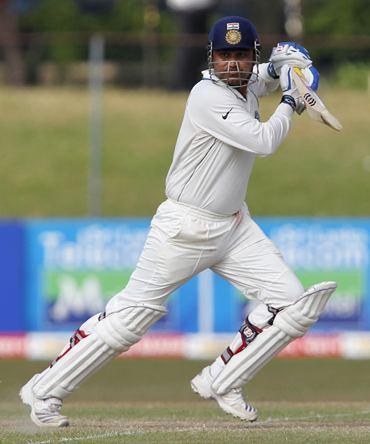 He has tried to be patient, letting deliveries go beyond off-stump, but even here the Aussie pacemen are winning the war of nerves.
"Virender Sehwag's stationary base, which works on low-bouncing pitches, has been exposed by the movement and he has been captured in the slips," observes Lawson.
It's noticeable since the first innings of the Melbourne Test, Sehwag has managed just one boundary on the onside. Hitting a six has been out of question. It's the same length, the same movement, the same paralysed reaction from Sehwag.
It now brings him to Adelaide. The knock of 151 revived him in 2008. A similar effort could do likewise. Does he go about it by being patient as he was in 2008?
He needs just two hours at the crease or India is on way to a whitewash
Last updated on: January 21, 2012 15:58 IST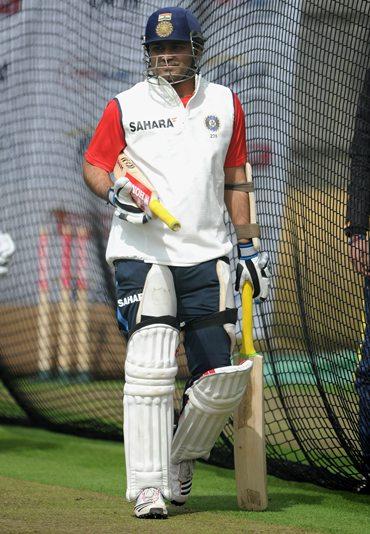 Or should Sehwag try to ride his luck? Should he try standing on the off-stump to cover the swing and whip an odd ball or two to onside? Should his stance be well outside the batting crease?
All these possibilities presently are running through his head. Usually phlegmatic, his methods at nets aren't giving much away.
He also isn't a great fan of facing up to bowling machines. He is an instinctive bat and is averse to allow logic be a part of his methods at this stage of his career.
He now has the added responsibility of leading the side. He hasn't lost a Test in the three matches he has led so far.
But leadership hasn't helped his batting. He averages 28.33 and has a grand total of 173 runs from these three matches.
His opening partner Gautam Gambhir urges not to expect miracles from his senior state player.
"Ultimately, I have always believed that a captain is only as good as his team. Captain's don't make a difference, it's the 11 players on the field that make the difference.
"It's not about Viru (Sehwag) and what difference he can bring to the team."
India needs two hours of Sehwag at the crease. It would ensure a score of 300 or more. Or else, a repeat of England is only a week away.
© Copyright 2022 PTI. All rights reserved. Republication or redistribution of PTI content, including by framing or similar means, is expressly prohibited without the prior written consent.