Time for experiments over, says Dhoni
Last updated on: February 25, 2012 17:34 IST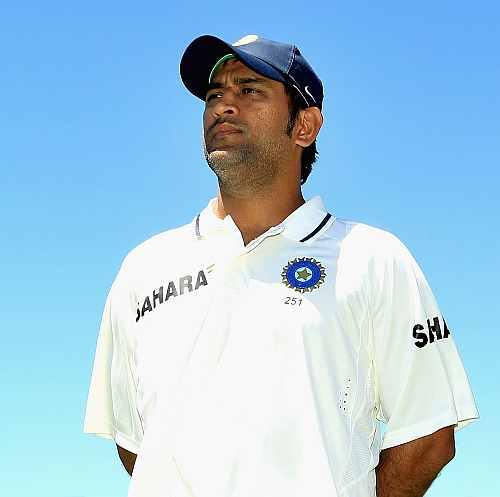 Faced with a do-or-die situation, Indian skipper Mahendra Singh Dhoni is all set to field his three regular openers rather than experiment with a pinch hitter at the top of the order in Sunday's crucialtri-series One-dayer against Australia in Sydney.
"We have three genuine, proper openers. I see no good reason why I should sent in a pinch-hitter. All three score at a brisk pace, they are good at hitting boundaries as well asin taking singles."
"There is no requirement of a pinch hitter when all three are playing," said Dhoni, indicating the rotation policy is as good as over for the rest of the tournament.
With only two more league matches to go, a defeat for India would leave them just a solitary match against Sri Lanka and a must-win with a bonus point situation.
'It's not been great going for us so far'
Last updated on: February 25, 2012 17:34 IST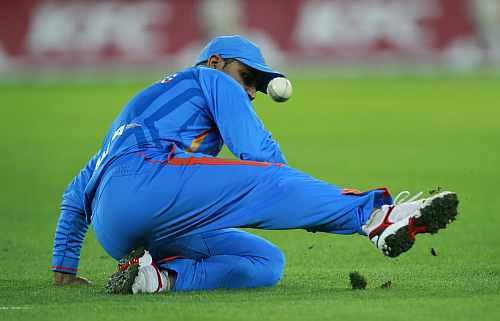 Citing an example of Mahela Jayawardene to show Sri Lanka's resurgence in the tournament as they have now won their last three matches with the captain opening and contributing with the bat with scores of 61, 45 and 85, Dhoni said, "The game has changed slightly with two new balls, one from each end. If the top order can spend more time and we have wickets in hands later, we could look to accelerate."
"That should be the mantra as of now. It's not been great going for us so far. Our strength is different from Sri Lanka and Australia. Sticking to your own strength is really important. It's important to keep learning from each and every game, especially in the areas where we have to improve as a side. It's important we don't repeat the mistakes we have been making as a team. It would help us do well."
'More than bowling, we have struggled in the batting'
Last updated on: February 25, 2012 17:34 IST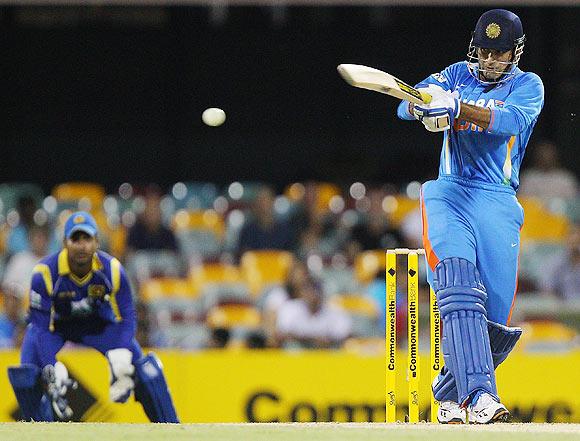 Asked if playing an extra bowler, now that Irfan Pathan has come good, is the way forward, Dhoni said, "More than bowling, we have struggled in the batting. Our batting would look very thin with Irfan at seven and Ashwin at eight. It's not an option at least in this game. In future, once we are doing well, and top five or six batters are really performing well, then it's an option."
The captain also dismissed the suggestion of playing an extra batsman in the eleven.
"You have to weigh positives and negatives. If opposition scores those extra 20-30 runs, then it becomes difficult to chase even with an extra batsman."
"Irfan has done well, his bowling has been genuinely good, with the new ball as well as in the middle (overs) as in the death (overs). It's good to have a seaming allrounder but I wouldn't put pressure on him. I would still call him a bowler -- he can always come in and have a bat."
Indian bowlers plagued with injuries
Last updated on: February 25, 2012 17:34 IST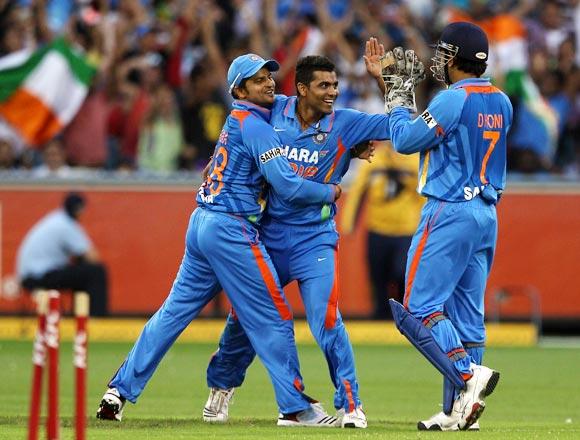 India's been plagued with injuries as Dhoni confirmed that Zaheer Khan has calf injury, while R Vinay Kumar is doubtful for Sunday's game because of hamstring strain.
Dhoni said only if Vinay was unavailable, would he think about Praveen Kumar even though the latter isn't quite actually on top of his game.
"We want him to work a bit more. He bowled a bit short in the first game. If you look at the bowlers who played in his place, they have done well. Vinay is bowling really well, Zaheer has done well, Umesh is a touch expensive but he is someone who is capable of giving us wickets. He is one who is different with a bit of pace."
"We all know Praveen is very talented and he can swing the ball and bowl in the right areas. He must have used the time (away from game) in best possible manner, work on things he needs to work upon and hopefully he would be ready in case Vinay is not fit."
'We are strangled with same kind of bowling attack'
Last updated on: February 25, 2012 17:34 IST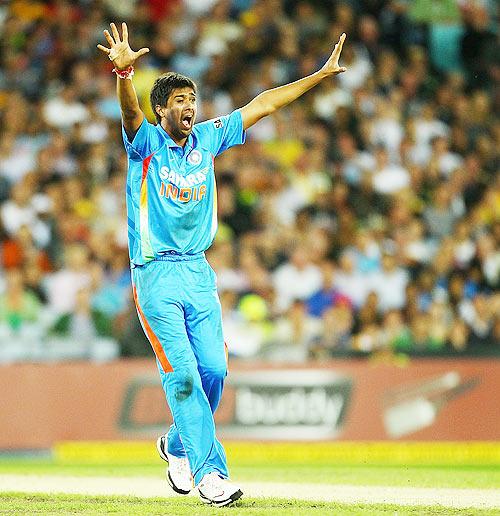 Dhoni revealed that Praveen, who normally has been his captain's go-to bowler, has actually dropped down on his pace."He has dropped down in pace a bit.
From just over 130, he was bowling close to 125 and below and he was also fractionally short. In that case, if you are a batsman, you could cash in.
"If a bowler who is 140 plus, even if they are a fraction short, they can sometimes get away with bad balls. But at that (Praveen's) pace, it's difficult. We wanted him to work, he's been working and he's improved," insisted Dhoni.
Though young leg-spinner Rahul Sharma, who was impressive with his bounce and accuracy in two Twenty20 internationals and the first ODI he played in Melbourne, can also be a bowling option, Dhoni didn't seem inclined for such an option.
"You have to see if you are quite happy with two fast bowlers and three spinners. It could have a big impact. If a fast bowler has an off-day, it may become difficult to rotate with three spinners. If three fast bowlers and two spinners are there, then part-timers can do it. Otherwise, if one is injured, we are strangled with same kind of bowling attack.But he (Rahul) has done well whatever games he has got."
India's young middle order batsmen's suffer from indifferent form
Last updated on: February 25, 2012 17:34 IST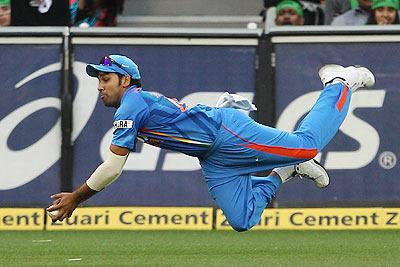 One abiding theme of this tri-series has been the rather indifferent form of India's young middle order batsmen -- Rohit Sharma and Suresh Raina and, to an extent, Virat Kohli.
"I am not disappointed with them. Everytime any individual goes to field, he wants to perform. At times you can't perform. It happens to everyone who has played international cricket."
"Our batsmen have not consistently done well in the series and we are feeling the pressure. If 3-4 (batsmen) are performing out of six, a few extra games can be given to individuals who have not done well. If you are struggling, then it becomes difficult to give that guy an extra game or two, which could make him change things," explained Dhoni.
'We are in a do-or-die situation'
Last updated on: February 25, 2012 17:34 IST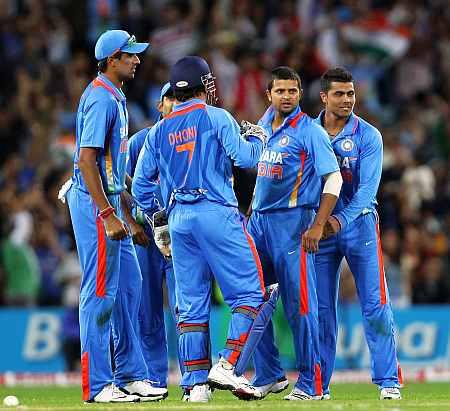 "You have to go by the demands of the game. Right now, we are not in a good situation, we are in a do-or-die situation. We would now play the best 11 available, subject to fitness."
Dhoni said it was important to choose your moment to drive home a point to a youngster who is not performing well.
"It's important to have chat but (also to know) what kind of impact that chat could have on individuals. Same chat could have different meaning, depending on the result of the game."
"That's why in a close win, where a lot of mistakes have happened, that's the point to address what went wrong. Then people take it in a better way, like only if one had stayed.But when a match is lost, situation could be different. I think that's not the right time to pinpoint. It could actually put pressure on individuals," said Dhoni.
"It's not only me, but all the seniors and coach chat with the youngsters also. If you are reading a situation well, more often than not, you wouldn't commit the same mistake all too often," he added.
Looking at India's prospect in the tri-series, Dhoni said it should be one game at a time.
"We need to look at one at a time. It would just make calculation easy. We should look to win matches, how we win is not important...we are hoping it would go our way."
'I think the right thing was done'
Last updated on: February 25, 2012 17:34 IST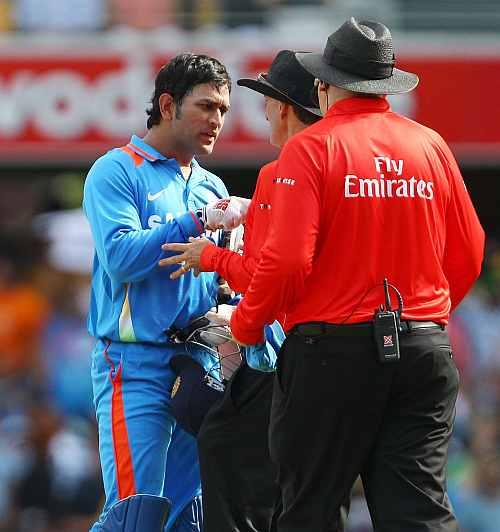 The captain also took time to look back on the run-out appeal of the Indians against Sri Lankan Lahiru Thirimanne, who backed too far outside the non-striker's crease before every ball was bowled.
"It's important to appeal. If it is part of rule, it's not wrong (to appeal). If somebody is cheating, you can use some other word here, if a batsman is getting out (of his crease), he's cheating for he is not allowed to do so. It's not fair because he can complete the run if a ball has gone to short third man or fine leg."
"Too many rules are getting changed. It's fair to give batsman a chance and warn him -- 'please don't do it'. Sometimes the proper warning could only be by getting him out because till then nobody really listens to you," he said.
Dhoni though faulted the umpires for leaving the decision in the domain of the skipper as he thought they should have taken a call once such an appeal was made.
"There are rules or no rules. Why ask the captain and why you are putting them in a position. But I think the right thing was done. The captain was asked to withdraw the appeal."
© Copyright 2021 PTI. All rights reserved. Republication or redistribution of PTI content, including by framing or similar means, is expressly prohibited without the prior written consent.