Zaheer takes four, Aus bowled out for 333
Last updated on: December 27, 2011 14:48 IST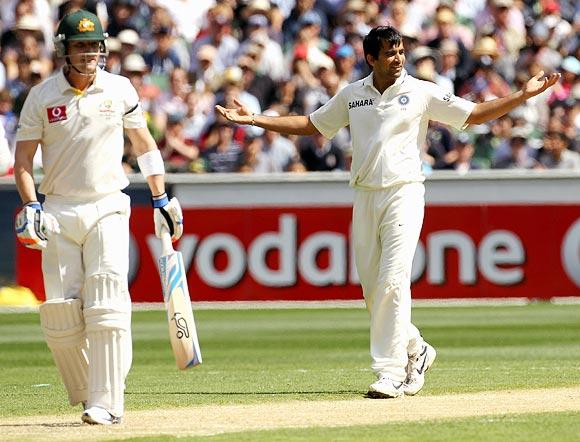 Zaheer Khan took 4-77 to emerge the best of the Indian bowlers as Australia were bowled out for 333 in their first innings on the second day of the first Test, in Melbourne, on Tuesday.
- Sehwag completes 8000 runs in Tests
Zaheer made the early breakthrough, tempting Brad Haddin (27) with a wide half-volley that the wicketkeeper drove recklessly, sending a nick to the slips where Virender Sehwag took a smart catch just above the grass.
Zaheer then had Peter Siddle (41) caught behind by captain Mahendra Singh Dhoni five runs later, drawing the paceman forward to nibble at a ball moving away.
At stumps, India had replied with 214 for 3.
The foundation of India's reply was a solid 117-run third wicket partnership between Sachin Tendulkar (73) and Rahul Dravid (68 not out).
Ashwin cleans up Aussie tail
Last updated on: December 27, 2011 14:48 IST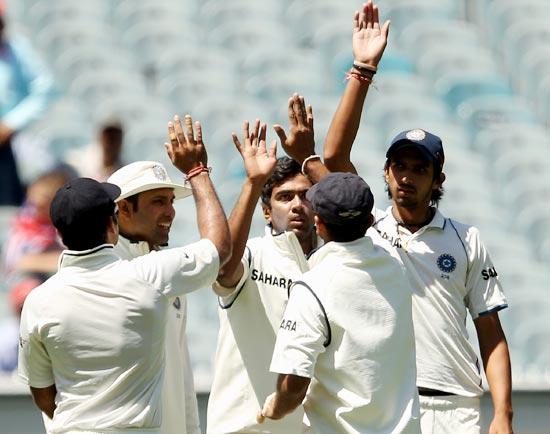 Resuming on 277-6 overnight, Australia's tail-enders held on doggedly to add 56 runs for the final four wickets before Ravichandran Ashwin cleaned up with two wickets.
Ashwin ended an enterprising 19 from Ben Hilfenhaus, who slogged a boundary off his first ball, and then bowled Nathan Lyon as he attempted an ill-judged sweep.
India lose Gambhir early
Last updated on: December 27, 2011 14:48 IST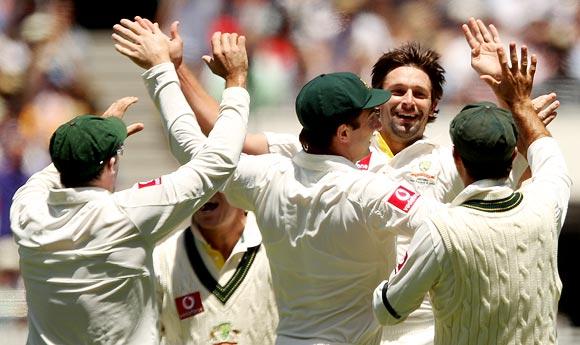 India lost an early wicket when Gautam Gambhir was caught behind by wicketkeeper Brad Haddin off Ben Hilfenhaus for 3.
After a cautious start, Sehwag started to open out as he stroked his way to 39 from 50 balls to take India past the 50-run mark in the 15th over.
Sehwag went after the Australian pacemen with abandon
Last updated on: December 27, 2011 14:48 IST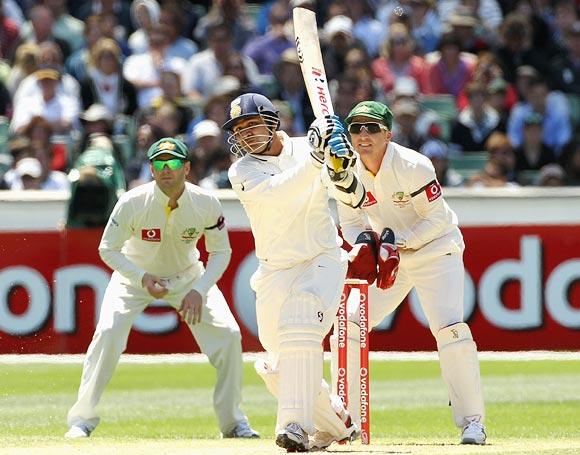 Sehwag, in a typically aggressive mood, went after the Australian pacemen with abandon but was close to ending his innings early with an indiscriminate slog into the gully region.
The hard-hitting 33-year-old slashed at a James Pattinson delivery and Mike Hussey put down a diving chance.
Sehwag rode his luck again in the 50s after attacking spinner Nathan Lyon, sending a lofted drive that fell just short of Dave Warner at long-on, before Haddin put down another chance on 58 off Pattinson.

Sehwag involved in altercation with Pattinson
Last updated on: December 27, 2011 14:48 IST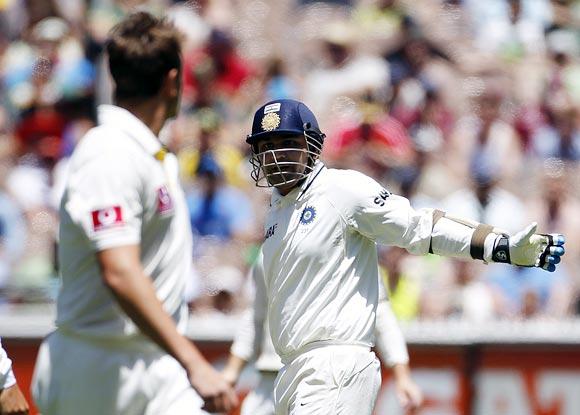 The first Test just got spicier as Sehwag was involved in an altercation with Australian pacers James Pattinson and Peter Siddle.
The incident happened in the fourth ball of seventh over -- and fourth after the lunch break -- bowled by Pattinson.
Sehwag, who was on 16, played the ball down to fine leg and ran for a single. Pattinson stood at the middle on his follow through with his elbow stretched which Sehwag evaded.
After completion of the run, an angry Sehwag had a few harsh words for the young bowler and was also seen pointing his bat towards Pattinson.
The big-bodied Pattinson answered back with equal aggression.
Pattinson bowls Sehwag for 67
Last updated on: December 27, 2011 14:48 IST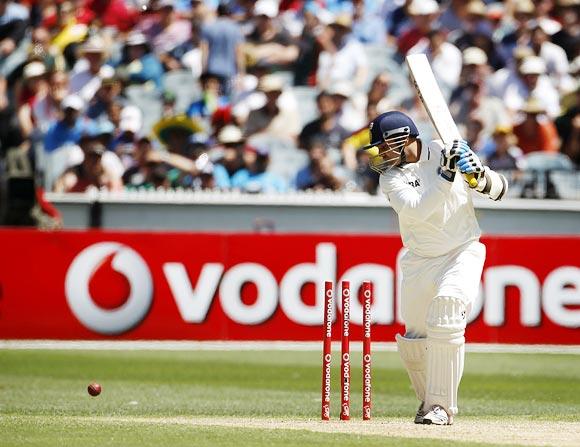 Sehwag put Australia to the sword with a swashbuckling 67 but was halted just before tea by paceman Pattinson to leave India on 99 for two wickets.
The hard-hitting opener belted seven boundaries in an 83-ball knock in which he was dropped twice, before Pattinson had him play on his stumps.
Dravid off to a shaky start
Last updated on: December 27, 2011 14:48 IST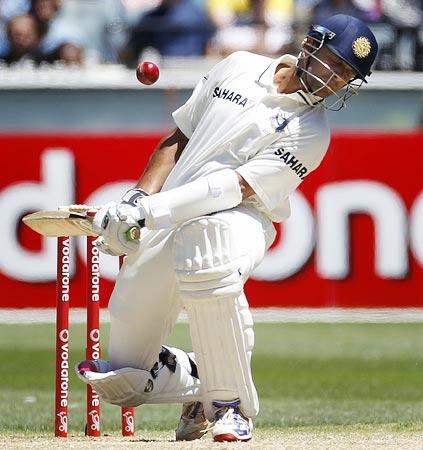 Rahul Dravid went about his business quietly at the other end. He began with a classy thrust off his pads to midwicket fence off Pattinson but the second one came after a while when he edged one off Peter Siddle between the slips.
The Australian pace bowlers bowled in very good area in the half an hour before tea and beat Dravid on a number of occasions.
Tendulkar starts positively
Last updated on: December 27, 2011 14:48 IST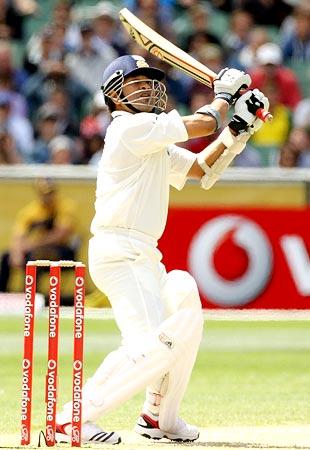 Sehwag's departure was the cue for Sachin Tendulkar to make his entrance and the master batsman's arrival was greeted by a huge roar from both local and Indian fans, with the 38-year-old likely to be playing in his last test at the famed stadium.
The Mumbai-born righthander's bid for a 100th international century began nervously as he shouldered his first delivery then played an inside edge onto his pads to get off the mark with the next ball.
But Tendulkar brought the crowd to his feet when he played the uppercut against Siddle for a six over the thirdman region off the first ball after the tea break.
'We welcome His Excellency Sachin Tendulkar to the MCG'
Last updated on: December 27, 2011 14:48 IST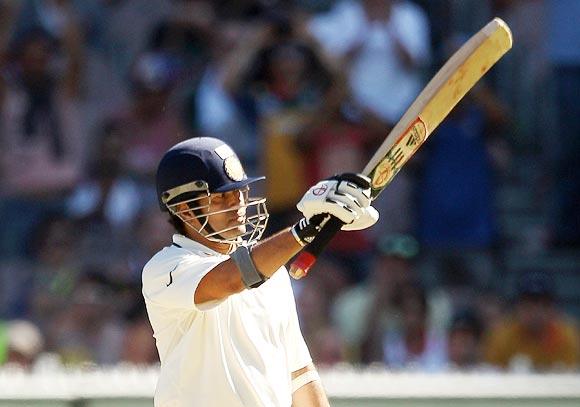 Tendulkar and Dravid had resumed after tea on 99-2 and made hay in the sunshine, blunting an Australian attack that had been buoyed by their dismissal of Sehwag shortly before the interval.
Tendulkar raised his 50 with a deft flick to mid-on off spinner Nathan Lyon, sparking a roar from the crowd, where one of the many banners read: "We welcome His Excellency Sachin Tendulkar to the MCG."

Dravid gets a lifeline
Last updated on: December 27, 2011 14:48 IST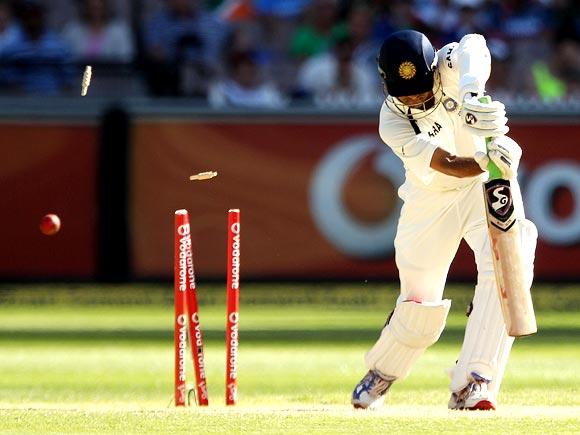 Siddle thought he had removed Dravid for 65, only for the decision to be overturned on review.
Television replays showed the paceman's foot had crept over the crease, rendering it a no-ball and the wicket invalid.
Dravid reverted to type, playing the role of straight man in the double act, reaching his half-century off 139 balls with a thick edge that fired past home captain Michael Clarke in the slips on the way to the fence.
Dravid ended the day unbeaten on 68, while Ishant Sharma came in as nightwatchman to see India through to 214 for three at the close of play.
Tendulkar misses ton yet again
Last updated on: December 27, 2011 14:48 IST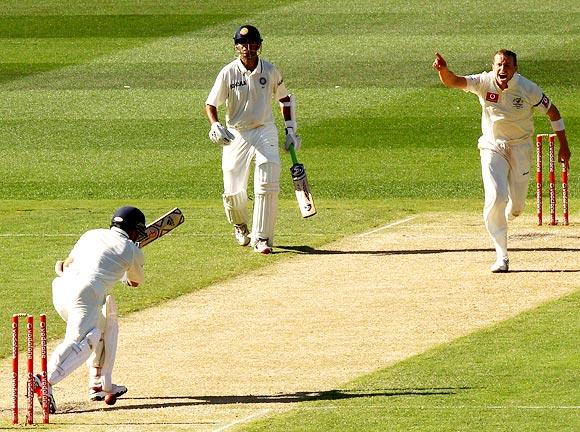 With Tendulkar moving effortlessly to the brink of his 100th international century, Siddle sent a stinging full-pitched delivery that swung in late and bowled the 38-year-old through the gate.
By the time he trudged off the ground, the "Little Master" had lofted another two similar shots over the slips cordon and stroked a pair of sublime cover drives among the eight boundaries he spread around the ground.