Ricky Ponting: Limited-overs, unlimited success!
Last updated on: February 22, 2012 23:36 IST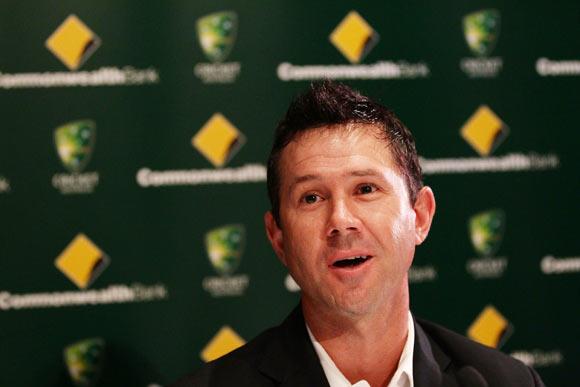 Despite a premature end to his ODI career, Ricky Ponting should have no regrets. He achieved everything on offer as player and captain in one-day cricket, says Bikash Mohapatra.

Ricky Ponting's One-Day International career definitely deserved a better ending. For a player of his calibre, and one who won three World Cups (two as captain) in 17 years in the game, to be forced to call it quits is, without doubt, harsh.
But, not all good scripts have a perfect ending.
Australia's selectors did not hesitate to drop him from the squad mid-way through the Commonwealth Bank tri-series series, involving India and Sri Lanka. The former national captain had given them every reason to.
A sum of just 18 runs in the five matches (averaging a paltry 3.6) he played in the ongoing series is appalling considering the high standards Ponting set throughout his otherwise illustrious career.
The man in question, though, had no qualms in admitting he deserved the axe.
'I have been dropped, which is disappointing, but I accept that. My performances over the last five games haven't warranted me being there,' he was quoted as saying.
By dropping Ponting the selectors made their intentions clear: the team's future and the 2015 World Cup (which Australia hosts) is priority; no way could they allow the veteran another chance, especially considering the young blood that has been infused into the side over the last few months.
It took only a day before Ponting accepted the pink slip gracefully.
'It's a bit hard to say I've retired given I've been dropped, but I don't expect to play one-day international cricket any more, and I'm sure the selectors don't expect to pick me either,' he told a news conference in Sydney.
On expected lines
Last updated on: February 22, 2012 23:36 IST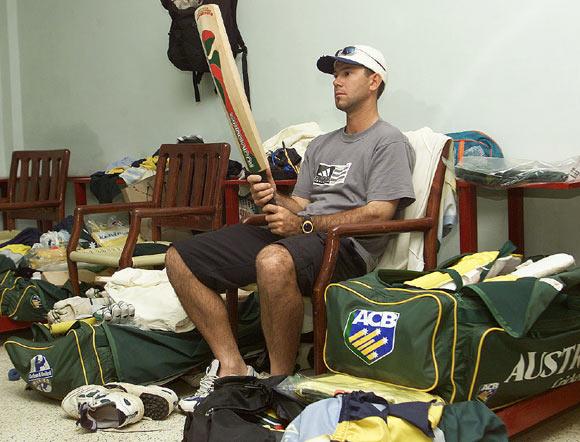 Ponting's international career has been subject for speculation in the last year or so. It won't be inappropriate to say he was coerced into relinquishing captaincy in both the formats last March, following Australia's failure to defend the World Cup.
 
His place in the Test team was questioned time and again before he came up with the perfect response, an aggregate of 544 runs in four matches (at an impressive average of 108) as Australia pulverized India 4-0.
 
However, when it came down to saving his ODI career, suffice to say, Punter failed to deliver.
 
Apart from failure in the ongoing CB series, he hardly kept the scorers busy in the game's shorter format in the last year or so.
 
Since scoring 104, the last of his 30 ODI centuries, in the World Cup quarter-final against India in Motera, in what was a losing cause, Ponting aggregated only 416 runs in 16 matches thereafter.
 
The fact that 196 (@ 49.00) of those came in the five-match series in Sri Lanka last August makes those figures look worse, considering the man has had an illustrious career otherwise -- scoring 13,704 runs in 375 matches (@ 42) since his ODI debut in 1995.
A success story that lasted 17 years
Last updated on: February 22, 2012 23:36 IST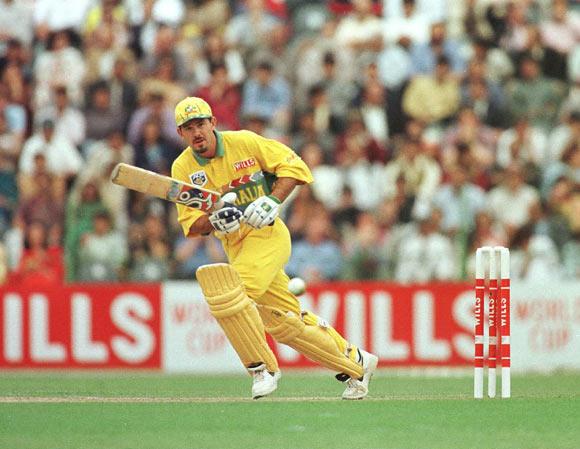 Ponting's ODI debut -- against South Africa during a quadrangular tournament in New Zealand in 1995 -- coincided with Australian's ascendancy as a cricketing powerhouse.
 
The national team he joined had in its ranks players of the calibre of Mark Taylor, David Boon, Steve and Mark Waugh, Shane Warne and Glenn McGrath. The young batsman scored only a run on debut, but made a mark in his third international, scoring 62 against India at Carisbrook (Dunedin).
 
In less than a year, Ponting had scored his first century in the format, a well-compiled 123 against Sri Lanka, in Melbourne. Playing in his maiden World Cup in 1996, the youngster contributed 229 runs in seven matches (@ 32.71) in Australia's run to the final.
 
It didn't take him long to cement the number three slot, the Carlton and United series of 1997-98 -- in which he plundered 462 runs in nine matches (@ 57.75) – being career-defining, so to speak, the benchmark for things to come.
 
Punter, with his aggressive, and consistent, batting, played a vital role in making Australia the most dominant one-day outfit, one that won three World titles in succession -- in 1999, 2003 and 2007, going undefeated in 29 successive matches in the process.
 
His magnificent 140 not out against India - where he made a potent Indian attack look hapless - in the 2003 final is etched in cricketing history.

The best ODI captain ever
Last updated on: February 22, 2012 23:36 IST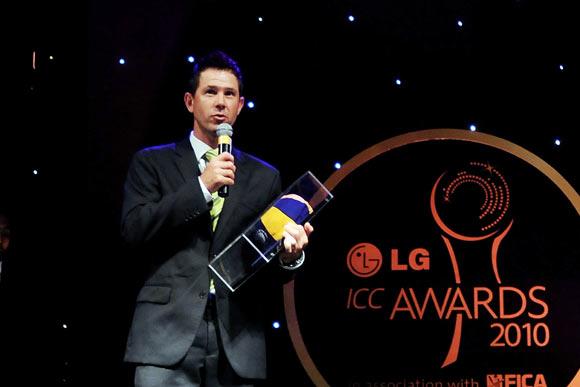 Considering the success he had as a player, it did not come across as a surprise when Ponting was named Australia's ODI captain in early 2002.
 
Suffice to say, the new responsibility brought the best out of him.
 
'It's nice to put your hand up and do the big things the team requires of you. I just love the game and I just love every opportunity I have to play for my country,' he was quoted as saying.
 
Inheriting a squad built by Taylor, and strengthened by Steve Waugh, Ponting added many new chapters to Australia's success story in the 50-over format. In the process, he became only the second captain after West Indies legend Clive Lloyd  to lead his side to successive World Cup triumphs. Besides, he led Australia to two successive Champions Trophy titles.
 
In the 221 ODIs he captained Australia, Ponting led the team to a record 160 victories against only 48 defeats! His winning rate (72.40) is, arguably, the best ever.
 
There are many who argue that he is Australia's best ever ODI captain. In fact, John Inverarity, Australia's chief selector, did not refrain from eulogizing Ponting's ODI career even as he broke the news about his axing.
 
'Ricky's record speaks for itself,' he said, adding, 'He is one of the truly great performers in the history of Australian ODI cricket, with his reputation enhanced further by him captaining Australia to two World Cup victories.'

A career sans any regret
Last updated on: February 22, 2012 23:36 IST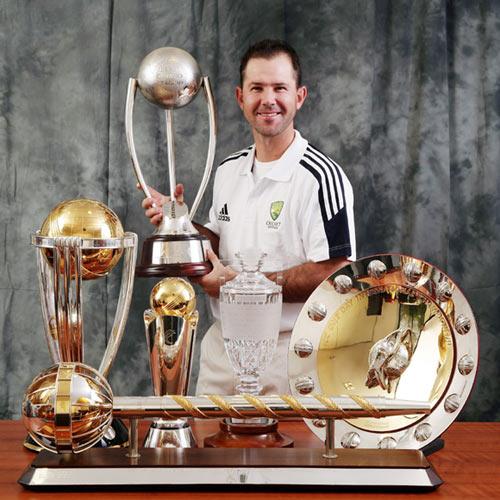 When it comes to Test cricket, Ponting will retire with at least a couple of regrets: his failure as captain to win a series either in England or India.
 
Despite an impressive batting record, a stellar show on the field (read 160 catches) and years of astute leadership in the longer format, his Test career, whenever he decides to call it a day, will be looked back as much for these two failures as for its achievements.
 
Australia will play England in back-to-back Ashes series in 2013-14 and, subsequently, India, giving Ponting the chance to earn redemption. Even if that happens, it won't be as the captain.
 
However, despite the fact that he has been forced to end his ODI career, he should have no regrets in this regard. He has achieved everything on offer, as player and captain, in one-day cricket. Probably, a lot more than his peers can comprehend, let alone achieve!