'It hasn't sunk in but I have definitely lost about 50kg'
Last updated on: March 16, 2012 19:51 IST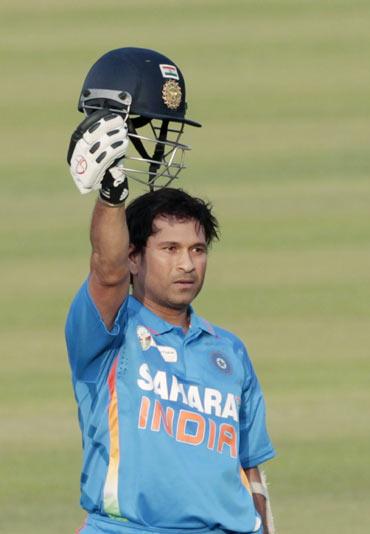 Relieved after notching his 100th international century that took over a year to come, Sachin Tendulkar on Friday said it was "mentally tough" to deal with the hype around the milestone and joked that he has lost 50kg after getting to it. 
The 38-year-old right-hander reached the elusive 100th international century against Bangladesh in an Asia Cup match in Mirpur, scoring 114 off 147 deliveries. 
"It hasn't sunk in but I have definitely lost about 50kg," the iconic batsman joked when asked whether the feeling has sunk after getting to a milestone that may never be emulated. 
"Obviously I can't think anything at this stage. It has been a tough phase for me. Especially tough as I was doing reasonably well in Australia but felt that at times was a little luckless," he added.
'It doesn't matter how many 100s you score'
Last updated on: March 16, 2012 19:51 IST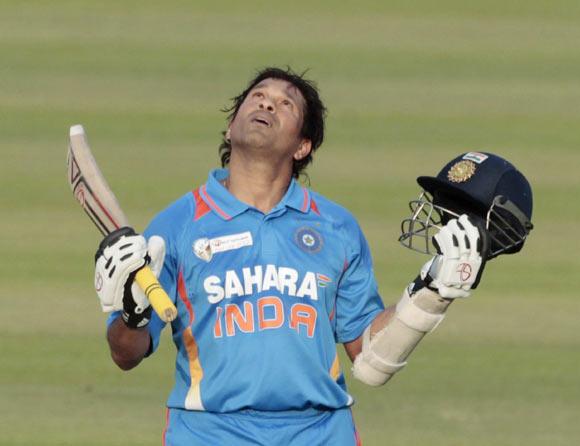 Even in his personal moment of glory, the diminutive batsman stressed on how significant it was for him that his effort contributes to the team's cause. 
"It doesn't matter how many 100s you score, you still put your head down, grind it out and do the job for the team. 
"I was not thinking about the milestone, the media started all this, wherever I went, the restaurant, room service, everyone was talking about the 100th hundred. 
"It became menatlly tough for me because nobody talked about my 99 hundreds," he said.
'Dreams do come true'
Last updated on: March 16, 2012 19:51 IST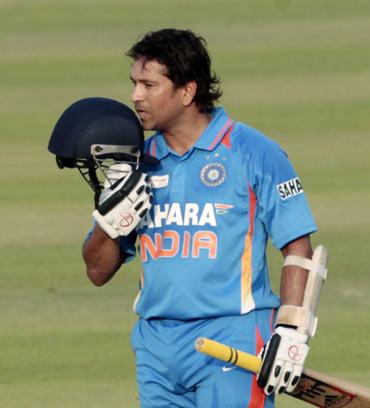 Talking about his innings on Friday, perhaps one of the slowest ODI innings by him, Tendulkar said it was tough to score.
"It was difficult because the ball was not coming on to the bat," he explained. 
Asked what he would tell his young followers at this moment, Tendulkar said, "Enjoy the game and chase your dream. I had to wait for one for 22 years, the World Cup. 
"So dreams do come true."