Former captain Sunil Gavaskar has endorsed Delhi Daredevils splurging Rs 16 crore on Yuvraj Singh in the IPL 8 auction, saying the flamboyant all-rounder "deserves every penny for his yeoman service" to Indian cricket.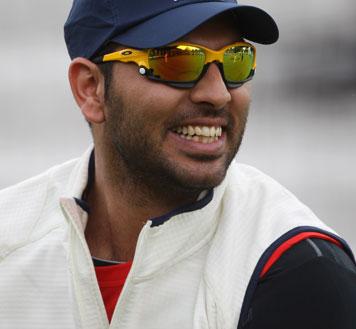 "I am really happy for him, look at what he has gone through. He was Man of the Tournament in the World Cup 2011 and then he was ill.
"He deserves every penny for his yeoman service to Indian cricket," Gavaskar told NDTV.
The batting great added: "He not in the mix at the moment, but he is 32."
Yuvraj emerged as the costliest cricketer in the IPL 8 players' auction, bought for a record Rs 16 crore (USD 2.57 million approx) by Delhi Daredevils in Bangalore.
Yuvraj, who carried a base price of Rs 2 crore, was sold for the highest ever price in IPL history after a fierce tug of war for his services between Delhi Daredevils and Royal Challengers Bangalore, who bought him last year for Rs 14 crore.
Gavaskar said Yuvraj will bring in the crowds at the capital's Ferozshah Kotla stadium.
"I think it's good. He is a very big name as far as brand endorsements are concerned. Lot of people will go the stadium and he can ensure a full house," said Gavaskar.
Image: Yuvraj Singh
Photo: Getty Images