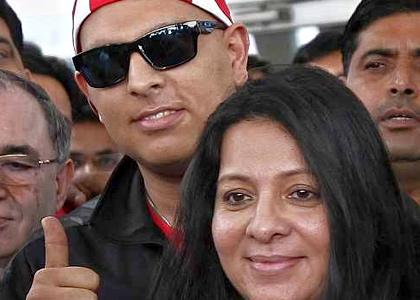 Indian cricketer Yuvraj Singh has been named in a domestic violence case filed by his sister-in-law and former Bigg Boss contestant Akanksha Sharma.
A contestant on Bigg Boss 10, Akanksha alleged that Yuvraj and his family caused her "mental and financial torture", ANI reported on Wednesday.
Akanksha, in her complaint filed in August, accused her husband, Zoravar Singh and his mother, Shabnam of "mental and financial torture" and alleged that Yuvraj Singh remained a "mute spectator", according to her lawyer.
Akansha has named the trio in the case.
In a statement on Wednesday, Damanbir Singh Sobti, the counsel for Yuvraj Singh, his mother and brother, claimed the complaint was "malafide, baseless and time barred".
"She (Akanksha) had left her matrimonial house admittedly in September, 2015 and has now chosen to file this petition in the end of 2017," the lawyer said.
Akanksha Sharma, a Gurugram resident, has alleged that she was under pressure from her in-laws who wanted her to have a baby.
According to Akanksha Sharma's lawyer Swati Singh Malik, "Domestic violence does not mean just physical violence. It also means mental and financial torture...Yuvraj was a mute spectator to the sufferings caused to my client by Zorawar and his mother."
Gurugram Police Chief PRO and ACP Manish Sehgal told PTI that they had not yet got any directions from the court to register an FIR.
"The woman has not approached us directly with a complaint against Yuvraj Singh and his family members," he said.
"Akanksha has filed a petition under Section 25 of the Protection of Women from Domestic Violence Act, 2005 and my clients have been arrayed as respondents and their counsel shall appear on their behalf on the date fixed before the court in Gurgaon," Yuvraj Singh's lawyer said.
The first court hearing in the case is scheduled for October 21, Malik said.
Image: Yuvraj Singh and his mother Shabnam Singh
Photograph: Reuters