'What Dhoni has done for Indian cricket, let him find his own time.'
'I don't think Virat is in a huge rush to captain everything (format) at the moment.'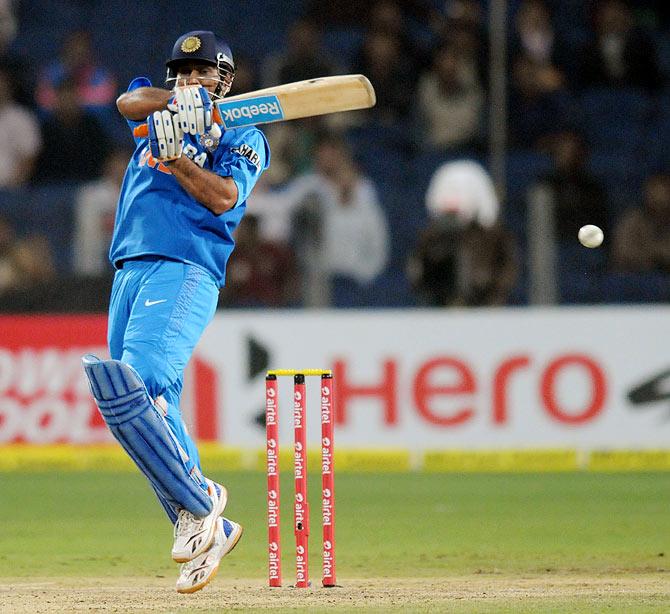 IMAGE: Mahendra Singh Dhoni hits out. Photograph: BCCI
India's limited-overs' skipper Mahendra Singh Dhoni may be a shadow of his old self but former Australian batsman Dean Jones feels the Jharkhand dasher will be "missed more in sub-continental conditions" once he calls time on his illustrious career.
While there is clamour to elevate Virat Kohli to the top, Jones is against the idea of pushing great players into retirement.
"We are pretty quick to push our great players out. What Dhoni has done for Indian cricket, let him find his own time. I don't think Virat is in a huge rush to captain everything (format) at the moment. Time will come. Trust me, you will miss Dhoni a lot, more in India, when he retires," Jones said.
Recently, former India team director Ravi Shastri said the time has come and Kohli is "ready" to lead in all the three formats.
"I think that will happen soon. Dhoni will end of as one of the greatest players India has ever produced. Honestly, it is no big rush."
Dhoni, who has called it quits from the Test format, recently led a second string India to a 3-0 whitewash of lowly Zimbabwe, his first ODI series triumph in 20 months, since the 2-1 win over the West Indies at home in 2014.
The charismatic skipper, who has all the World titles under his belt, also looked out of sorts in the recently-concluded Indian Premier League season in which his new franchise, Rising Pune Supergiants, finished seventh out of eight teams.
All this at a time when Kolhi is in the form of his life.
"Virat is really in a good part of his life. He looks brilliant with the way he's playing. He's happy. He is super fit. He's just a great example for the youth of India. He looks and presents himself as an athlete. More strength to him. I just love watching him play.
"I find him refreshing. I love his charisma. I think he's got personality. He walks in to bat and you have no idea what's going to happen. He's just really cool. He is polished, now knows how to finish it off. He is the best player in the world, probably, now for me," Jones said.
"It's a big thing because I thought AB (de Villiers) was up there... You'd to do something 'stupidly good' to get past him. He's got past him over the last year, ever so slightly. To watch Kohli bat is an honour," he added.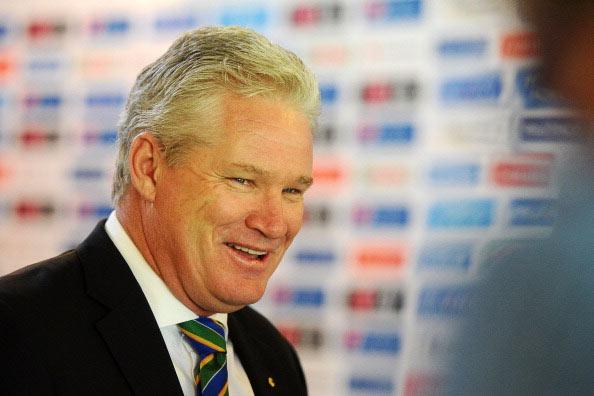 IMAGE: Former Australia player Dean Jones. Photograph: Mark Tantrum/Getty Images
The Board of Control for Cricket in India is in the process of finalising a coach for Team India, but Jones, who coached Islamabad in the Pakistan Super League (PSL) last season, said he's not in the running.
"No, I'm not going anywhere. Teams are mainly led by great captains. I think India have great leaders in Kohli, Dhoni and a lot of good senior players... whoever coaches them will do a good job.
"The Cricket Advisory Committee of V V S (Laxman), Sourav (Ganguly) and Sachin (Tendulkar) are following the right process to make a proper decision. It's the number one/best job in the world as a coach. Your shoulders are under more pressure but at the same time whoever they pick will do a fantastic job," he said.
"I'm too busy commentating. I really enjoyed the coaching job with Islamabad in the PSL. Coaching a national team is completely different, where you're not only managing players but coaching them as well. But in franchise it's about just managing and getting the selection process right.
"It's a great game. I just feel privileged that I'm, at 55, still earning a living from the game and still enjoying just as much as I did when I was young."
Jones, who is in Kolkata as an expert commentator for the pink ball day/night multiday game in India, said it's high time Test cricket's timings are changed to suit to the lifestyle of today's busy office-goers.
"At the moment, all the heady stuff has gone into T20 and ODIs. So it's about time we start to look after our Test cricket," he said on the pink ball day/night Test.
"People are very busy today. They might watch it on social media but they don't actually get a chance to go to the stadium and watch a match. The opening hours of the Test 'cricket shop' has been wrong.
"We are not going to say this going to happen all the time. But maybe one in eight Tests played around the world will be a pink ball. It's just the matter of players getting used to it.
"If we don't look after the game, we're going to lose them. We don't want that to happen. We got to teach our kids how important the Test cricket is. The contribution of Dravid, Ganguly, Tendulkar, Kapil Dev's and the all the greats," he said.
So far only one day/night Test has been played, when Australia defeated New Zealand in three days at the Adelaide Oval last November, and the turnout was a huge success.
"It's proven in Australia that people will watch it at night if you have good teams playing against each other," Jones, who did the commentary in the historic Test said.
The only thing he would like to change is the colour of the sight-screen from white to black.
"I don't think it goes well with the pink ball. I think they would be better with the black. But that's my personal opinion. If the players feel fine, then it's okay. Maybe they can change around with a click of a button for different people."
The Eden, where Australia won the 1987 World Cup, is very special for Jones.
"Two of the greatest cricketing days of life are -- when we won the World Cup and when we won the Ashes in England (1989). For me, it's not about scoring a hundred or a double. I've always played to win. That's the way Aussies are brought up. When you're emotionally spent, for me, was when we won the World Cup and when the Ashes."
Jones's 210 against India in Chennai (then Madras) came in the second-ever tied Test in September 1986, and the former Aussie batsman said they are planning to celebrate 30 years of that epic match that was a start of a great realationship.
"I was talking to 'Star Sports'. Hopefully something will be done to celebrate 30 years. It was a start of a great relationship between India and Australia. We had a great relationship anyway, but it took to another level.
"It's not just the game that happened but the friendships that were created from that particular tour is still prevalent. You've got Gavaskar-Border Trophy now. (Ravi) Shastri and Kapil (Dev) is a dear Paaji of mine. It's been really cool."
He agreed that in terms of competitiveness and quality, the best was the tour of 2001.
"Of course, we followed that up with the 2001 tour that was probably the greatest in terms of quality Test series I've ever seen. It's just up there. It was just terrific cricket, batsmanship, bowling fielding and everything. It had everything."
"Hopefully, we will do something more important to remind the young kids how we got here now in the Test cricket. A lot of Test cricket will be played this year. It's up to us to tell the story, and trying to get the message across."