'He is a good human being and one series can't make him bad'
India's Suresh Raina (left) with Mahendra Singh Dhoni. Photograph: Phil Walter/Getty Images
Middle-order batsman Suresh Raina has come out in full support of Mahendra Singh Dhoni, saying the beleaguered Indian skipper and his achievements 'can't be shown disrespect' and that he still has a lot of cricket left in him.
He grabbed his chance with both hands...
'If you don't go behind Dhoni now then when will you?'
Man of the Match in India's consolation win in the third and final ODI in Mirpur on Wednesday night, Raina defended his Chennai Super Kings captain Dhoni, who has come in for criticism following India's first ever series defeat to Bangladesh.
"You can't disrespect him and what he has achieved," said Raina.
"He has won so many trophies for the BCCI. At the same time he's a good human being, an honest man and a good leader. One series can't make him bad. Everyone loves him in the dressing room. There's still a lot of cricket left for him. So just wait for some time.
"Losing just one series doesn't make you a bad team. I think credit should be given to MS (Dhoni) with the way he led the team with the bat and then marshaled the side to this victory," said the batting all-rounder, who blazed his way to a 21-ball 38 and then chipped in with three wickets.
Dhoni made a gutsy half century after Shikhar Dhawan laid the foundation with a fluent knock. India have lost the series to Bangladesh, but have won 14 out of 20 ODIs in the 2014-15 season, which has put them third behind Australia and New Zealand.
"The team's graph is going upwards definitely. These were the last matches of the season. We don't know when we are next playing one-days. We have done quite well in the format and we are still No 2 in the world," said Raina.
Raina happy to pitch in whichever way he could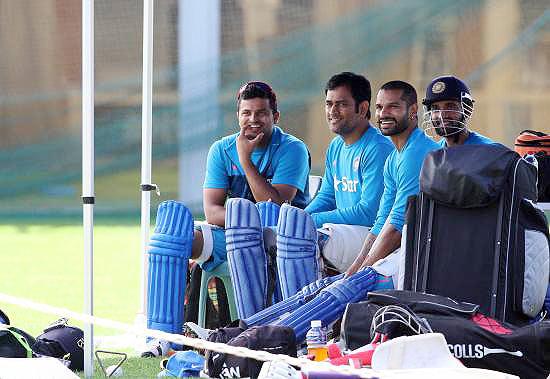 India's Suresh Raina, captain Mahendra Singh Dhoni, Shikhar Dhawan and Ajinkya Rahane during a practice session. Photograph: PTI
Raina said he is happy to do whatever is asked of his bowling.
"I know what my role is as a bowler. Whether it is bowling two or three overs in the middle or go for a longer spell whatever the team thinks of me.
"We know Shakib (Al Hasan) and Mushfiqur (Rahim) have world of experience behind them. Shakib has been playing so long in IPL so he knows how to score in situations like these. So taking those two wickets was very important," added Raina, who scored 112 quick runs in three matches.
While admitting that batting lower down the order is not an easy task, he did say he was better suited to the role now.
"TO bat at No 6 is not an easy position, you have to accelerate. Sometimes you get runs, sometimes you don't. But still you need to be positive in your mind. I am really happy. I have worked really hard with Ravi (Shastri) and at the same time Sanjay Bangar has really helped me a lot as well.
"Like I used to bat at leg stump, but Ravi said if you stay at middle you can play your shots over cover, over mid-off, over mid-on (better).
"My mindset has improved over the years as well. I have learned how to bat with the tailenders. When you are not scoring runs up front, you need to just look to bat really well with whoever comes in."
Raina added that he was happy to pitch in whichever way he could.
"No regrets moving down the order. I just want to win games for India. I can score a quick 40 or a quick 80. But still when we won the World Cup in 2011, I scored 35 not out against Australia and 37 not out against Pakistan. That's my best innings ever.
"I would love to bat up the order, but whatever the team needs me to do, I just have to take that responsibility," he said.