'Mine and the Australian team's natural inclination is to bat first and try and get the scoreboard pressure going.'
Gilly on the Champions Trophy final.
Manu Shankar listens in.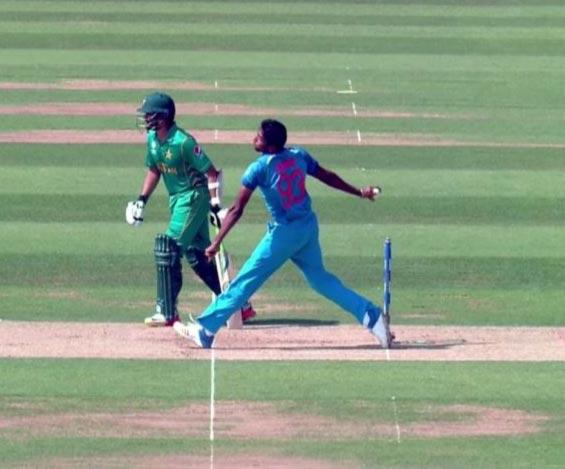 Cricket legend Adam Gilchrist was in New Delhi for the Australia-India Sports Partnership Meet organised by FICCI on Monday, June 19.
Gilly, who retired in 2008 after playing 96 Tests, shed light on the 'Aussie Style' of approaching a final, the Cricket Australia versus Players dispute and much more.
So what went wrong for Indian team in the Champions Trophy final?
First of all, I have to say I didn't see any of the game as I was flying up here.
I have only seen the result and a few highlights, but really, Pakistan has played, what seems to be a perfect game of cricket.
So just one bad day at office, and India after a very very impressive tournament just caught out on the big day -- so that can happen.
Like we as an Australian team used to focus on building up, building up so that we could be ready to be at our best on the day of the final.
But you have see that India have proven that they can win the World Cup, they have won the Twenty20 World Cup, the Champions Trophy etc.
I don't think there is any issue with India being able to play on the big stage.
Considering the conditions, would you have batted first in an all-important final?
Just before I flew out of Perth yesterday (June 18), I saw the toss happening.
Mine and the Australian team's natural inclination is to bat first and try and get the scoreboard pressure going.
However, having said that, most of the game -- out of 16 games in the tournament, 13 of them have been won by teams while chasing... So you can't really criticise the decision to bowl.
Besides India are very comfortable chasing and have done well chasing.
You cannot criticise them for that decision. The century maker (Fakhar Zaman) was caught off a no-ball... so there were a lot of fine lines.
The stand-off between Cricket Australia and the players: Do you see that stretching out or do you see a quick solution?
Both the Players Association and Cricket Australia would ideally hope that this does not go any further.
I'm sure they would be working tirelessly to have the issue resolved.
I'm not surprised that all the players are sticking together, but as a player and a former player myself, I believe it will take a bit of compromise from both ends to reach an agreement.
The normal way of negotiation is to give and take.
Cricket Australia have taken very good care of its players in the last 20 years, ever since the first MoU (Memorandum of Understanding), but perhaps they haven't articulated well enough as to why the need for change in the structure.
It seems the players aren't entirely convinced that there is need for change ... so like I said both parties need to come to a compromise.
What do you think about the scrapping of the World Cup T20 next year?
I believe there is room for all three formats, (we) just have to be careful of the amount of cricket being played.
The greatest requirement and the issue that the cricket administrators face is giving matches relevance so that the supporters of the game stay engaged in the game.
IMAGE: Jasprit Bumrah's no-ball gave Faqar Zaman a reprieve.
The Pakistan opener -- a former Pakistan Navy sailor -- went on to score 114 in the Champions Trophy final.