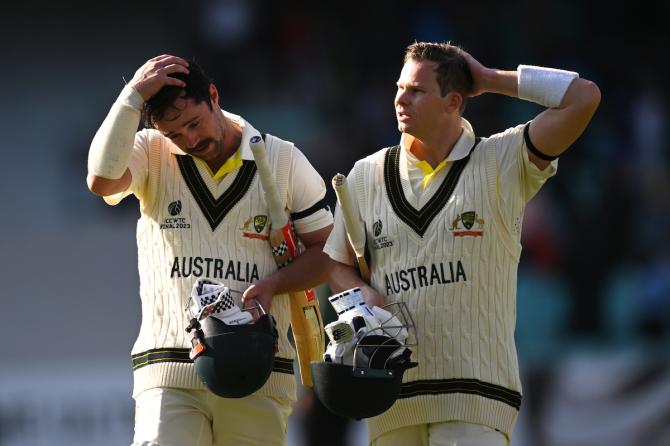 Australia batter Travis Head loves batting under the shadow of Steve Smith as it helps him perform at his best.
Head's counter attacking 146 not out off 156 balls put Australia in a commanding position after day one of the World Test Championship final against India at the Oval on Wednesday.
He shared an unbeaten 251-run stand with Smith who is five runs shy of a hundred.
"I've always said I do really enjoy batting with Steve because of how much attention he receives. He's one of the best players in the world, probably our best player," said Head.
"He's our best batter, he's unbelievable in these conditions, and he receives so much attention from opposition in terms of plans and how difficult he is to bowl to, so I've always said going out to bat with him, it feels like you're in the shadow of that, you can sort of stay under the radar and go about your business," he said.
Head hammered 22 fours and the only six of the game so far for his first century outside Australia.
The southpaw said his current frame of mind and the technical changes he made to his batting after 2019 has contributed to his impressive run.
"Losing the toss in the morning I thought it was going to be a challenging day. Nice to contribute nice to get a good start."
Talking about his approach, he added: "I said in the lead in to the game, if balls are there to be scored off I am going to score off it. There were challenging periods but the ball gets to the boundary very quickly here if you find middle of the bat.
"Technically, I have made those changes but for all around. I felt I needed to adapt to each condition. The foundations in my game has surely a changed a lot since 2019."
© Copyright 2023 PTI. All rights reserved. Republication or redistribution of PTI content, including by framing or similar means, is expressly prohibited without the prior written consent.