'He has always done well in England and Australia. He was waiting for his chance and after Shreyas' injury, he has been given a chance again'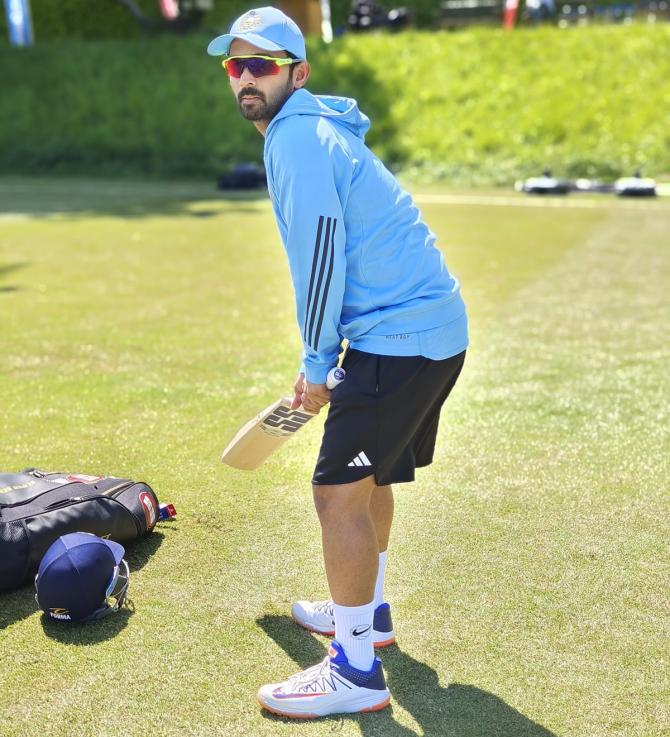 Ajinkya Rahane is set to play his first red-ball game for India in 18 months and potentially faces a do-or-die situation in the World Test Championship final against Australia at The Oval beginning June 7.
Making a quick switch from T20 to the five-day format, Rahane plans to "keep it simple" and will be hoping that the impeccable timing he displayed through the IPL travels with him to London.
The tough call of dropping both Rahane and Cheteshwar Pujara from the Test team after the series loss in South Africa was taken in early 2022 but the latter made his way back into the side after a bumper run in county cricket in the same year.
Rahane, a veteran of 82 Tests, had to wait a year longer for his comeback. He earned his national call up after getting the runs in the Ranji Trophy and more recently following his reinvention in the IPL that left everyone impressed.
In all probability, he might not have got the recall if Shreyas Iyer was fit but both form and luck played a part in his return. With the much younger Iyer having already proved himself in the middle-order, the clock will be ticking for Rahane when he goes out to bat at The Oval.
His record in the three Tests he has played in the South London has been forgettable but that is unlikely to play on his mind as ability has never been in question all through his career, having piled up the hundreds in New Zealand, England and Australia.
As the cricketing world witnessed in 2021 when he led India to one of their greatest triumphs Down Under, Australia as opponents tend to bring the best out of Rahane. He will not have the additional pressure of captaining the side this time, he will just have to let his bat do the talking.
An average of 38.52 in Tests doesn't say much about Rahane's consistency but former chief selector MSK Prasad feels the experienced batter should be persisted with going forward if he does well in the high stakes WTC final.
"First all of Ajinkya has got a fantastic record in away series. He has got runs almost everywhere. He did not do well and lost his place but in the last 18 months he has played lot of domestic cricket and got lot of runs," Prasad, who led the selection committee between 2016-2020, told PTI.
"I do understand that Iyer was doing well but it (his injury) could turn out to a blessing in disguise for India. If he does well, why not continue with him."
"If you are treating other seniors who have not performed and giving them an opportunity. Now Rahane has been given an opportunity after his performance in domestic cricket. If he does well in England we should stick with him."
Sarandeep Singh, who was part of the selection panel when Rahane engineered the mother of all comebacks in Australia, also backed Rahane when asked if it would be a regressive move to continue with the Mumbai batter.
"He has always done well in England and Australia. He was waiting for his chance and after Shreyas' injury, he has been given a chance again. The way he was timing the ball in the IPL it was great to see. We should use his experience, and if he scores we should persist with him."
"When Shreyas will be fit, things will be different but right now Rahane is the best option (at number five)," reckoned Sarandeep.
How Rahane treats this one-off game will be critical. By his own admission, he will be better served staying in the moment and not let the enormity of the occasion get the better of him.
He has got domestic runs under his belt but facing the likes of Mitchell Starc, Pat Cummins and Josh Hazlewood with the Dukes will be a different ball game. No doubt, Rahane will be up for the challenge.
© Copyright 2023 PTI. All rights reserved. Republication or redistribution of PTI content, including by framing or similar means, is expressly prohibited without the prior written consent.